SDM Networking Event
April 3, 2014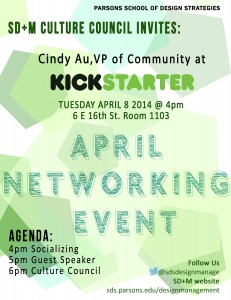 Our monthly SD+M Networking Event is back!
(Tuesday April 8 @4pm). 
Come at 
4pm 
and chat with us while enjoying some wine and cheese in a relaxed atmosphere.
At 5pm don't miss the opportunity to hear our Guest Speaker: Cindy Au, VP of Community at Kickstarter. After receiving her PhD in English Literature from the University of Wisconsin-Madison, Cindy joined Kickstarter in 2010 where she oversees the support, development, and growth of Kickstarter's community of creators and backers.
Stay after to the first Culture Council meeting at 6pm, will be gathering in this session to hear all your comments and feedback.