Guest Speaker – Spencer Wang, VP of Finance, Netflix
March 9, 2017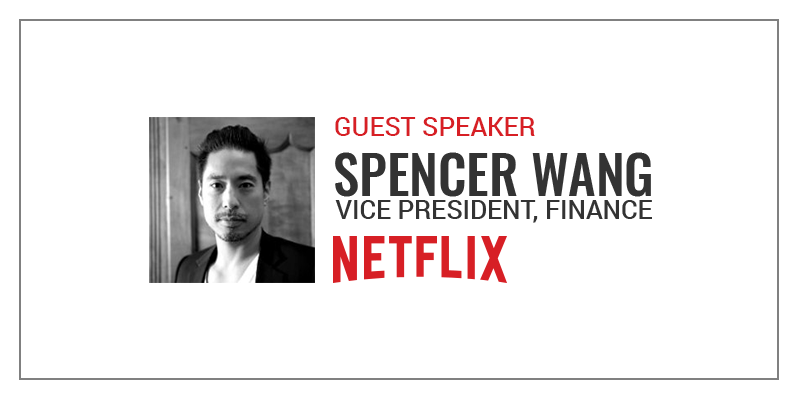 Netflix is the world's leading Internet television network with over 93 million members in over 190 countries enjoying more than 125 million hours of TV shows and movies per day, including original series, documentaries and feature films. Members can watch as much as they want, anytime, anywhere, on nearly any Internet-connected screen.
As a company founded in 1997 that included DVD sales and rentals, Netflix has successfully innovated its business model and service offerings while expanding its platform globally to include content production, debuting with award winning, House of Cards.  
Learn more about how Netflix manages its innovation and business strategy at this fireside chat with Spencer Wang, Vice President, Finance & Investor Relations at Netflix.
As a seasoned veteran in the media and entertainment industry for over 18 years, Spencer Wang has two roles at Netflix. As part of the Finance team, Spencer leads Netflix's relationship with equity and debt investors globally and assists in capital structure optimization and capital raising. In his business development function, Mr. Wang spearheads Netflix's global out-of-home initiatives across the airline, hospitality and cruise industry verticals. Examples include Netflix's recent partnerships with Virgin America and Aeromexico, which allows members to stream the entire Netflix service at 35,000 feet in the sky for no added cost.
Previously, Mr. Wang worked on Wall Street for 16 years, where he was an award-winning equity research analyst specializing in the Internet & Media sectors. Mr. Wang was named to Institutional Investor's prestigious All-America Research Team for eight consecutive years in multiple categories including Entertainment, Internet, Cable/Satellite TV, and Broadcasting. During his career, he worked at numerous bulge bracket investment banks including Citigroup, JPMorgan, Bear Stearns, and, most recently, Credit Suisse, where he was Managing Director and Head of US Media & Internet Equity Research.  Mr. Wang holds a B.S. in International Trade from Johns Hopkins University.
Tuesday March 28, 2017

7-8pm, Parsons SDM Program