Cooperative Alternatives for the Digital Economy Now!
February 8, 2017
A Conversation with Trebor Scholz & Yochai Benkler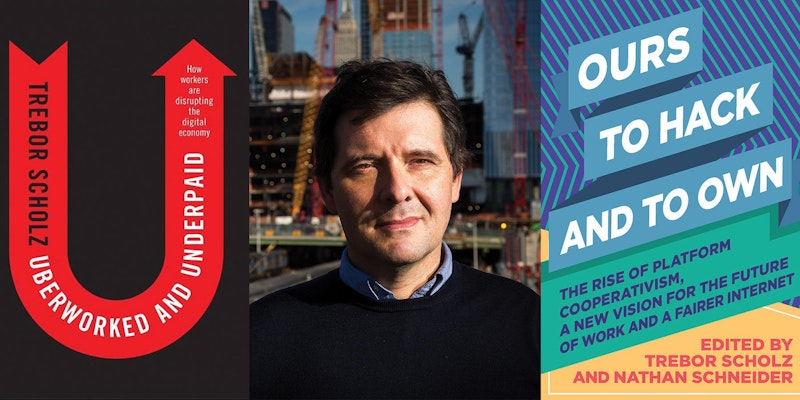 Come join us to hear Trebor Scholz in conversation with Yochai Benkler to celebrate the publication of Trebor's new books, Uberworked and Underpaid: How Workers are Disrupting the Digital Economy (Polity) and, co-edited with Nathan Schneider, Ours to Hack and to Own. The Rise of Platform Cooperativism, a New Vision for the Future of Work and a Fairer Internet (OR Books).
Trebor Scholz is a scholar-activist and Associate Professor of Media & Culture at The New School where he directs the Platform Cooperativism Consortium and convenes the digital labor conferences. He frequently presents on the future of work and digital media to activists, designers, scholars, lawyers, developers, union leaders, and policymakers worldwide. Learn more about the cooperative platform economy at platform.coop.
Yochai Benkler is the Berkman Professor of Entrepreneurial Legal Studies at Harvard Law School and the Berkman Klein Center for Internet and Society at Harvard University. His books include The Wealth of Networks: How Social Production Transforms Markets and Freedom and The Penguin and the Leviathan: How Cooperation Triumphs Over Self-Internet. His work can be freely accessed at benkler.org.
Uberworked and Underpaid and Ours to Hack and to Own will be available for purchase.
Date and Time: Mon, February 27, 2017, 6:00 PM – 8:00 PM EST
Location:  Civic Hall, 118 W22nd St, 12th Floor, New York, NY 10011