Applications open for ERA's Summer 2017 Accelerator Program
February 7, 2017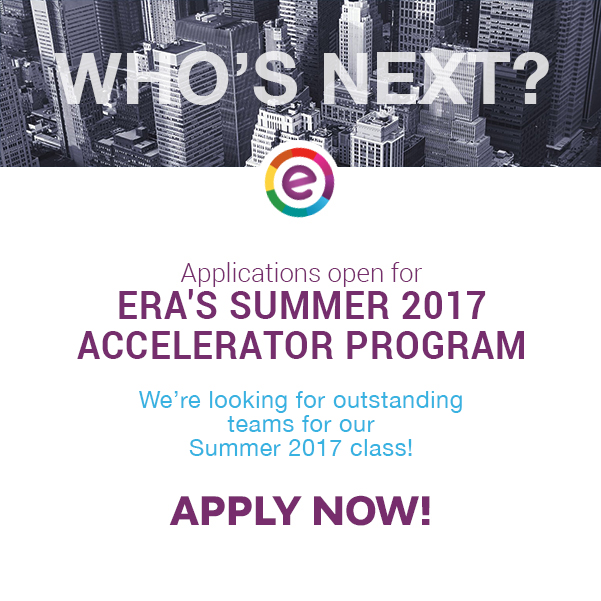 ERA is looking for outstanding teams for their Summer 2017 class!
ERA's Accelerator Program helps great founders build better businesses. We provide:
Seed money to get you moving: We invest $100,000 in each company with potential follow-on funding for later rounds.
Business know-how: NYC's largest, most hands-on program. Full-time partners and staff; 12+ Venture partners and lead mentors, 300+ active mentors.
Unparalleled NY startup community: NYC's strongest post-program support and most active alumni network. Our 110+ alumni companies give you an instant support network.
Join us at our events to meet us and chat more:
* ERA Summer 2017 February Happy Hour: Feb 22https://era13hh1.eventbrite.com
* ER104: March 1http://er104.eventbrite.com
* ERA Summer 2017 March Happy Hour: March 22: https://era13hh2.eventbrite.com
* ER105:April 4http://er105.eventbrite.com
* Open Office hours at ERA: 
Every Mon 4pm-5pm: http://bit.ly/2brj9X9
Every Tue 4pm-5pm: http://bit.ly/ERAOfficeHoursTues
Every Wed 4pm-5pm: http://bit.ly/2kpfVtI
Application Deadline: March 29th, 2017
Program Starts: June 12th, 2017