Gensler DSD Program Career Opportunity!!
December 10, 2014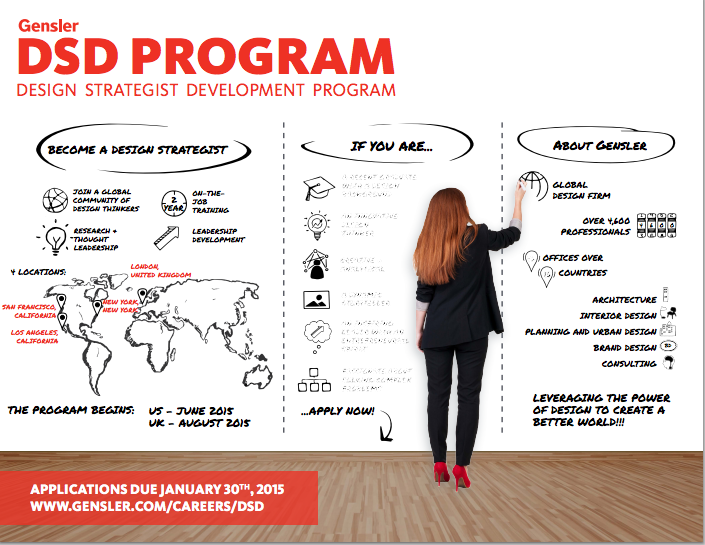 SEE COMPLETE BROCHURE HERE
"
Gensler
is proud to announce the launch of the
Design Strategist Development (DSD) Program
. The first of its kind in the design industry- this 24-month, on-the-job training program is designed to develop
Gensler
's next generation of strategic thinkers.
Participants will be immersed in Gensler's Consulting practice where they will focus on how space, technology, policies, and services support the changing nature of work, of learning, and living. Our Consulting practice at Gensler is a multidisciplinary team that works with a wide range of organizations including major corporations, cultural institutions, developers and universities. They use in-depth user research and engagement to develop strategies that enable our clients to meet their objectives and manage change.
We're looking for exceptional candidates who are passionate about talking tough problems through unconventional insights into people, processes and places where they collide. An idea candidate will:
-Possess an Undergraduate or Master's degree in design fields such as architecture, interior design, environmental design, urban planning/design, or design strategy. Additional degrees in diverse, yet interrelated fields, including real estate, business, anthropology, organizational development, or organizational psychology, is a plus.
-Have demonstrated exceptional leadership and inspire people around them.
-Have strong interpersonal, analytical and problem-solving skills.
-Excel in a fast-paced, dynamic, open, collaborative environment.
More detail can be found at http://www.gensler.com/dsd
Any questions about this program please contact Darris James, Program Coordinator at 202-776-7665 or DSDProgram@gensler.com.