Students' Event: Calling Our People Back Home
February 27, 2023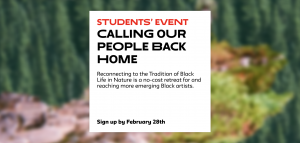 Calling Our People Back Home: Reconnecting to the Tradition of Black Life in Nature is a no-cost retreat for and by Black artists taking place for the first time in Staatsburg, NY from Saturday, March 11- Tuesday, March 14, 2023. If you wish to participate, please fill out the form by Feb 28th 2023.
The event is arranged by Luopu (MFA Creative Writing) and Chidera (MA Media Studies), two black artists with a shared love of nature who recently received a New School Student Research Award to fund this important work. Their time in nature will consist of hikes, art making, personal archive exploration, cooking, among other activities.
For more information, please check out their website, instagram, or twitter. Feel free to share widely amongst your communities.