SDM students at design think-tank
April 25, 2014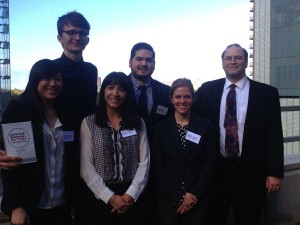 Earlier this week SDM students and a faculty member took part in Design + Economy = Future, an IFI Regional Design Symposium in New York that came to a close on Wednesday. As the organizers say, 'this two day think-tank brought together industry-wide leaders and succeeded in producing a consensual design policy statement which will contribute to the raised standards and enhanced growth of the discipline and holds the potential to develop into a comprehensive design policy at the government level'. We are pleased that the following members of our program played a significant role in this accomplishment: Henrietta Danubrata, Breanna Glaeser, Mark Leal, Natalie Neumann, Henryk Stawicki and professor Thomas Schmidt.
'The resulting statement, agreed upon and supported not only by design leaders and educators but by stakeholders and industry alike, will support the valuable role of the industry in achieving social, cultural and economic goals.
The Design Policy Statement reads:
Redefine Design as a cross collaboration of all disciplines and leverage their knowledge to create an innovation coalition. Establish a vision of a prosperous global community demonstrating the value of design through storytelling and measured economic, social and environmental impact. Harness the value of design as essential to health and wellbeing and embed this intrinsic expectation through education across society. This will ensure that all designers and design professions are active participants and leaders in activities and discussions that shape our future quality of life.'
More information on the Design + Economy = Future could be found at the IFI website.