Creating Iconic Advantage – Provocateur Talk + Reception with Soon Yu
February 14, 2017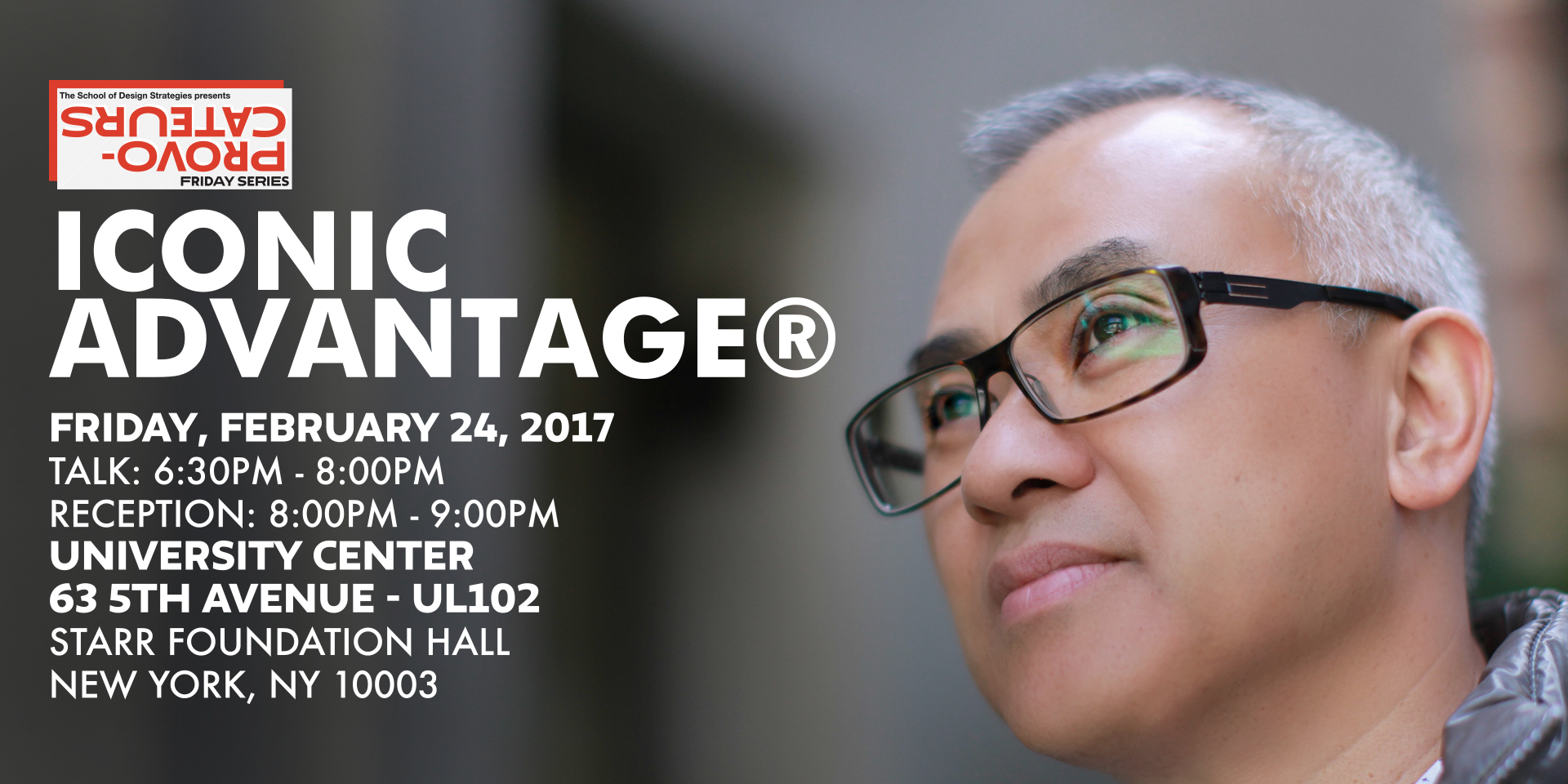 Creating Iconic Advantage: Before chasing what's new, consider innovating what's OLD
Soon Yu is back to talk about his latest adventure, his book "Creating Iconic Advantage: Don't just milk the cow, butter it up!" Growing iconic brand and product franchises is a conscious and deliberate strategy for success, and requires strong and coordinated design, innovation, and marketing capabilities. Come learn what new best practices are required to fully leverage this competitive advantage, especially in a world where consumers are gravitating towards fast fashion, commoditized products and new business models.
Takeaways:
Successful businesses don't just chase the old, they innovate the old – making what they are already good at even more iconic
Iconic Status is the highest and most profitable form of branding
Creating Iconic Advantage is a deliberate choice that is realized through proven best practices, including creating greater:

Noticing Power: develop greater distinction through signature elements that communicate the brand/product's PODs
Staying Power: build timeless relevance for these signature elements
Scaling Power: drive universal recognition of these signature elements to build greater iconicity
WHEN: Friday, February 24, 2017 | Talk: 6:30 PM – 8:00 PM, Reception: 8:00 PM – 9:00 PM
About the Speaker:
Soon Yu is an international speaker and author on innovation and design who has been featured in the Wall Street Journal, Washington Post, Entrepreneur Magazine and New York Times.
His upcoming book, Iconic AdvantageR, challenges businesses, from Fortune 500 to venture-backed startups, to refocus their innovation priorities on building greater iconicity, and offers deeper insights on establishing timeless distinction and relevance. He regularly consults business leaders on developing meaningful Iconic Signature Elements, Signature Moments and Signature Communication.
He most recently served as the Global VP of Innovation and Officer at VF Corporation, parent organization to over 30 global apparel companies, including The North Face, Vans, Timberland, Nautica and Wrangler. While at VF, Soon created a $2 billion innovation pipeline, established 3 global innovation centers, and initiated industry-leading design best practices.
Prior to this he worked at The Clorox Company and Chiquita Brands, where he won company-wide awards for best advertising, best promotion and best new product, and gained industry recognition from the Webby Award, Favorite Website Award and Dope Award. He has also been a consultant at Bain and Company, and a founder and CEO for numerous venture-backed startups (including Gazoontite, Promeo Technologies and TWRL) and was recognized as a Northern California finalist for the prestigious Ernst & Young "Entrepreneur of the Year" award.