Participate in a Paid Design Sprint / Charrette
March 10, 2023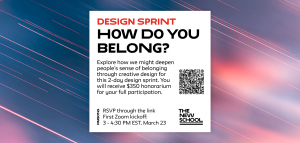 Join a Parsons design sprint / charrette to explore how we might deepen people's sense of belonging – in a short period of time – through creative design. The goal of this project is to showcase your work, and create a scalable activation at the Parsons Benefit on May 24. You will receive a $350 honorarium for your full participation and completion of the project.
Here's what is involved:
A Zoom kickoff meeting

where you will learn about the project on

Thursday, March 23, 3:00 PM – 4:30 PM

Two 4-hour in-person working sessions (plus additional time on your own) for you to work on the project in small teams. 

Session 1:

Friday, March 31, 1:00 – 5:00 pm 

Session 2:

Friday, April 14, 1:00 – 5:00 pm 
Open to all Parsons students. Space is limited, you must fill out the application and attend the Zoom session to be considered for participation.