Info Sessions for a New Interdisciplinary Course: CareLab
March 7, 2023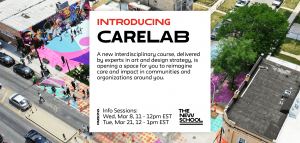 Introducing CareLab, a new interdisciplinary course offered by Parsons School of Design Strategies starting this fall. Delivered by experts in art and design strategy, join a community of like-minded individuals to reimagine care and impact in communities and organizations around you.
Don't miss the Information sessions!
Wednesday, March 8th, 11 – 12pm EST
Tuesday, March 21st, 12 – 1pm EST
Course Description
Course schedule: Thursdays, 4-6:40pm EST
Faculty: Michele Kahane
Evolving social norms, demographic changes, political and racial unrest, and environmental crises have shifted how families, neighbors, workplace colleagues, and diverse citizens engage with and care for each other. This hands-on art and strategy learning lab invites students to boldly re-imagine and prototype economies, neighborhoods, organizations and families to prioritize relations and care. What new artistic interventions, services, digital currencies, housing and creative placemaking strategies, and futures will emerge? External partners such as Carehaus and guest speakers will bridge students' imaginations and real-world contexts.
/Open to all cross-university graduate students and upper undergraduates(by permission)./