Faculty Story – Mariana Amatullo
March 27, 2018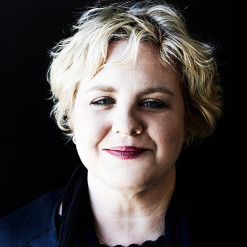 Who are you and what do you do?
My name is Mariana Amatullo. I joined Parsons in August 2017 as an Associate Professor of Strategic Design and Management in the School of Design Strategies. I have been teaching some of the graduate seminars in the program; my area of research and expertise is in design for social innovation, management and organizational change. At The New School, I also serve as the co-chair of the management initiative. This is a strategic priority area for our university. We are working across schools with faculty colleagues to develop an integrated approach for a new vision of management education for the 21st century driven by principles of design, creativity and social justice.
Where are you originally from?
I was born in Buenos Aires, Argentina. I grew up around the world as the child of diplomats.
What issues are you interested in working on?
My research these days is principally focused on addressing some of the gaps in our understanding about how design can be measured as a capability in the public sector. I am also very interested in a relatively new ecosystem of innovation initiatives in the international development context. I am finishing a study that examines the impact of a Venture Fund at UNICEF Innovation that invests in entrepreneurs working with frontier technologies (drones, machine learning, AI; etc) that are being deployed to benefit the welfare of the most disadvantaged children around the world.
What inspires you most and keeps you creative?
1) My students; 2) the transformative power of design to make a difference in people's lives.
How would you describe the Ms SDM program in one sentence?
A multi-disciplinary graduate program that exposes students to key business concepts as well as design methods and tools through a mix of seminars and experiential studio projects that prepares them to pursue a number of vibrant career pathways: from design research, design management and strategy to new ventures and entrepreneurship.
What was the most interesting experience you had in the program so far?
It has been great to work with the Program Directors to update some of the readings of the seminar I am teaching in Design Innovation and Leadership. We introduced some important work in intentional change theory and resonant leadership that a former professor of mine at the Weatherhead School of Management, Dr. Richard Boyatzis, has developed with colleagues. I have really enjoyed the discussions and provocative questions these concepts are prompting in our class.
What book are you reading right now?