Vanya, Class of 2017
March 9, 2021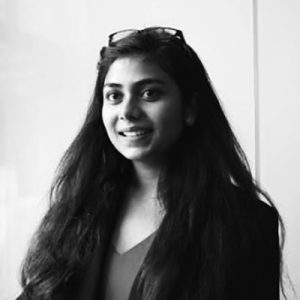 Vanya Mittal | Innovation & Design Strategist
Doblin
Vanya Mittal is an Innovation and Design Strategist from New Delhi, and a novice entrepreneur working with Doblin/Deliote to help design organizations that create growing businesses rooted in real customer needs, untapped technologies, and business viability. Vanya has an in storytelling, design thinking, and human-centered design, which she uses to drive research, innovation, and user-centric ideation projects forward. Her passion is to help businesses evolve with the changing world around them, and design new experiences for their customers by helping them create new products, services, and business models, as well as helping companies develop their own innovative functions and capabilities. The role of empathy and behavioral design are essential to her work to create products and services that engage and delight future consumers. She is all about bringing visionary ideas to life.

How have you applied what you learned in the MS SDM program to your post-graduation career?
Working with multi-disciplinary student colleagues from across the globe gave me the exposure I would have otherwise never received. It not only made me a more empathetic person but also taught me the power of listening and the concept of never killing any idea at the very beginning. I believe that these characteristics are the foundation to anyone who want to work and excel in such a field.
Tell us about a time when an MS SDM professor inspired you:
Learning from such experienced and knowledgeable professors from the industry was very insightful, as you lived the process in real-time rather than just making more hypothetical projects. I not only got better at taking constructive feedback on my ideas, but also working and improving on them. Working at Parsons ELab alongside Rhea Alexander was a great opportunity. Wearing multiple hats prepared me in different areas that I never realized can be so helpful.
How did the MS SDM program challenge you?
Understanding and trusting the process was key throughout my journey at Parsons. The MS SDM helped me frame my understanding of human-centered design and generate a greater interest towards the idea of sustainability. It challenged me to follow the theory of "fail fast and fail often."
Has your MS SDM cohort been a valuable part of your professional network since graduation?
Yes–I am positive that the relationships that I developed over the past 2 years will always come in handy at any job I will take in the future.
What advice would you give to current students?
Enjoy the two years of student life, because you won't get them back! And, absorb as much as you can from both inside and outside of the classroom (Hint: Do your readings)!