Tanvi, Class of 2019
March 20, 2023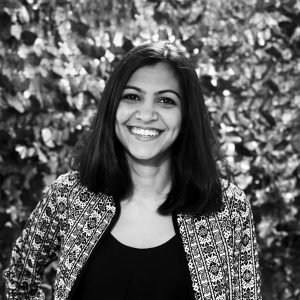 Tanvi Kanakia | Managing Director, User Experience & Product Design
Logical Design Solutions
As the Managing Director of User Experience and Product Design at Logical Design Solutions, Tanvi heads up a talented team of designers to create digital employee experiences for some of the biggest names in business, including CVS Health, Paramount.
Before joining Logical Design Solutions, Tanvi co-founded The Design Grid, a design studio based in India. There, she led a multi-disciplinary team to craft innovative customer experiences that gave businesses a competitive edge.
With her deep expertise and commitment to design, it's no wonder that Tanvi has been invited to judge some of the most prestigious awards in her field, including the SXSW PanelPicker, Webby Awards, Stevie Awards for Women In Business, and Women World Awards by Globee Awards. She's also a member of the prestigious International Academy of Digital Arts and Sciences (IADAS).
What is your favorite memory from your time in the MS SDM program?
One of my fondest memories from my time in the MS SDM program was when my classmates and I were working on a project for the class 'Managing creative projects and teams'.
As we delved deeper into the innovation process, we discovered that it was far more complex than we initially thought. Fortunately, with the support of our professors and classmates, we were able to overcome our creative blocks.
This experience inspired us to create Design Nudge Cards, designed to help individuals and teams get unstuck along the design thinking process.
What three things do you feel make the MS SDM program special?
The program attracted a diverse group of students from a wide range of backgrounds and experiences, fostering a vibrant learning community where students could learn from one another as much as from the coursework.
Secondly, the program offered unparalleled exposure to a wide range of subjects which helped me develop a versatile skillset.
Finally, the program had a unique ability to broaden our horizons by challenging us to think critically and explore new ideas in a supportive, collaborative environment. The program encouraged me to stretch beyond my comfort zone, which was invaluable for my personal and professional growth.
How have you applied what you learned in the MS SDM program to your post-graduation career?
In my work, I'm responsible for developing creative solutions that meet complex business requirements and anticipate future needs, while also providing an exceptional user experience. The MS SDM program exposed me to different aspects of design, including business models, systems thinking, and user-centric design, which helps me balance the diverse aspects needed to create effective solutions in these complex environments. Thanks to the program's broad scope, I feel confident in my ability to approach problems holistically and solve them creatively.