Silvia, Class of 2020
February 22, 2023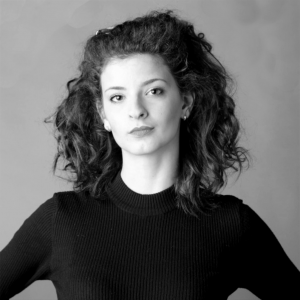 Silvia Garuti | UX Designer II
LexisNexis
Silvia is a Strategic Designer with a strong passion for UX Research and Design. She graduated in Communication Design from Politecnico di Milano (Italy) and worked in the graphic design field in Singapore, which sparked her interest in innovation and technology. Silvia enrolled in the Master of Strategic Design at Parsons, class of 2020, and after graduating, she worked in several startups before beginning her career at LexisNexis. Currently, she is working as a UX Designer, helping lawyers and librarians navigate legal data.
What is your favorite memory from your time in the MS SDM program?
My favorite memory was winning the Roman Design Challenge in March 2020. As a participant in the Challenge, I had the opportunity to showcase my skills in design thinking and problem-solving. The challenge required us to create innovative solutions to address the impacts of natural disasters on communities and organizations.
In response to this challenge, my team and I developed Earshot, an artificial-intelligent chatbot named Quinn that uses machine learning to create an actionable database for governments and organizations to deliver better, faster, and more accurate aid. Our solution was a game-changer, democratizing information for both those impacted by a natural disaster and the organizations and governments that serve them.
During the final presentation, we received valuable feedback from two SDM professors who were consulting on our project. My team and I were supposed to fly to Toronto and present our solution, the pandemic started and we canceled our flights a few days before the US closed its borders with Canada. The professors highlighted how Earshot could have helped during an uncertain time like Covid-19. We pivot our presentation and created a self-explanatory video that linked our solution not only to natural disasters but to the ongoing pandemic. When we were announced as the winners, I remember I was in my PJ completely isolated from anyone but still we were on cloud 9. It was a moment of great pride and validation for all of our hard work and innovative thinking.
What three things do you feel make the MS SDM program special
As someone who has experienced the MS SDM program firsthand, I can confidently say that there are three key factors that make it truly special.
Firstly, the program boasts a diverse and international cohort, which fosters an enriching learning environment and provides valuable opportunities for cross-cultural exchange.
Secondly, the program encourages students to step out of their comfort zones and embrace discomfort as a means of growth and innovation. In fact, as highlighted in a recent article by the Behavioral Scientist, learning how to get comfortable with feeling uncomfortable is an essential skill for success in today's ever-changing world.
Finally, the professors in the program are incredibly supportive and approachable, always willing to lend their expertise and help students pursue their passions and interests. This level of mentorship and guidance is invaluable and has been instrumental in shaping my own personal and professional growth throughout the program.
Overall, I believe that these three factors, along with many other unique elements of the MS SDM program, make it an exceptional and highly rewarding experience for anyone seeking to advance their skills in design thinking and strategic decision-making.
What advice would you give to current students?
If I were to offer advice to current MS SDM students, I would say to explore and absorb everything the program has to offer. Collaboration is also key, so don't be afraid to reach out and work with other programs and departments. It's also great to hear that the current program offers electives (we didn't have that chance back in 2018), so I highly recommend taking advantage of that opportunity. There are smart students and professors in other programs at Parsons, so it's worth getting to know them too!
Most importantly, remember to have fun! My professor, Adriana Young told me that the best works are generated when having fun and I couldn't agree more. Learning is an amazing gift, and it should be an enjoyable and rewarding experience. I'm grateful for the chance to have shared my feedback and shape the program, thanks to the support of people like Michele Kahane. So, I encourage current students to embrace the opportunities and resources available to them and make the most of their time in this fantastic program!
Also, please focus your capstone project on the industry you'll want to work in: the thesis will be a great business card on your portfolio and it will help you to grow a network in the field before entering the job market!
Tell us about a time when an MS SDM Professor inspired you.
I do have many professors who inspired me from this program but I will cite the ones I had the pleasure to work with as a Research Assistant during my time at Parsons:
One of my MS SDM heroes is Raz Godelnik, who during my first class at Sustainable Business Model completely shifted my perspective on Climate Change from being doomed to actively pursuing sustainability. His statement that "we reached rock bottom on Climate crisis which means that we can only improve from here" helped me envision a different reality. During my time as his Research Assistant, I had the opportunity to work on insights featured in his book, "Rethinking Corporate Sustainability in the Era of Climate Crisis – A Strategic Design Approach", which provides a clear and critical analysis of the state of corporate sustainability within the context of the climate crisis. Check it out!
Another professor who inspired me was Cynthia Lawson Jaramillo, who I had the pleasure of working with as a Research Assistant during my time at Parsons. She later became the Dean of the School of Design Strategies. While working with her at the DEED Lab, I was inspired by her commitment to using design as a tool for social justice.
How has your MS SDM cohort been a valuable part of your professional network?
After the outbreak of the Covid-19 pandemic in 2020, finding a job appeared to be an insurmountable challenge. As an international student, I had to return to Italy with my OPT still active, without any guarantee of maintaining my visa status or returning to New York. At that point, a colleague from MS SDM (thank you, Ebba!) recommended me for a position at a New York-based startup. This fortuitous encounter led to an introduction to another startup that sponsored my STEM OPT Extension, ultimately allowing me to return and live in New York in July 2021. This is just one example, but I could not have done it without the help of my peers. Amelia reviewed my resume when I lost my job, Yasmine helped me rehearse for interviews, Andrea strategized (and continues to do so) about career paths, and Kevin and Björg were always there for me. My cohort was not only an amazing networking resource but also my fandom and my New York family.
How have you applied what you learned in the MS SDM program to your post-graduation career?
I have effectively integrated the hard skills I acquired through the MS SDM program into my work, particularly in the field of UX research. Nevertheless, the program's most valuable takeaway was the ability to identify and tackle wicked problems and develop a level of comfort in dealing with the unknown. These concepts have become a daily practice in my post-graduation career, allowing me to approach challenges with a more holistic and effective perspective.