Romy, Class of 2015
December 21, 2022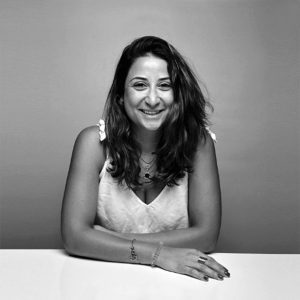 ROMY RAAD | Brand Consultant & Strategist
Romy has a thing for brands. She enjoys a particular curiosity to get to know them and understand their needs, in order to take them somewhere new, exciting and unprecedented. She thrives working in diverse areas giving her a unique set of professional experiences; from branding/marketing to creating her own entrepreneurial ventures, and advising startups as a brand and business strategist.
She is a versatile creative professional who takes a masterful and memorable approach to brand consulting. She currently works as a brand consultant for multiple CPG startups and global food brands. Among her most recent projects, Romy extensively advises Bordeaux Wines and Wines of Germany in developing ambitious branding and communication strategies for the world-famous wine regions.
Previously, Romy co-founded Metabrew, an award-winning superfood beverage startup based in NY. She built the company, along with her former partner, from the ground up and led it to become a lifestyle brand with over 18K online followers offering highly innovative superfood drinks. She regularly shares her experiences as a mentor and guest lecturer for entrepreneurship at Parsons and other startup accelerators.
Romy was born and raised in Lebanon, a country very rich in food culture and inhabited by ambitious lovers of life. She speaks Arabic, French, and English fluently and played the piano semi-professionally for 13 years. She completed a B.A. in Graphic Design at the American University of Beirut and a Master's in Strategic Design and Management at Parsons, The New School, NY. When she's not hustling, she spends her time traveling, exploring islands, learning about new cultures, and cooking for her closed ones. She is currently based in Montreal.
What is your favorite memory from your time in the MS SDM program?
My favorite memory is the day my former business partner and I decided to launch our beverage startup in New York City. It all began as our final year thesis project during Parsons and our passion drove us to take a chance on ourselves and turn it into a real venture. Soon after we graduated from the MS SDM program, our entrepreneurial journey really began.
What advice would you give to current students?
As current students, you have the opportunity to shape your future in whatever direction you choose. I believe that there is no one path to success, so my advice is to take a chance, follow your heart, and don't let anyone dictate your future. Taking risks can be scary, but the rewards (and even failures) are often worth it. Make your own decisions and be proud of them. Also building and maintaining strong professional relationships with tutors and colleagues is an invaluable asset to have. Not only can these connections help provide guidance and advice, but having a mentor-like relationship with someone who has more experience in the field can be highly beneficial.
How have you applied what you learned in the MS SDM program to your post-graduation career?
The MS SDM program gave me a good base for how to develop my strategic mindset. I come from a Design background, so being in the room with highly successful and smart business people was inspirational and humbling to say the least. The program equipped me with the right tools and knowledge to shape my own approach to strategic thinking while also understanding how to apply it in real-life scenarios.