Onur, Class of 2020
March 9, 2021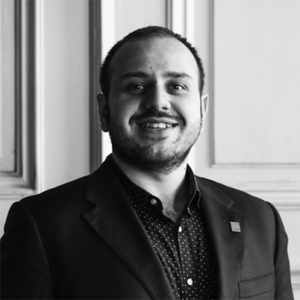 Onur Kocan | Strategic Designer & Partner
Studio Karun
Onur Kocan has managed the design initiatives for various industries, NGOs, associations, foundations, local governments, and government projects in Turkey. Throughout Onur's academic and professional life he was involved in numerous local and internationally recognized design events to raise the industrial design profession's consciousness. Recognizing the significant role of supporting young designers in the industry, he co-founded the Industrial Designers Association (ENTA) n 2014, where companies, students, and professionals alike can become members. ENTA organizes unique, creative events following and traditionalizing many education, seminars, and workshops globally, preparing projects and organizing events with government ministries in Turkey, and established a study group for Design Week Turkey 2017, where he was a keynote speaker. Onur coordinated the 2017 Architecture and Design Summit, which brought architects, companies, and designers together for the interdisciplinary use of material.
What does Strategic Design mean to you?
Traditional definitions of design often focus on creating discrete solutions—a product, a building, or a service. Strategic design applies some of the traditional design principles to "big perspective" systemic challenges like health care, education, and climate change. But, it redefines how problems are approached, identifies opportunities for action, and helps deliver more complete and resilient solutions. Strategic design is about crafting decision-making.
How have you applied what you learned in the MS SDM  program to your post-graduation career?
I'm always trying to apply it.
What is your favorite memory from your time in the MS SDM program, and/or in NYC?
Any time we exchanged ideas within the SDM group was valuable to me. Our party at the Fat Cat Jazz Club, organized for first year students in New York, was an unforgettable moment.
What three things do you feel makes the MS SDM program special? 
Knowledgeable and entrepreneurial faculty;
Great communication;
 A new design approach from an ethical perspective.
Tell us about a time when an MS SDM professor inspired you:
Lisa Norton, Koray Caliskan, and Mariana Amatullo were professors that opened my horizons in particular. I got inspirational feedback on every topic I discussed with them. Particularly my talks with Lisa Norton about sociocracy.
Tell us about a time when an MS SDM professor inspired you:
One of my professors, Johann Verheem, encouraged us to "hack the program" to get what we want out of it. In some ways your education in undergraduate studies is fed to you. This is not how grad school works. You need to know what you want and go out and get it, and Johann encouraged us to do just that.
Which projects helped you build your desired expertise and what sectors, companies, or clients you have worked with since graduation?
I work in social innovation, and I am working with design organizations relating to local governments. After graduation, I worked with technology-centric companies, especially in the new media sector. Lisa Norton's last DDO studio class was especially beneficial to me.