Nishant, Class of 2022
January 26, 2023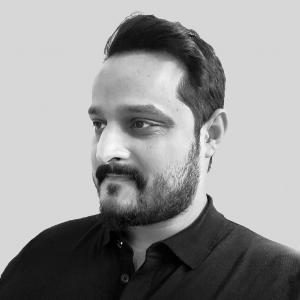 Nishant Wazir | Strategist & Designer
Openshop
After training as a Product Designer during my undergraduate design studies, I worked in product and retail design for a couple of years before pivoting into interior design, mostly for F&B. I then entered a broader domain of experience design for built environments that integrated brand and user experience. This spanned retail, institutions, and workspaces, where I started to engage in culture-focused design for behavior in built environments. I gradually expanded my workspace to organizational culture, brand strategy, and business design, moving away almost entirely from the design of things to the design of systems. Along the way, I also started working around knowledge-based engagements that dealt with imparting design thinking to organizations. Coming to the MS-SDM program was an attempt at consolidating what had evolved into a generalist practice. I now work at Openshop, a strategic design consulting firm here in NYC, where we deliver strategic design services, and also develop capacity-building curricula and programs for organizations.
What is your favorite memory from your time in the MS SDM program?
I came in from a somewhat directorial role, expecting a degree of repetition considering my experience. It took me an entire semester to transition back into a sponge mindset. There was a moment in time where I began to see old things in new ways, which was both eye-opening and memorable.
What advice would you give to current students?
Few people out there know what strategic design is. In part, that's because the design community doesn't know what it is. Strategic design design is an emerging domain, and fundamentally an emergent practice. To think of this as a specialized discipline would be a mistake; it helps to think of it in terms of how it adds value to what's already out there in terms of design practice, and what you can already do.
How has your MS SDM cohort been a valuable part of your professional network?
Relationships are everything, in any profession, but especially so in design, which requires trust. The richness of this program lies in the diversity of the cohort. It's effectively a global network you're building right now. I have attained work through the larger TNS network, and see that gradually happening more through the micro-network that is my cohort; all the time spent working together has created lasting affinities that are the base for future professional partnerships.