Lynch, Class of 2021
March 20, 2023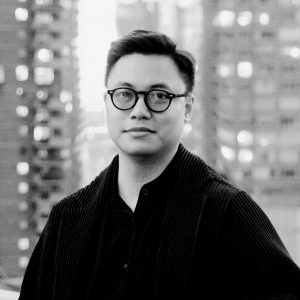 Lynch Zhang | COO
Puff Media Group, Inc
Lynch Zhang is an Entrepreneur and Strategist specializing in marketing strategy, brand experience, and business architecture.
Born in Canton, China, Lynch came to Philadelphia to pursue his BS in Architecture. After working in related fields for a number of years, he moved to NYC and finished his Masters's degree at Parsons. During his studies, he started his foray on TikTok as content creator That Little Puff, gaining over 50 million total followers on social media along the way. In 2020, Lynch founded Puff Media with his brother Ming, leveraging their combined knowledge and experience in social media marketing. Puff Media has now grown into a full service media company that's helped brands reach and deliver innovative products to millions of global customers. Some of its partners and clients include Google, TikTok, By-health, Robosen Robotics, and Zendure. It is Lynch's belief that innovation is often not a design/business decision, but a vision we co-create with our audience. He sees beyond meeting needs, but to building rapport and cohesion among all parties and facilitating conversation and creation for continuous growth.
What is your favorite memory from your time in the MS SDM program?
My favorite memory from the program was attending the Capstone Presentations. Although it's remote, it is amazing to see how much effort and hard work my classmates put into their projects and to learn about the different projects they were working on. It was also a great opportunity to celebrate our accomplishments together!
What three things do you feel make the MS SDM program special?
The interdisciplinary nature of the MS SDM program is unique, providing students with the opportunities to develop an understanding of the business, technology, and design aspects of product management.
The program emphasizes practical, real-world applications of product management, with a focus on developing skills such as problem-solving, data analysis, and communication.
3. The MS SDM program has a strong network of industry professionals who provide mentorship and guidance to students throughout their program.
What advice would you give to current students?
My advice to current students is to take advantage of every opportunity given to you. Make sure you prioritize your studies and participate in activities that will benefit your future. Develop time management and organization skills so that you can make the most of your time in school. Always be willing to ask questions and seek help from your professors and peers when needed. Finally, don't be afraid to take risks and explore new ideas; you never know what you might discover.
Tell us about a time when an MS SDM Professor inspired you.
I remember a lecture from professor Edward Cardimona that he was discussing the importance of taking risks and making bold decisions when it comes to business. He explained that in order to be successful, one must push themselves out of their comfort zone and take risks. His words really resonated with me and made me more confident in my ability to take risks and make bold decisions. His inspiring words pushed me to take more risks and have more confidence in my decisions.
How has your MS SDM cohort been a valuable part of your professional network?
The cohort has been a valuable part of my professional network because it has afforded me the opportunity to connect with peers who have done or are also working towards their MS SDM degree. We have been able to share our experiences, successes, and challenges in the program and in real world, as well as discuss career aspirations and advice. This has been extremely helpful in my professional development, as we are able to offer each other support, advice, and resources. Additionally, the cohort has allowed me to build relationships with people in various industries, as well as make connections with industry professionals who could be potential mentors.
How have you applied what you learned in the MS SDM program to your post-graduation career?
I have applied the concepts of project management, stakeholder management, and data analysis to my current work. I have also used the skills I learned in the program to develop a better understanding of business processes and how to optimize them. Lastly, I have been able to apply the skills I learned in the program to help create more effective solutions for my current clients.