Livie, Class of 2015
March 9, 2021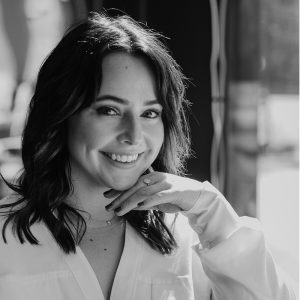 LIVIE CASTO | Business Design Director
Prophet

Livie is a trained musician turned business designer whose mission is to make the world a better place by solving for the unmet needs of human beings and ensuring organizations have everything they need to successfully meet those needs. Her creative approach—no matter the industry—is to discover moments of discord, unpack them and translate them into insights that instigate and inspire dramatic change and growth. Her ability to distill vast amounts of qualitative and quantitative data into a succinct and clear strategic vision has helped boutique fitness companies, telcos, nonprofits, food and beverage companies, energy providers, healthcare organizations, government agencies and start-ups transform the way they operate and better serve their customers. She currently works as Business Design Director for Prophet.
What does Strategic Design mean to you?
Strategic Design is essential for bringing ethical, viable and delightful products, services and experiences to market. The craft exists so that designers and organizations think beyond short-term implications, instead thinking ahead to potential long-term impacts to society and the planet.
How have you applied what you learned in the MS SDM  program to your post-graduation career?
I use tools that I learned in the MS SDM program every single day in my job as a Business Design Associate Director. From trends spotting and futures forecasting to assessments of viability and organizational readiness, my role has been undeniably by my learnings from the program.
What is your favorite memory from your time in the MS SDM program, and/or in NYC?
Too many to count, but most notably hearing everyone's final projects. It was a pleasure to witness my fellow cohort members' growth.
What three things do you feel makes the MS SDM program special? 
The connectedness of the cohort;
The balance of knowledge gained and ability to apply it and the life-long relationships that form with cohort members;
The professors and alumni.
Has your MS SDM cohort been a valuable part of your professional network since graduation?
Absolutely! I speak to cohort members at least once a week and it's been 18 months since graduation. We regularly lean on one another for inspiration, guidance and to open doors.
Tell us about a time when an MS SDM professor inspired you:
The professor who led our Managing Creative Teams class inspired me every single week we met, but specifically he instilled in our cohort a practice of gratitude, really pushed us to our limit in terms of articulating our values and showing up as vulnerable compassionate leaders and still, months later, pops in every once in awhile to remind us to lead with kindness and bravery.
Which projects helped you build your desired expertise and what sectors, companies, or clients you have worked with since graduation?
Working through SoulCycle's business model canvas gave me the tool to assess market forces that I use regularly. Since graduation I have worked in telecom, energy, agtech, edtech, food and beverage and medical devices.