Erin, Class of 2015
March 9, 2021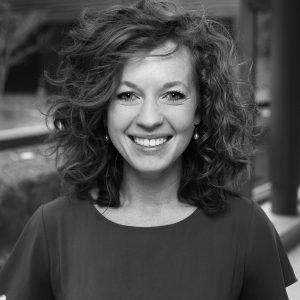 Erin Tiley | Human Centered Design Lead
Tyson Foods
Erin Tilley leads the Human Centered Design team for Tyson Foods, a practice she founded and has built over the past two years within Tyson IT. Her goal for this team is to design technology solutions that address business challenges by focusing on desirable end user experiences and work with business stakeholders to understand how to use technology in new ways that help Tyson team members feed the world. Erin often volunteers as a mentor or reviewer with design students at universities in the area and has joined the local AIGA board as Annual Programs Director for 2021. Before joining Tyson in 2018, Erin worked with challenges that addressed the homeless experience and enterprise technology solution adoption and communication. She has a background leading strategic global communication initiatives with AECOM and HP and in ETL development in HP's Enterprise Data Warehouse.
How have you applied what you learned in the MS SDM  program to your post-graduation career?
I think at the heart of what I learned was the wide application of design processes and mindset. It applies well to business challenges, but also to strategically launching a new design practice within an organization. The mindset to pause, ask what is and why, and pull the focus outside of what I know to what I want to know has helped me love the uncomfortable moments and situations where the answer to a question I don't know to ask. Yet.
What is your favorite memory from your time in the MS SDM program, and/or in NYC?
For several weeks, I received feedback from my professor about my capstone project that the strategy didn't make sense and my product concept was shaky. Finally, after revisiting research and returning to my core challenge to reduce waste, it clicked. My design wasn't a product, but a system and service that leveraged existing material as products. The moment when my professor bought in, and then subsequent moments of seeing the buy-in on test users faces: It was the best reinforcement that what I could trust the tools I was learning and love that pivot.
What three things do you feel makes the MS SDM program special? 
The people and their backgrounds that make this program special to me–they are a rare group I would never collectively meet and learn from otherwise.
My professors and their different perspectives on design gave me a lens into how widely design could be applied and how to fine tune my approach. They were not shy about giving thoughtful critical feedback, or about opening doors for me to connect with other professionals.
Staying connected with my global cohort. I have continued to be inspired by how they're applying design in their realm.
Tell us about a time when an MS SDM professor inspired you:
I'm not sure I can choose one moment from the three: Joseph Press guided my project team to completely flip a challenge to do with food waste to be a tool for helping refugees establish home in the US and then invited a colleague who was doing work with refugees to give us feedback. Rhea Alexander coached me into developing a real business model for my capstone, to put it in the real world somehow, and provided an opportunity to pitch it in front of industry professionals. Jerome Goh took extra time to coach me on storytelling my project and trusted me with candid feedback so I knew the moment it clicked. I'm grateful for the dedication and openness of each of my professors to drastically shape how I see the world, my work, and opportunities for new solutions.
Which projects helped you build your desired expertise and what sectors, companies, or clients you have worked with since graduation?
Besides the capstone project experience of taking something end-to-end, I trace a lot of what I apply from the program to projects I worked on for two courses: Design Ecosystems and Designing for Sustainability. Mapping out the system of a challenge space with inputs, opportunities, and gaps, was a lot of what I learned in the Design Ecosystem course projects and is foundational to how I bring design into a business sphere now. As a final project in Designing for Sustainability, we had to adapt a design tool we learned about or create our own. I do this consistently now in building a new design practice within a larger company–design only works when adapted to the context of use.