Carolina, Class of 2020
March 9, 2021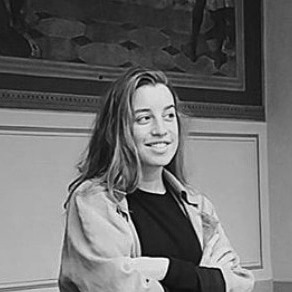 Carolina Bianchi Bate | Strategic Design Consultant/Entrepreneur
Carolina is an Argentinian Strategic Design consultant specializing in brand development and management with experience working on projects across multiple industries such as advertising, fine arts and the agricultural sector.
She is a Co-Founder of Seamless Studio, which designs singular and meaningful branding solutions for their clients that both resonate with their audience and transform their business. Carolina is also involved in La Julia Organics, an organic grass-fed meat startup business from Argentina and leads marketing and Communications department strategy.
What does Strategic Design mean to you?
Strategic design allows us to solve problems systematically with a mindset that drives people to action and positive impact. It is the ability to navigate uncertainty, ambiguity, and the accompanying challenges with empathy, creativity and proactiveness.
How have you applied what you learned in the MS SDM  program to your post-graduation career?
The program has helped me improve my ability to listen, observe and open up new perspectives in order to ask more and better questions—that in turn has allowed me to explore and deliver smarter solutions. From the first semester I was able to apply and put theory into practice in my work.
What is your favorite memory from your time in the MS SDM program, and/or in NYC?
As an online student, meeting my online classmates and professors during the on-campus workshops in January, while also working with them on real-world projects. I will never forget the day during Studio week in which as a group we were exploring the concept of a luxurious food experience, and we had a very exotic breakfast picnic in class that included uni, doughnuts, cheeses, a pie, chocolate-covered almonds and a baguette.
What three things do you feel makes the MS SDM program special? 
It is a program that allows you to put theory into practice straight away;

You get to collaborate

with classmates who are also working professionals from all over the world;

The rich cultural exchange and network created by all of us who participate and bring our own experiences to the table.
Has your MS SDM cohort been a valuable part of your professional network since graduation?
It was a great meeting and studying alongside an international cohort of professionals from varied backgrounds. It opens up the conversation and makes the networking experience richer because the program generates spaces for these social and professional interactions. Today I am glad to be able to call many of my classmates friends.
Tell us about a time when an MS SDM professor inspired you:
I have had great professors during the program who have inspired and pushed me further as a professional. I am particularly grateful for the experience of working on challenging, complex, curious, messy and interesting projects with Jonathan Rewers, Roxanna Zarnegar and Christian Schneider.
They were and remain great references for me.
Which projects helped you build your desired expertise and what sectors, companies, or clients you have worked with since graduation?
Projects that marked me were: Africa Banking project (Managing Creative Teams), the Panettone Italia Innovation challenge (Studio 1) and the Independent Design Research Project. The design process and deliverables produced for each of those projects has given me new, practical and sharper skills that have helped me grow my confidence as a professional. 
Since graduation, I have applied my learnings on numerous projects for clients in a wide range of industries and sectors including Tech, Agro, Environment, Food & Beverage, Education, Health, Fitness and Wellness, Cannabis, Cosmetics & Beauty, Fashion, Veterinary, Gaming, Entertainment, Government, Architecture and Landscape Design. .