Brendan, Class of 2020
March 9, 2021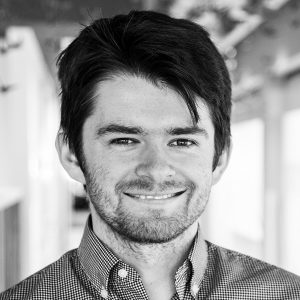 Brendan Raftery | Senior Digital Business and Technology Strategist
Pilot44
Brendan Raftery is a Senior Digital Business and Technology Strategist at Pilot44. There he helps clients across industries imagine and build the future they want to see by piloting emerging technologies in new product lines and ventures. Prior to Pilot44, he worked at Pfizer and Millennium Pharmaceuticals. During his career he has worked on wearables, mobile apps, connected medical devices, social robots, and manufacturing and supply chain. His core interest is at the intersection of science, technology, and design. He earned a BS from Massachusetts College of Pharmacy and Health Sciences in Boston, and an MS in Strategic Design and Management from Parsons School of Design in New York. While a student at Parsons Brendan was part of the team that won the 2020 Rotman Design Challenge. He is currently a co-instructor for a studio at Parsons that works with external companies to address some of their most pressing challenges.
What does Strategic Design mean to you?
Design used to be a cherry on top, something to worry about once a project gets handed off to marketing or branding. Strategic design is using the practice and discipline of design through all the phases of building something new. From research to the conception of an idea to creating and launching.
How have you applied what you learned in the MS SDM  program to your post-graduation career?
One of the biggest problems I see today is companies trying to create things before they have a deep understanding of what problem they're trying to solve. SDM gave me a toolkit of various ways that we can make sense of complex problems so that we're better equipped to solve them. When people think of human-centered design they often think of Post-it Notes and brainstorming, but I would argue the best kept secret of this discipline is its ability to help you understand people, problems, and the systems that they operate in.
What is your favorite memory from your time in the MS SDM program, and/or in NYC?
My favorite memory was working with the team that won the Rotman Design Challenge. The competition happened when the pandemic was picking up, and the in-person component was cancelled because of it. The stress of getting the project done on top of work and classes while also dealing with the uncertainty surrounding the pandemic made it an experience that I will never forget.
What three things do you feel makes the MS SDM program special? 
The way that Parsons teaches human-centered design is unique

—

it's the integration of design with systems thinking and strategic foresight.

Truly outstanding faculty who have their own design practices, which keeps the class content fresh and relevant.

It's very much focused on how to create new things—you will not see classes on marketing or corporate finance in this program.
Has your MS SDM cohort been a valuable part of your professional network since graduation?
Absolutely. I talk with friends from the SDM program daily, have used them as references, and we regularly run ideas past each other. My cohort is full of creative people from all over the world, and I look forward to seeing everyone build a better and exciting future.
Tell us about a time when an MS SDM professor inspired you:
One of my professors, Johann Verheem, encouraged us to "hack the program" to get what we want out of it. In some ways your education in undergraduate studies is fed to you. This is not how grad school works. You need to know what you want and go out and get it, and Johann encouraged us to do just that.
Which projects helped you build your desired expertise and what sectors, companies, or clients you have worked with since graduation?
Our capstone project gave me an opportunity to dive into behavioral change in healthcare. Behavioral change has become a crucial part of design, and I hope to continue to bring what I learned to my job at Pilot44.