Llenando Lagunas con Ceniza / Filling Lacunas with Ash
Posted on November 23, 2021
The dominant narratives espoused by Mexican mainstream media and sanctioned by the government are rife with lies and deliberate lacunas. Mexico is currently in the middle of a crisis of disappearances and the burden for solving these cases and finding the people who have disappeared has fallen to their loved ones, usually spearheaded by their mothers. Eyal Weizman states in his book Forensic Architecture that "histories of violence will always have their lacunas and discontinuities. They are inherent in violence and trauma and to a certain extent evidence of them." (Weizman, 2017, pg. 128). In his work with forensic architecture, he does a lot of work to fill these lacunas and reconstruct narratives or counter-narratives that get closer to the "truth". 
As I was reading his book, I couldn't help but think of how forensic architecture would be a powerful tool in the search for those who have disappeared. As I dove deeper into the different projects forensic architecture has undertaken, I came across a video piecing together the evidence of the enforced disappearance of the 43 Ayotzinapa rural student teachers in Iguala, Guerrero in 2014. This made me realize that there are already various groups and people reconstructing these events through different methods such as personal narratives expressed through art and mining statistics and data. It occurs to me that this multifaceted approach helps to, as Weizman advises, "steer between the two opposing tendencies into which all discussions of truth gravitate – a totalizing view of a single, privileged position, and a relativist, anti-universalist perspective that regards all truths as multiple, relative, or nonexistent."  (Weizman, 2017, pg. 128).
One of the first examples I came across was a curatorial project titled Counter Archives to the Narco-City. The curators explained it as "art and human rights that seeks to make visible the underlying structures and experiences of everyday life in cities beholden to narco-economies along the Latin American-U.S. industrial and migrational corridor" (Reinoza, Vargas-Santiago, 2015: ix). It featured art from two artists, Adriana Corral who is Mexican-American and Alma Leiva who was born in Honduras. Adriana Corral featured two installations: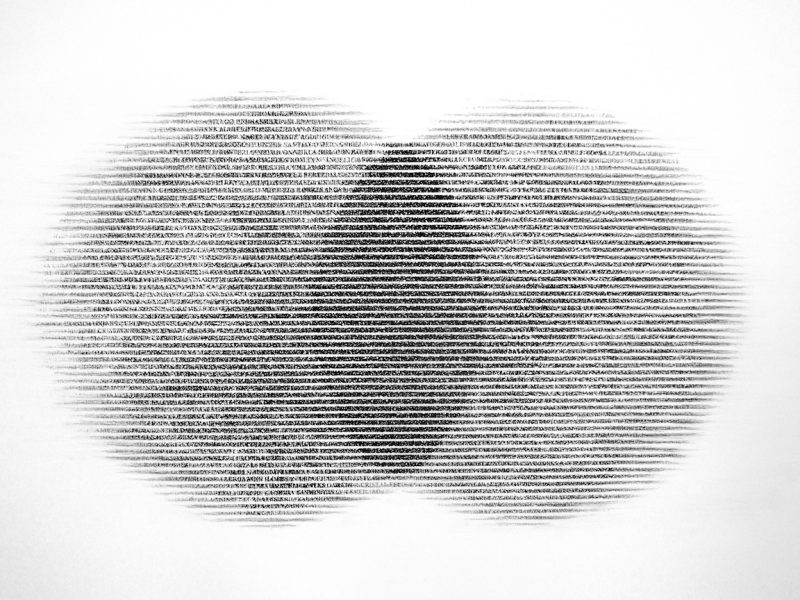 Impunidad. Círculo Vicioso ( 2014-2015) consists of two large circular impressions on a gessobord which was hung on the wall. The left circle contained the names of eight women whose remains were found in a mass grave near a cotton field in Ciudad Juarez in 2001, which symbolizes "Las Muertas de Juárez" (The Dead Women of Juárez) and with that, the wave of femicides that have swept Mexico. The right circle contained the names of the 43 rural student teachers from Ayotzinapa, located in the Mexican state of Guerrero. The circles intersect in the middle and the text is rendered illegible due to the artist laboriously transferring the names as a ritual to honor the victims and commit them to memory. As one of the curators Luis Vargas-Santiago described, " it links the two ends of the same social wound" (Vargas-Santiago, 2015: 13).

Within the Ashes

is an installation and performance which links the case of the women found in the cotton field in Ciudad Juarez to that of the women who were found in four other mass graves in Ciudad Juarez. In order to make this piece, Corral starts by typing the names of the female victims and burning the documents containing their names. Then, using duct tape, she outlines the urban boundary of Ciudad Juarez onto the ground and marks the five mass graves with an "x". Once this is done, she takes the paper ashes and covers the map with a thin layer of grey and the ritual begins, "Corral carefully dusts the ashes off the X, and with a strainer, she shifts in a dry red pigment that stands for the blood spilled in that place. She then sweeps the surface, gathers the ashes and the map gradually gains another color… the spectator can attest to how the red slowly becomes ubiquitous throughout the surface." (Vargas-Santiago, 2015: 23).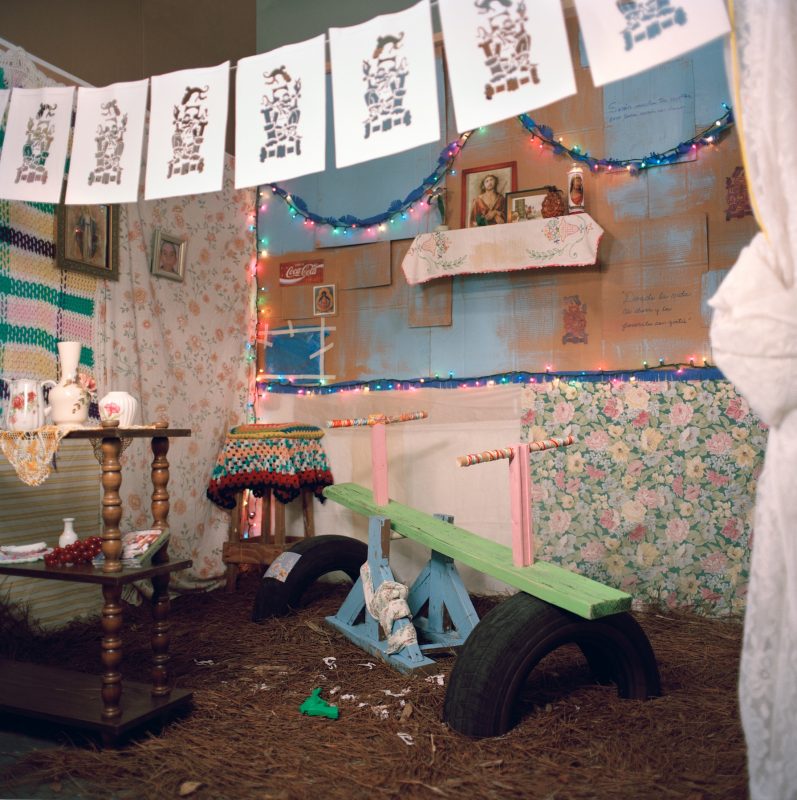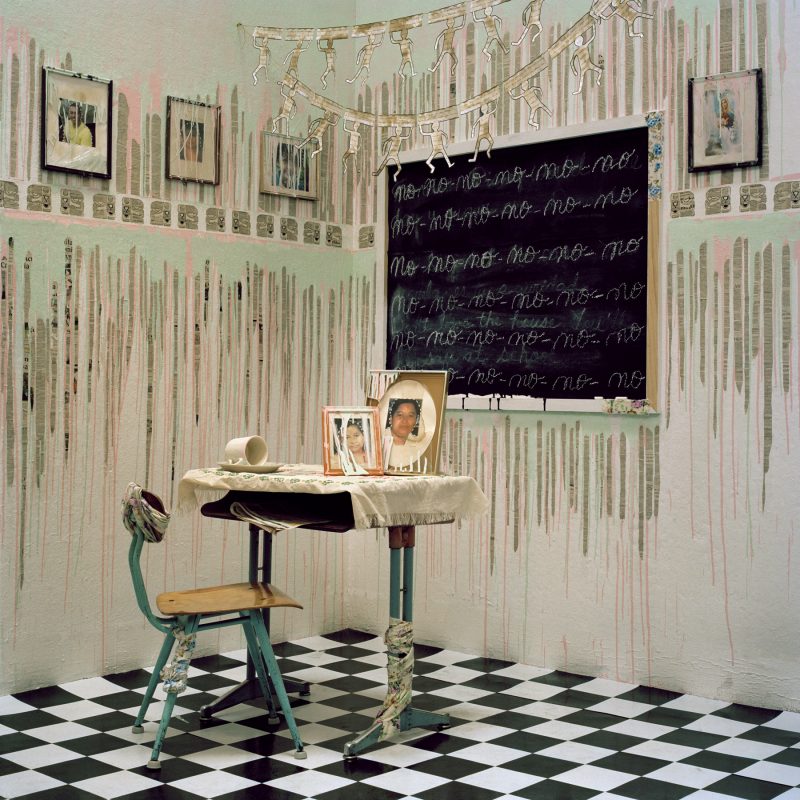 Alma Leiva's work consists of installation photographs known as Celdas (prison cells). Each photograph depicts a domestic interior with an abandoned playscape featuring a child's abandoned toys such as a wooden seesaw, a makeshift soccer field or a swing set. The interiors are warmly lit and inviting, promising coziness and familiarity but if you look more closely you are hit by their disturbing reality; each cell depicts the absence of a person or people murdered due to narco-fueled violence. They also provide commentary about how the ubiquity of violence and fear have made people prisoners in their own homes. Alma Leiva is a native of San Pedro Sula, Honduras, the murder capital of the world. In 2009 a military coup brought more political instability to the already impoverished area which made it a prime location for the illicit narco-economy and in turn, one of the central targets of the U.S.'s War on Drugs. 
This curatorial project not only does as Weizman says and gains access to truth "obtained by local communities and groups"  but also reveals larger patterns and connections present in the social fabrics of these narco-cities. 
The other way that people are reconstructing facts is through independent journalist organizations that mine past data in order to gain a better picture of past events and predict future outcomes. One such organization that works in Mexico is called Data Civica. Recently they partnered with Human Rights Data Analysis Group to develop a tool that helps predict the presence of mass graves in Mexican municipalities. They have noticed a pattern of what they call, "covariants" that are more likely to be present in areas with mass graves. They made this tool in hopes of helping mothers who are searching for their children. 
All of these methods work together to reconstruct the multiple facets of the truth around the enforced disappearances in Mexico. They fill me both with dread and hope. Dread that nothing will change but hope that everything will transform. "No matter if you are a building, a territory, a photograph, a pixel, or a person, to sense is to be imprinted by the world around you, to internalize its force fields, and to transform. And to transform is to feel pain." (Weizman, 2017, pg. 129). 
-CE
Bibliography: 
Weizman, Eyal. Forensic Architecture. Hatje Cantz, 2017.
Adriana Corral: https://www.adrianacorral.com/
Alma Leiva:  https://www.almaleiva.net/photography
Data Cívica: https://datacivica.org/
Article about mass graves: https://datacivica.org/assets/pdf/Fosas_web.pdf