Of Dance and Design
Posted on October 7, 2011 | posted by: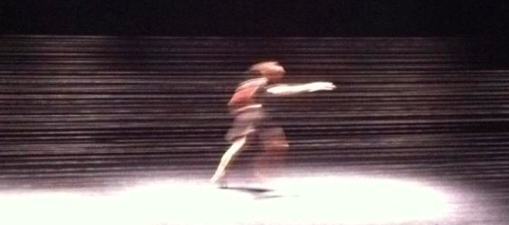 I walked into the Guggenheim, and the walls were empty. An 8 year-old child asked, "What is progress?" and we started to walk. Destabilized but already in motion, I searched for an answer. "Progress means we make things better." The boy elicited clarifications and asked about experiences of progress in my own life as we continued to ascend the museum's spiraling walkway. Then, he distilled the key points of my definition of progress for a teenager who would accompany me on the next leg of this journey. The teen and I built on the discussion I'd had with the boy, focusing on ideas related to personal development and the "career" paths–a salient topic for me in the moment as I sought to take stock of my vocational "progress" and determine the best way forward in this area.  My third guide in this sequence, a woman in her thirties, steered the conversation toward personal cycles of earning and consumption and pro-social modes of living. We shared anecdotes and grappled with the question of how and when people actually become compelled to actions that make for a better world. Suddenly, she disappeared; I was left to continue alone with my thoughts.  At the top, a woman in her sixties approached, and I asked her the questions I'd formed in relation to personal progress and choosing between paths. She offered the following wisdom: in the West, we tend to imagine our purpose in life in the terms of climbing a ladder, or making progress via "paths" with results we can easily track; by contrast, in many Eastern philosophies, there is a vision of life as not a ladder, but a dance. In this context, our goal, rather than to climb in a certain direction, is to act so as to ensure the continuation of the dance.
Our reflection on what it means to be a designer in the 21st century and in the context of our program has evoked for me the memory of the experience of Tino Sehgal's "This Progress," a constructed situation held last year at the Guggenheim in New York. To be sure, there are parallels to be drawn between design practice and the piece itself: participation in both involves tackling hard questions from a place of discomfort of uncertainty, exposing and discussing ideas with others, and participating in a dynamic process in which one has a goal but in which the outcome takes shape along the journey. However, the metaphor of dance, and the contrasting metaphor of climbing a ladder, seem especially relevant to understanding what it means to be a designer, as well as how we become designers.
The practice of dance, or engaging in the continuation of the dance, bears similarities to the practice of design; and the act of climbing a ladder, many contrasts.  Dance and design require participants to be flexible, oriented to the community, and aware and adapting to our changeable surroundings. In dance, we improvise new steps, whereas in a ladder we follow pre-laid steps; in dance and design, we learn to balance, rather than simply hang on; we stay in flow and are in a constant state of negotiation with our partners; and in doing so, we feel most alive.
We have touched on the notion that everyone can dance, but not everyone would call themselves a dancer, and we might say the same about design. Both require practice and consciousness. One becomes a designer through acting with consideration and  developing technique, and it is essential to cultivate openness in this process–to imagine potentially better futures, to dialogue with others, and to act without inhibition. In short, design and dance are both optimistic and conscious practices, and it is perhaps how we deal with these aspects of the design practice that we will learn to become designers. The importance of being optimistic and conscious without ceding to self-consciousness to become a designer or a dancer is apparent if we consider that children will dance naturally, though the juxtaposition of child and ladder climbing is incongruous; ladders are the domain of adults. To climb a ladder requires maintenance of a linear focus on predetermined steps; one has only to power and muscle upward. It is a solitary activity possible to carry out while wearing proverbial earbuds and without engaging with others. It requires no experience of suspension in uncertainty as the conditions remain static. Dance and design require the opposite of us, for optimism and openness to possibility demand that we contend with self consciousness. We must simultaneously raise our consciousness of our role and potential impact while refraining from the self consciousness that results in inhibition. To develop technique and balance, we'll need to let go, to embrace the feeling of destabilization. Ultimately, we'll make progress if we keep moving and doing, while inviting consciousness with open arms.