Thesis Project : Welcomesburg
Posted by on November 21, 2015
=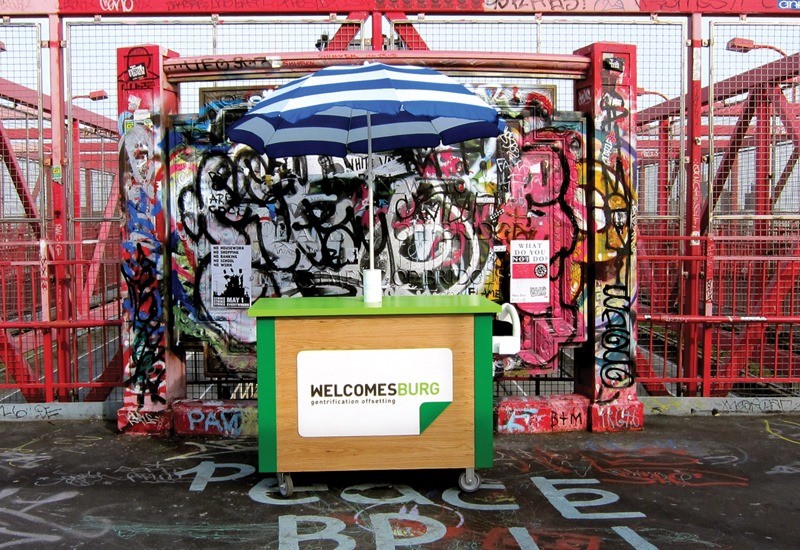 Thesis work by Jacqueline Cooksey and Ben Winter
Welcomesburg is a collaborative service-design project with the goal of raising consciousness about gentrification and fostering more inclusive forms of change in Williamsburg, Brooklyn. Inspired by the popular carbon-offsetting model, the project consists of a range of services designed to confront new residents with the unintended consequences of their presence in the community and, in the spirit of friendly competition, encourage them to be more sensitive to and supportive of their neighbors. By playfully challenging neighbors to directly support each other's best interests — and offset their "gentrification footprints" — the project aims to not only to preserve the socio-economic and cultural diversity of their neighborhood, but also to foster new relationships and greater understanding throughout the community.
Among the components of the project was the welcome wagon, which creates a space for the rest of Welcomesburg to live. Essentially it is a mobile workshop that shifts around the streets of Williamsburg encouraging people to share their stories. This product allows for the opportunity for face-to-face interactions en mass. Creating a conversation space is not only a playful way to engage stakeholders but it allows for new forms of insights to emerge than through traditional modes of research. People could approach the Wagon and walk away at their leisure.
Welcomesburg makes no claim to end gentrification but offers a means for individuals to explore their individual agency and accountability for minimizing the collective dislocation and cultural dilution that often results from gentrification.