Thesis Project : Identity in Motion
Posted by
Warning
: Invalid argument supplied for foreach() in
/home/sds/public_html/wp-content/themes/transdesign/single-inthestudio.php
on line
24
on November 21, 2015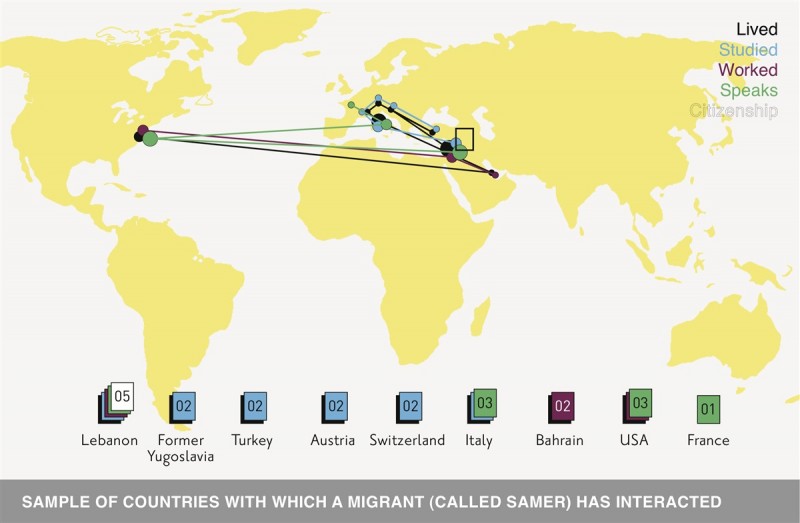 Thesis Project by Elie Kahwagi
Embodied in the biographies of increasingly mobile people–tourists, transnational intellectuals, and illegal aliens–identities today are unrestrained by notions of spatial and national boundaries. Within this context, globalization acts as a framework for multiple narratives of identification and challenges the notion of the individual as a unified subject.
Identity in Motion (IIM) is a speculative project that questions the accuracy of passports in the portrayal of modern identities. Through the proposal of a new identity system, it aims to uncover the meaning of being and of belonging in a globalized world. Drawing on the notion of Transnational citizenship, as well as elements of social media (such as Facebook and LinkedIn), IIM explores identity through eight lenses: Background; Geographical Core; Social Core; Language Core; Education Core; Professional Core; Economic Core; and Political Core.
Using an algorithm to analyze the data submitted through these eight identity lenses, IIM provides each individual with an Identity Core — a multi-parameter vector that is specific to each person's patterning. It reveals which countries are most represented in the individual's identity and which identity categories are contributing to each one of these countries.
As they stand today, passports are about crossing a physical boundary between a country and another. Identity in Motion shows that boundaries can be crossed in many more ways than just a physical passage. Institutionalizing a system such as IIM could renegotiate the way people identify with their nation-states… and with each other.
The ultimate goal: A new world order.