Do you like my lover shoes "The Overlord and His Beloved"?
Posted on November 16, 2012 | posted by: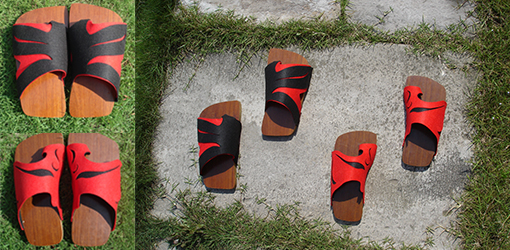 I believe the best way to learn about the customs of a place is neither searching in the Internet nor joining a group tour to have a cursory glance. But only if you calm down yourself and live with local residences. To wait the first flush of dawn at the beach, to roam around freely in the fields, to smell fresh air suffuse with fragrance, to listen the singing of frogs resounding throughout the mountains, to see the rising smoke from kitchen chimneys in the sunset, to meet its unique features, and to feel its mysterious atmosphere.
My favorite activity in college was visiting the countryside where was far away from the hustle and bustle of the city. Leading by professor, we students went to a historic town three years ago. We collected ancient pattern, decoration and engraving, such as sparrow brace in architecture, Dragon Spring sword, paper cutting, shadow puppetry,and facial makeup in Peking Opera. Among the various kinds of traditional craftwork, I was greatly tempted by the facial makeup in Peking Opera which is the quintessence of Chinese culture during the one-month research. I studied the patterns of facial makeup in Peking Opera in details and got to know the color, structure and the implied meaning of each character. Although it is flexible and exaggerated, it follows definite instructions——organizing points, lines, shapes and colors into a decorative pattern. When it comes to four composition, namely, Whole Face, Three Tile Face, Cross Gate and Six Face. And there are  many forms of eye, such as Diechi Eye, Bird Eye, Hanging Eye, Cracking Eye, Straight Eye Sockets, Magpie Eye, Hook Eye, Sharp Eye Sockets, Wrinkle Eye Socket, Old Eye and so on. Later, I made the pattern and form abstract and simplified that were unlike some printed facial makeup in Peking Opera stuff. I intended to create a stereoscopic form that inherited the essence of Peking Opera and extracted traditional elements rather than produced a printed matter.
Having grown up in the most romantic city where is full of love stories such as "White Snake" and "Butterfly", I have been affected. Since ancient times, the hero loves beauty, and the beauty admires hero. The legend is always accompanied by a sentimental romance. Meeting each other, they perform an impressive love story. In the light of a classic love story, I tried to design out a pair of lover shoes entitled "The Overlord and His Beloved". The men's shoe was designed as a hero who was domineering, dashing, hale and hearty. The women's shoe was exquisite and smaller, looked like a gentle, fascinating and charming beauty.
After choosing the best materials, I made shoes with wood and felts in the workshop. It was dangerous to grind wood with machine. I wore hardhat face shield to avoid injury. It was amazing because I had never imaged that a lady like me can use sander, electric saw, boring machine and other complex machines.
Finally,I completed this "The Overlord and His Beloved". This design inherited the Chinese culture, traditional craftwork, and gone beyond the original form. Notably, it implied the poetic and romantic charm.
"The Overlord and His Beloved" have been praised, and some friends said they would like to buy one. That will be great if I have the chance to produce and spread them because they are so cool.