Design Strategy at the Game Developers Conference 2016
Posted on May 2, 2016 | posted by: Jamer Hunt
If Andrea is famous for anything in Transdisciplinary Design, it's definitely for her passion for game design. Andrea or "Andy" for the closest ones is constantly exploring the intersection of play, technology access, and economics and designing systems by playing with them.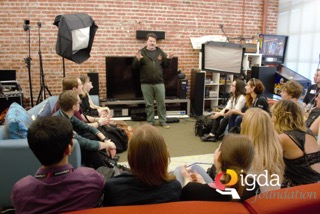 For the second year in a row, she attended the IGDA International Game Developers Conference as a fully funded scholar. When asked why she applied to it in the first place, Andy likes to think that this reaction has to do directly with her hybrid status as a designer. She seems to float in-between the areas of design strategy and game design and she almost feels like she can't quite be placed on one side or the other.
"To design strategists, I'm one of them, with a sometimes rather *odd* fascination with play. On the other side of the field, to game designers, I'm one of them too, with the slight difference that my design process, inexplicably, does not necessarily lead to games."
You can read more here about Andy's experience at IGDA.
Congratulations Andy!