An Interview with Tim Brown…
Posted on February 28, 2011 | posted by: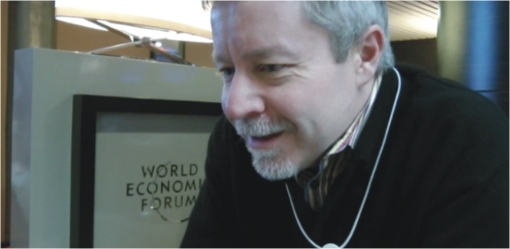 Click here for interview – Tim Brown, CEO and president of IDEO – WEF 2011 – Davos, Switzerland
I had the wonderful opportunity to interview via skype, Tim Brown, CEO and president of IDEO, while he was attending the Annual Meeting of the World Economic Forum in Davos, Switzerland. During his time there, he was also participating and leading a panel discussion at the platform "India Future of Change" (http://www.indiafutureofchange.com) which included renowned panelists like Paola Antonelli, Senior Curator, Department of Architecture and Design, MoMA, and S.D Shibulal, Co-Founder, Member of the Board and Chief Operating Officer of Infosys Technologies Limited, India and Professor M P Ranjan, a former faculty member of the National Institute for Design (NID) Ahmedabad (Session Video: http://www.youtube.com/watch?v=IgWb_rUr1R4). This was a great chance for me to ask him a few questions about India, design thinking and transdisciplinary design.
Thank you once again to Tim Brown for his time and insights.
Here's a brisk summary of the questions…
Design Thinking and India (1:00)
After leading a panel discussion in the platform "INDIA Future of Change", Can you tell us a bit about where you see the scope for design thinking in a developing country like India?"
Design, innovation, and entrepreneurship driving India's inclusive growth (1:58)
The panel discussion is titled "Design, Innovation, and Entrepreneurship: Change Drivers for India's Inclusive Growth". What did you personally gain from this panel discussion and how do you think the participants will advance with this knowledge?
Transdisciplinary design education (3:43)
In your book 'Change By Design' you talk about T-shaped designers. Have heard of the new Transdisciplinary Design masters program at Parsons? The Students come from different backgrounds and collaborate together to tackle design problems. What do you think about such a non-traditional format of design education?
Design Thinking and designers (5:18)
Design thinking is being taken more and more seriously by businesses. However in the design circles, some are struggling with the concept of design thinking. They view it a process they have always been following. What is your opinion about this?
The scalability of design thinking (7:13)
In times of today, people have lost confidence in institutions and leaders and the old way of doing things. The White House hired IDEO to improve its civil service and Iceland hired IDEO to help with its financial crises. Can design thinking really be applied on such a macro level to solve the many complexities the world faces today?
Thankyou ! (9:05)
—————————————————————————————————————————————————
Thank you to Steven J.Dale for the tips on video editing