[RoyalSlider Error] Incorrect RoyalSlider ID or problem with query.
BESTRATEGIC
The School of Design Strategies is an experimental educational environment. We advance innovative approaches in design, business and education. In the evolving context of cities, services and ecosystems, we explore design as a capability and a strategy in the environmentally conscious practices of individuals, groups, communities and organizations. We explore strategy in action. How can we use design strategies to promote change, foster creativity, to envision the new urban? How can design improve or re-imagine a broad range of established systems, from fashion to healthcare to low-income housing? Considering the myriad of challenges in the modern world, how can we use all of our abilities to affect positive change? The School of Design Strategies confronts these challenges in both theory and practice, academically and practically, through rigorous research, experimentation and critical application.
Mission & History
As a school, we apply design strategies to address issues in the urban realm, the environment, business innovation and services and systems. The school was formed in recognition that fundamental changes will profoundly impact all of us from large-scale urbanization, rapid climate change, food inequity and lack of access to affordable housing, for example.
The School of Design Strategies was established to develop new and innovative design methods to address these global problems. Bringing a wealth of expertise to the classroom, faculty members offer students fresh perspectives on how design can have impact on the world. As we develop these programs and the school itself evolves, one thing remains consistent: the curiosity and passion of both the students and faculty. Professors and students are using integrative and transdisciplinary design to co-create new tools and approaches for industries, governments and non-governmental organizations. They are change-makers, visionaries, innovators and entrepreneurs.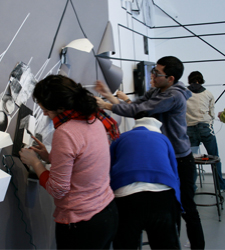 The School of Design Strategies
Dean
[RoyalSlider Error] Incorrect RoyalSlider ID or problem with query.
In an increasingly designed world, art and design reflect and shape all kinds of experiences.
"The School of Design Strategies is a place where students, teachers and communities work side-by-side, grappling with the difficult questions of our time. In the marketplace, healthcare, education, climate change, access to housing, and a range of other issues, SDS students explore strategy in action: researching, designing and prototyping their design responses to these challenges, to propose new ways to create positive change in the world. We are the social entrepreneurs and the future change makers."
Go To The Dean's Profile
Associate Dean
[RoyalSlider Error] Incorrect RoyalSlider ID or problem with query.
EFFECTIVE ACTION REQUIRES COLLABORATION ACROSS DISCIPLINES.
"The leading problems of our time – climate change, the integration of the developing world into the global economy, the safe and affordable provision of water, food, and shelter worldwide – are too complex to be solved using the resources of any one discipline or type of expertise by itself. SDS not only orients its students toward problems like these, but trains them for effective collaboration in interdisciplinary contexts. Design today has moved far beyond its traditional focus on the production of beautiful objects, and has emerged as a set of tools for marshaling and aligning diverse inputs in the service of addressing the most intractable challenges facing humanity today."
Go To Profile
Culture & Place
[RoyalSlider Error] Incorrect RoyalSlider ID or problem with query.
A CREATIVE LABORATORYIN NYC
There is a buzz at the School of Design Strategies, a frenetic mixture of creativity, ambition, passion, activism, innovation and curiosity -- much like New York City itself.
At SDS, students have the unparalleled advantage of NYC as their campus, with endless opportunities to live and learn in one of the world's greatest cities.
Connect
Follow SDS


RT @MarianaAmatullo: Shooting day 2 of ⁦⁦@SDSParsons⁩ ⁦@parsonsdesign⁩ and my new #online course in #Designinnovation #leadership with… https://t.co/lEunWFJhDZ,
RT @Urban_Parsons: We are #ParsonsProud of our MS Design & Urban Ecologies students who are presenting their thesis explorations today. https://t.co/RQcQR9SgnY,
This is amazing! 🙌🙌🙌 https://t.co/bi75dziwKq,
"We live in the illusion of privacy. Privacy no longer functions. What is democracy in a post-privacy world?" @indy_johar #WeissLecture,
"Our previous economy treated humans as labour - our near future economy threatens to treat humans as overheads. We… https://t.co/LekmYnefWc,
RT @MarianaAmatullo: As the world burns we hunt for unicorns- @indy_johar challenges us @TheNewSchool @parsonsdesign as part of our… https://t.co/0bsr63ZNOc,
"How do you drive change and strategy in a complex world. Simple causal pathways do not work." @indy_johar… https://t.co/ka9ptQWgA9,
.@indy_johar is the co-founder of @00ecosystem [zero zero] is a collaborative studio of architects, strategic desig… https://t.co/KkzIkqYFhe,
"Economies of design are never static, always in flux, plural, diverse, and not autonomous." @MarianaAmatullo,
RT @parsonsdesign: Join us tonight @ 6PM for the Stephen #WeissLecture Series. Architect/professor/fellow, @indy_johar will talk… https://t.co/0LS6HchPGP,
We are so excited to host @indy_johar at tonight's Stephen Weiss Lecture Series! It begins tonight at 6 PM at the U… https://t.co/AEGv57ViBe,
RT @timstock: Design must engage the human potential of space more than the technological potential. I enjoy teaching design stud… https://t.co/P6XHjbXuLr,
RT @LoorenBrooke: Engaging students with processes is so important- @art21 how about a documentary on the design research process?… https://t.co/MEkLb5r3To,
RT @godelnik: I'd like to give a big shout-out to the @SDSParsons team for helping organize the 1.5C for Victory event yesterday,… https://t.co/jEVBe43OGS,
RT @LoorenBrooke: Can #ethnography in #design #research help #futuring to avoid missing behavioral changes? Look at "the shape of wor… https://t.co/W0vY9vv3J2,