Zolberg Institute Lecture Series 2016-17 Presents: Fonna Forman & Teddy Cruz: "Cross-Border Community Stations: Co-Producing Knowledge at the US-Mexico Border"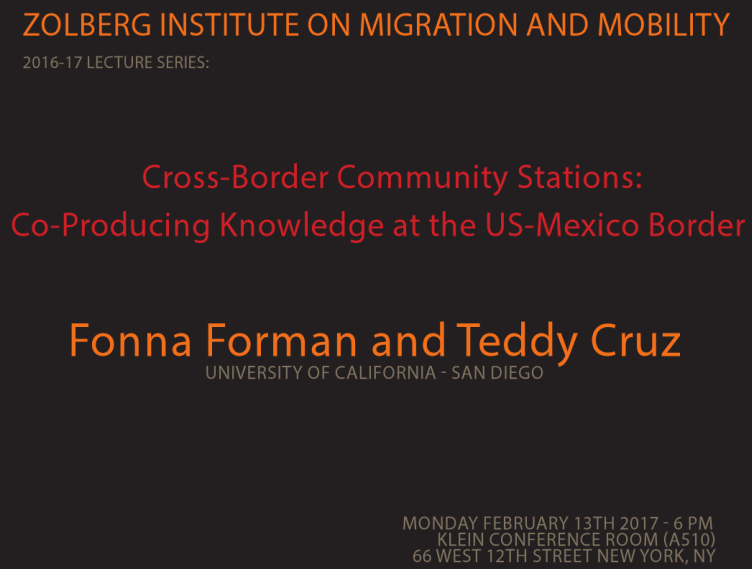 February 13th, 6pm-8pm, Klein Conference Room, A510, 66 West 12th Street. 
In this talk, Forman and Cruz will discuss the Cross-Border Community Stations, a platform of knowledge exchange that links the University of California-San Diego with marginalized communities on both sides of the San Diego-Tijuana border.  The Community Stations enable the university to transgress this contested and increasingly militarized zone, while challenging conventional "vertical" conceptions of university-community partnership in favor of a horizontal, or reciprocal, model of knowledge co-production with border communities
Fonna Forman is a professor of Political Theory and Founding Director of the Center on Global Justice at the University of California, San Diego.  A theorist of ethics and public culture, her work focuses on human rights at the urban scale, climate justice in cities, and equitable urbanization in the global south.  She has also written extensively on recuperating the public and social dimensions of modern economic theory, particularly the thought of Adam Smith. She serves as Vice-Chair of the University of California Climate Solutions Group, and on the Global Citizenship Commission (advising UN policy on human rights).
Teddy Cruz is Professor of Public Culture and Urbanization in the Department of Visual Arts, and Director of Urban Research in the Center on Global Justice at the University of California, San Diego. He is known internationally for his urban research on the Tijuana/San Diego border, advancing border neighborhoods as sites of cultural production from which to rethink urban policy, affordable housing, and public space. Recipient of the Rome Prize in Architecture in 1991, his honors include representing the US in the 2008 Venice Architecture Biennale, the Ford Foundation Visionaries Award in 2011, and the 2013 Architecture Award from the US Academy of Arts and Letters.
Free, and open to the public; no tickets required. Sponsored by the New School for Social Research.