L-Ternatives West Side Workshop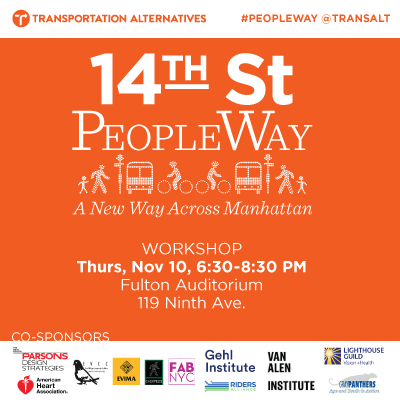 L Train service along 14th Street and between Manhattan and Brooklyn is going to shut down for a year and a half, starting in fewer than 800 days. We've proposed a "PeopleWay" to prioritize buses, biking and walking on 14th Street, a plan that could double the corridor's capacity to move stranded commuters. To make the best possible case to the City, we need your ideas. You have a rare opportunity to sit down and talk with expert urban planners at an event on Thursday, November 10th!  This is an opportunity to solve the upcoming L-Train crisis, and create a more people-oriented 14th Street corridor for New Yorkers going forward.
Co-sponsors include the Gray Panthers NYC, Fourth Arts Block, CHEKPEDS, Riders Alliance, the Van Alan Institute and the Gehl Institute.
When: Thursday, November 10th, 6:30-8:30pm
Where: Fulton Auditorium, 119th 9th Avenue
The venue is fully accessible.