ADIM Conference 2019

The Academy for Design Innovation Management invites an international community of scholars and practitioners to share their stories from the frontlines during the June 2019 Conference on Research Perspectives in the Era of Transformations.
As a both a faculty representative and Elab Founder, Rhea Alexander participated in the Conference along with several colleagues, students and Alumni from Parsons and the Elab as part of a track review committee for Case Studies from the Frontlines of Design Innovation Management, submitted two case studies as well as presented them in London in June 2019. The submissions were chosen in a double blind review process.The two papers submitted were:
Breaking Boundaries: A Unique Inter-University Program Addressing the 21st Century Skills Gap
Co-authored by Rhea Alexander, Matthew Stewart and Shane Snipes
https://www.academia.edu/40757691/Breaking_Boundaries_A_Unique_Inter-University_Program_Addressing_the_21st_Century_Skills_Gap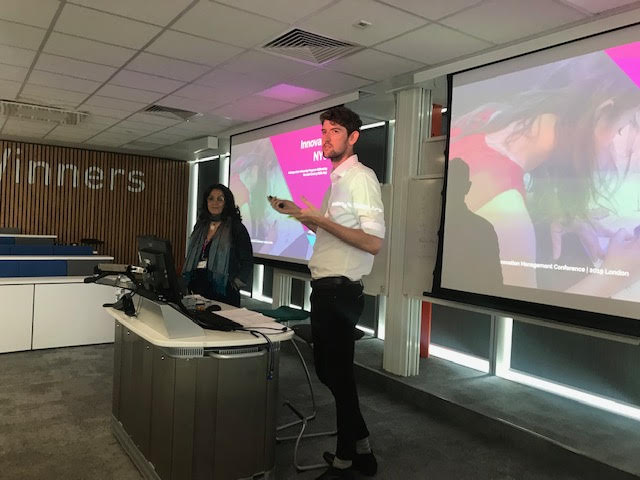 Abstract
According to the World Economic Forum 2020, some of the most critical skills needed to thrive in the future economy will be the ability to collaborate in multidisciplinary teams, build diverse networks, and be human-centered problem solvers. However, many university students have limited exposure to interdisciplinary problem solving and tend to build connections within their bubbles (socioeconomic level, college, the field of study).
In this study, we'll review Innovate NYC (iNYC), an extracurricular program addressing these skills gaps. In three cohorts between 2016-18, 50 students from 12 New York City colleges, collaborated in multidisciplinary teams to solve real-world problems using innovation methods like HCD (Human Centred Design) and lean business strategies. The challenges were provided by partners like NYCEDC (NYC Economic Development Corporation) and other locally focused non-profits. However, did it the program achieve what it set out to do and how might we apply the learning? In this study we aim to: 1. assess the strength and diversity of social connections between former iNYC participants, 2. identify any effect the program may have had on their career pathways, and 3. assess their continued use of innovation methods. To do this, we will examine the structure and delivery of the program, as well as review qualitative exit surveys and longitudinal survey results.
Managing Vulnerability and Uncertainty: Building designerly ways of doing within non-designer teams
https://www.academia.edu/40757689/Managing_Vulnerability_and_Uncertainty_Developing_design_competencies_within_an_American_healthcare_non_profit_20191027_111886_1iiogdk
Co- Authors: Rhea ALexander, Sarah Jones and Vinay Kumar Mysore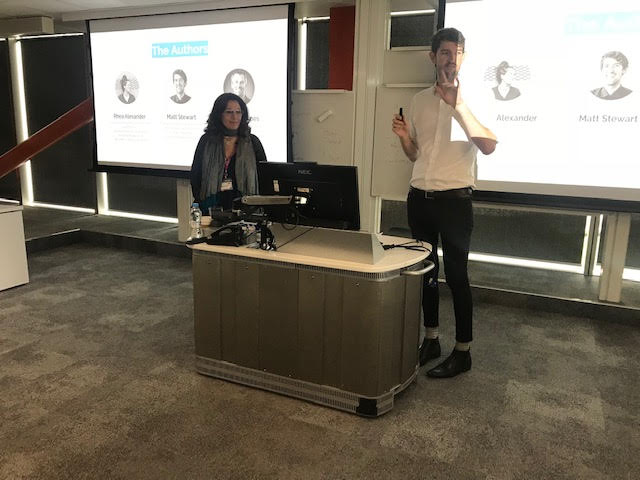 Abstract
This case study explores building design competencies and a design-driven organizational culture within an American healthcare non-profit.
More than simply applying design tools within the healthcare, this case study looks at how this organization has succeeded and continues to develop designerly competencies in its diverse staff. Staff are primarily from the healthcare space, as well as banking and sales.
We look at how the staff has adapted to working within a design-driven organization, how the organization's founder has helped guide team members through a process of discomfort and vulnerability as they develop confidence and capabilities using and applying iterative design methods and embracing innovation and uncertainty within an experimentally-driven and human-centered organization.
Using surveys and interviews with employees at various points in their early tenure including observational data, we chart a transformational arc. The learnings to share include both the universal and the particular: what are the core competencies to develop in all organizational members, and what are the specific and different ways competencies can take form. From building explicitly shared languages to facilitated sensemaking this case study offers an opportunity to share new and developing practices for embedding design-driven innovation and management practices in new fields and contexts.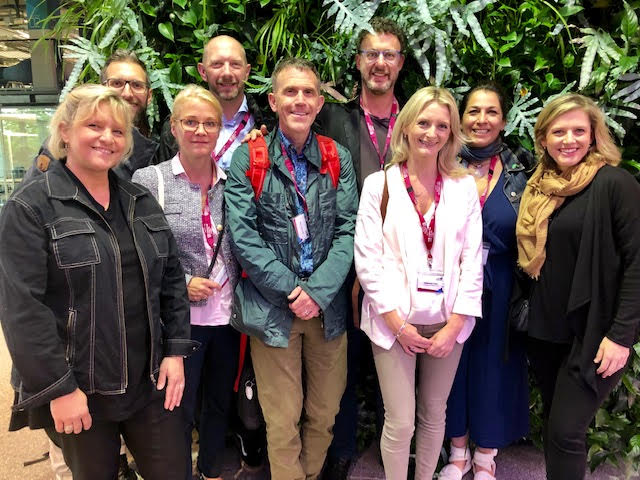 Colleagues presenting at London Conference June 2019
Cumulus Conference 2018

Written by Rhea Alexander, Founder and Director of Parsons ELab and Assistant Professor of Strategic Design and Management at Parsons, The New School and Research Assistant Vinay Kumar Mysore.

Future Pathways for Design-Driven Entrepreneurship Education 

Abstract: 
Designing in and for transition, within contexts of constantly changing certainties and boundaries, demands new models of pedagogy; capable of building deep competencies within students beyond the studio's borders. Academia is facing radical disruption as students demand a redefinition of education (Traitler,Coleman and Hoffman, 2014). This transformation must be applied within design education. How do we educate designers to design for present ambiguity and future uncertainties in a world with radical complexity and wicked problems?
Parsons ELab is a design-driven academic business incubator and research lab with the ambitious mission to develop a distributed academic incubation model. Our research investigates how to transition design education and its evaluation, create models for future academic distributed incubators, and new research methodologies to incubator and accelerator research. Conventional incubation research is focused on understanding the financial impact of incubees through their period of incubation (Messeghem et al, 2017). Parsons ELab has developed a mix of deep qualitative and quantitative research to build a broader view of impact.
Our research offers a unique perspective in evaluating educational, financial and social impact. We find a need to challenge conventional approaches to entrepreneurship research and education. Our findings develop necessary practices in the implementation of distributed academic incubator models. ELab continues to refine its methodology as it works towards a roadmap for other institutions seeking to encourage design-driven entrepreneurship. Our work expands definitions of impact. As we identify new transitions and needs for design-driven, entrepreneurially-focused education, we look to develop new pathways for design students to develop critical competencies.
LINK TO THE DOCUMENT:
Future Pathways for Design-Driven Entrepreneurship Education (pp 365-378)

Design4Health

Written by Rhea Alexander, Founder and Director of Parsons ELab and Assistant Professor of Strategic Design and Management, Aaron Fry, Associate Professor of Design Strategies and Research Assistants Aryanna Martin and Vinay Kumar Mysore.

Strategic Design and the Future of Work-and-Wellness

Abstract:
By 2015, 53.5% of U.S. workforce participants were Millennials; a majority that will grow over the next few decades as this generation influences economic development. Here we highlight Millennial workers' prioritization of purposeful work, values-driven corporate citizenship and work-life balance, arguing that start-up business entrepreneurship, coupled with strategic design promise to play an important role in reimagining workplace wellness for this generation. We discuss the role of strategic design innovation in the entrepreneurial context, presenting key insights about the design process derived from interviews with six Millennial generation start-up founders-graduates of Parsons' Entrepreneur's Lab incubator-who deploy design methods and tools in a business context to re-imagine and innovate 'human capital' wellness and work environment.

Alexander and Fry represented ELab in November 2017, when they submitted an extended abstract and presentation request, subsequently accepted to the Design4Health conference at Swinburne in Melbourne, Australia on December 4-7, 2017. The two presented a deck at the conference and the findings presented, titled "Strategic Design and the Future of Work-and-Wellness," has been submitted in January 2018 for the Taylor and Francis Journal Design for Health – a rigorous double-blind peer reviewed journal. The submission is comprised of a 47-page paper that includes 5 case studies and data from 5 companies out of the ELab.
LINK TO THE DOCUMENT:
https://www.tandfonline.com/eprint/t2K99IfB52yfQ3xNynfp/full?target=10.1080%2F24735132.2019.1584024&
21st Century Academic Forum Conference
LINK TO THE DOCUMENT: 21st Century Academic Forum Conference Proceedings
Cuaderno 64 Journal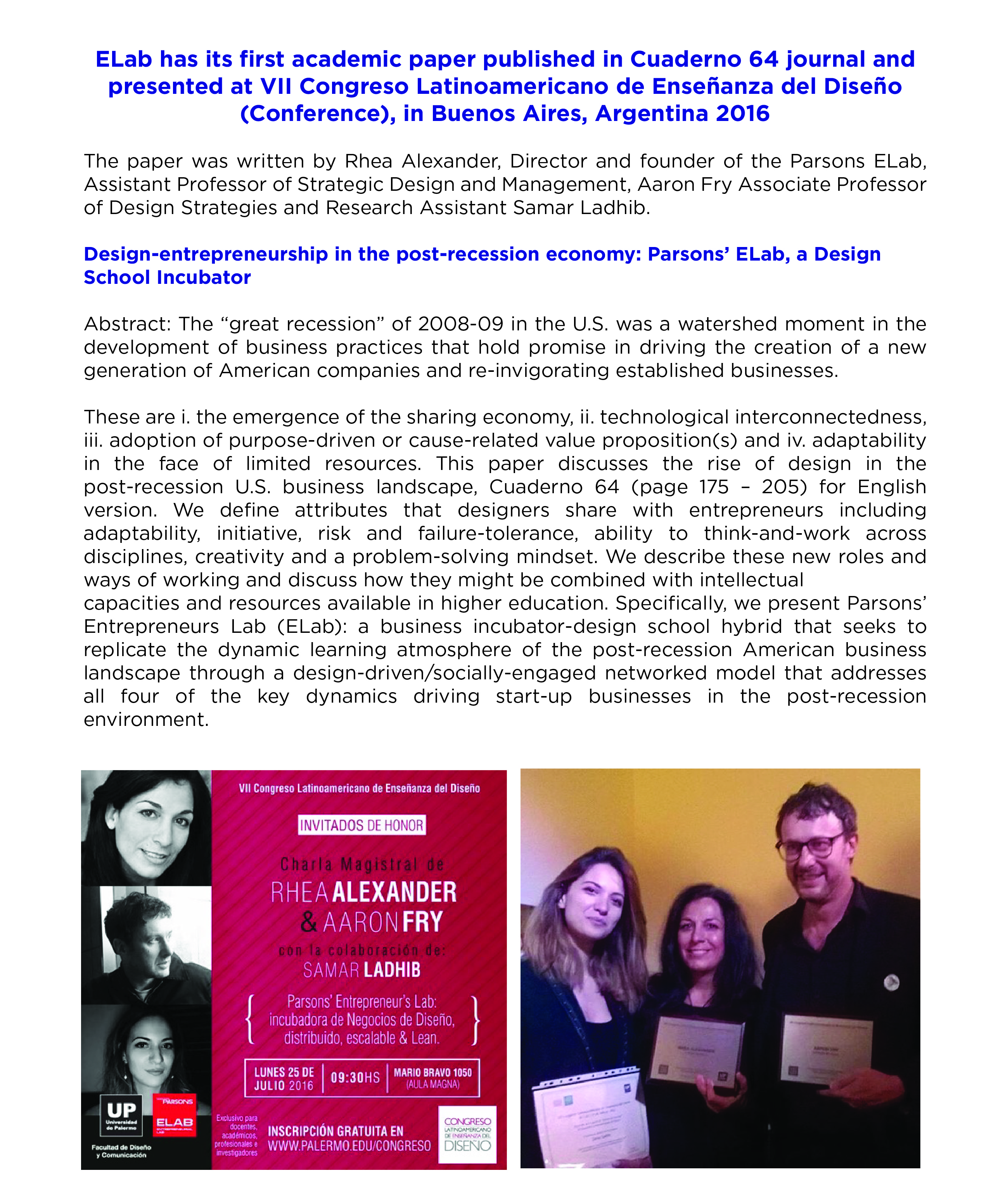 LINK TO THE DOCUMENT: Cuaderno Paper Published  Chapters/ Articles

The Genome Project
The study, launched in 2017, will create a holistic perspective on entrepreneurship born from The New School, past and present. Our aim is to assess the impact of entrepreneurial alumni on their local economies, and the scale and impact of their entrepreneurial ventures.
This comprehensive survey will map the impact our entrepreneurial alumni have had economically, socially, creatively — in whole, visualizing a display of The New School's entrepreneurial genome.
COLLECT – We want to measure and map the numbers and locations of self-declared entrepreneurial alumni over time, focusing primarily on the last 100 years.
MAP – Subsequently, we will use resources in data visualization to map the results of this widespread collection, displaying entrepreneurial alumni locally and globally further refined by social, cultural and/or economic value.
IMPACT – The goal of this initiative is to create an engaging visualization and positively impact alumni engagement, as well as assess and demonstrate the collective impact and industry of all surveying and collected alumni.
DEVELOP – The resulting holistic perspective will contextualize and initiate greater consideration and proof of entrepreneurship at The New School, and provide context for the many growing endeavors around entrepreneurship developing at the university.
SHARE – We aim to share the results of this study in many forms and through many public, including a 100-Year interactive timeline to celebrate the Centennial.
Link to site https://www.tnsgenomeproject.org/