Design4Health

Written by Rhea Alexander, Founder and Director of Parsons ELab and Assistant Professor of Strategic Design and Management, Aaron Fry, Associate Professor of Design Strategies and Research Assistants Aryanna Martin and Vinay Kumar Mysore.

Strategic Design and the Future of Work-and-Wellness

Abstract:
By 2015, 53.5% of U.S. workforce participants were Millennials; a majority that will grow over the next few decades as this generation influences economic development. Here we highlight Millennial workers' prioritization of purposeful work, values-driven corporate citizenship and work-life balance, arguing that start-up business entrepreneurship, coupled with strategic design promise to play an important role in reimagining workplace wellness for this generation. We discuss the role of strategic design innovation in the entrepreneurial context, presenting key insights about the design process derived from interviews with six Millennial generation start-up founders-graduates of Parsons' Entrepreneur's Lab incubator-who deploy design methods and tools in a business context to re-imagine and innovate 'human capital' wellness and work environment.

Alexander and Fry represented ELab in November 2017, when they submitted an extended abstract and presentation request, subsequently accepted to the Design4Health conference at Swinburne in Melbourne, Australia on December 4-7, 2017. The two presented a deck at the conference and the findings presented, titled "Strategic Design and the Future of Work-and-Wellness," has been submitted in January 2018 for the Taylor and Francis Journal Design for Health – a rigorous double-blind peer reviewed journal. The submission is comprised of a 47-page paper that includes 5 case studies and data from 5 companies out of the ELab.
LINK TO THE DOCUMENTS:
Strategic Design and the Future of Work-and-Wellness (pending double peer review)
https://www.academia.edu/35837197/Strategic_Design_and_the_Future_of_Work-and-wellness
21st Century Academic Forum Conference
LINK TO THE DOCUMENT: 21st Century Academic Forum Conference Proceedings
Cuaderno 64 Journal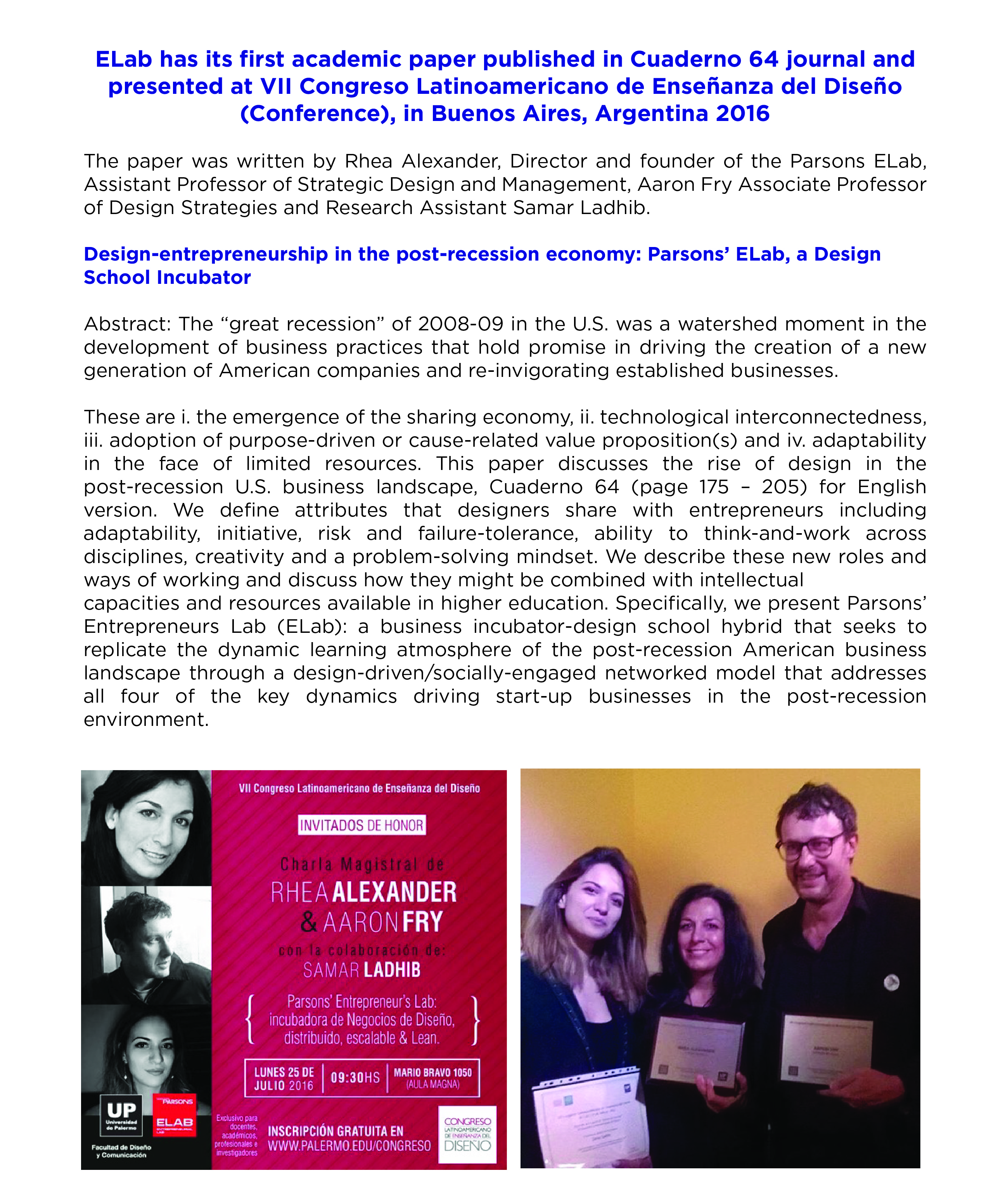 LINK TO THE DOCUMENT: Cuaderno Paper Published  Chapters/ Articles

The Genome Project
The study, launched in 2017, will create a holistic perspective on entrepreneurship born from The New School, past and present. Our aim is to assess the impact of entrepreneurial alumni on their local economies, and the scale and impact of their entrepreneurial ventures.
This comprehensive survey will map the impact our entrepreneurial alumni have had economically, socially, creatively — in whole, visualizing a display of The New School's entrepreneurial genome.
COLLECT – We want to measure and map the numbers and locations of self-declared entrepreneurial alumni over time, focusing primarily on the last 100 years.
MAP – Subsequently, we will use resources in data visualization to map the results of this widespread collection, displaying entrepreneurial alumni locally and globally further refined by social, cultural and/or economic value.
IMPACT – The goal of this initiative is to create an engaging visualization and positively impact alumni engagement, as well as assess and demonstrate the collective impact and industry of all surveying and collected alumni.
DEVELOP – The resulting holistic perspective will contextualize and initiate greater consideration and proof of entrepreneurship at The New School, and provide context for the many growing endeavors around entrepreneurship developing at the university.
SHARE – We aim to share the results of this study in many forms and through many public, including a 100-Year interactive timeline to celebrate the Centennial.
Link to site https://www.tnsgenomeproject.org/