Meet Angela & Chloe: 2017 ELab Fellows, and the cofounders of Threadcycle.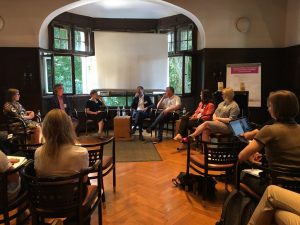 This summer, Angela and Chloe traveled to Berlin, Germany to present their company, Threadcycle, at the Sustainable Fashion Consumption Symposium.
Selected to lead one of the core breakout sessions, they introduced the context from which Threadcycle was born, the company's mission and their developing method of recycling to receive great feedback from a network of academic professors and researchers.
What is Threadcycle? Threadcycle is a company dedicated to innovating the production cycle of the apparel industry by recycling pre-consumer textile waste to produce different and diverse ecological products. Among them, is active carbon black: used as a filtration material to make filters for air and water. Threadcycle will also produce Bio-Char, which is used as a rich soil amendment that actually combats climate change, and bio-oil which can be converted into diesel fuel or renewable energy to be put directly onto our power grid. 
What's the context? The apparel industry is an extremely wasteful one, in which natural resources— water, cotton, petrol, and energy— are used at alarming and unsustainable rates with unacceptable environmental consequences. In order to begin to address these issues, Angela and Chloe are introducing innovative processes simultaneously at the beginning and end of the production cycle, ideally working their way to a circular production system in which products and materials are considered from cradle to cradle.
" We need a closed loop system, we cannot just keep creating products that have nowhere else to go but the landfill and our oceans. "
The Bio-char, carbon black and bio-oil are made from fabric scraps collected from the cutting room floors of the NYC Garment District through a process called pyrolysis — a thermochemical decomposition of material at elevated temperatures. Recycling these textile scraps proves that the fashion industry can be beneficial to communities if processed and recycled correctly, leveraging the benefits within the discarded textiles rather than rendering the fashion industry simply exhaustive and exploitive.  
At the symposium, Angela writes that overall, the audience was very receptive to Threadcycle's approach. Questions included why fashion created so much waste in cutting, and whether Threadcycle's solution would change company's perceptions and awareness on the topic of reduction vs. recycling. Many masters' students from Berlin's ESMOD College expressed interest and excitement in their efforts. Moving forward, Angela and Chloe are very excited about the launch of Threadcycle and the acquisition of first customers. On the side, Angela and Chloe run an Etsy shop where they hand-weave and sew fabric products with other collected textile scraps. Check out their shop!
---
For more information about Threadcycle, visit their webpage: http://threadcyclenyc.com/
To contact Angela or Chloe for press and business, email parsonselab@gmail.com.