The Parsons Elab is a non profit incubator that adopts a distributed network model, drawing its principles from the Parsons Design Thinking methodology and has at its heart social entrepreneurship. 
  A DISTRIBUTED
MODEL
  THE PARSONS DESIGN THINKING
METHODOLOGY
  SOCIAL ENTREPRENEURSHIP

A system where value is co-created and exchanged in a distributed way by a network of partIcipants

Networked business models

Value exchange networks

Collaborative consumption

P2P services

Bottom up values exchange

Sharing economy

User generated content

"A discipline that uses a designer's sensibility and methods to match people's need with what is technologically feasible and what a viable business strategy can convert into customer value and market opportunity"




The Parsons process is centered on the basic principles of design thinking which embraces questioning, reflection and synthesis at each step.

We aim to identify and solve social problems on a large scale.

We, the driven community of changemakers, we want to  act as the change agents for society,  in order to improve systems, reinvent experiences, transform approaches and solve social problem in a sustainable way.
Elab's aim is to support and strengthen our design student's evolution from academic to entrepreneur through extra-curricular opportunities and mentorship around design thinking and business strategies for startups and upon graduation by connecting them to the greater NY design, startup, business and tech communities. Through a series of program offerings designed in increments along the student's journey to entrepreneurship, the Elab offers students and alumni opportunities to connect, collaborate and become the changemakers of tomorrow.
Our Vision
Empowering our future generation of changemakers by supporting their social entrepreneurial ventures and connecting our greater community around leading positive change.
Our Mission
Provide opportunities for social entrepreneurship experiences for our community of changemakers from student to recent alumni to long term alum by offering support for student who seek to be entrepreneurs more exposure to the demands of entrepreneurship, to our recent alumni startup businesses many of which originate in our programs and to long term alumni who wish to connect and give back.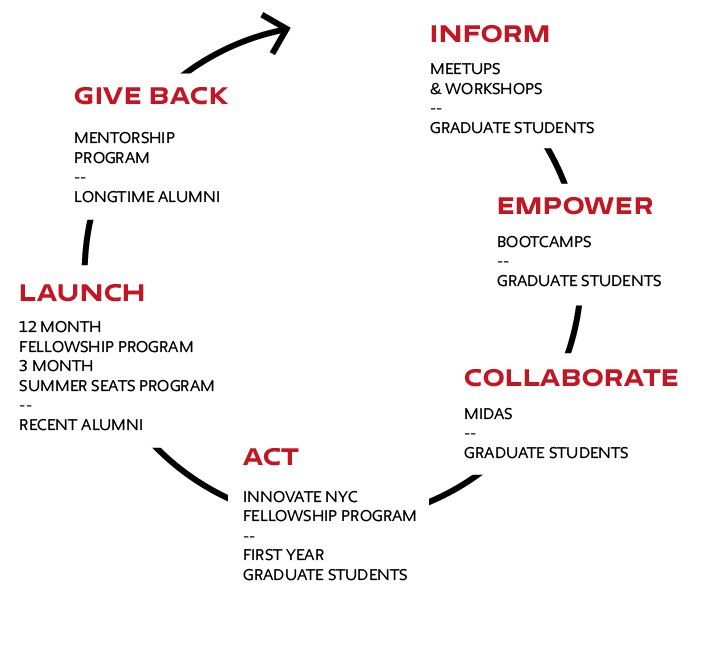 Our Core values
Integrity , Transparency & Trust
Infused design methods into our process  
Use lean iterative prototyping process
Mission driven social vision
Community outreach and inclusion
Diversity of people and projects
Empowerment & self-realization
Co-creation, Creativity 
Sustainability, growth, and success
Social  + Environmental responsibility