Our fellows lead for-profit scalable businesses, nonprofit B-corps as well as agency and independent models. Motivated by the goals of sharing, testing, learning, and launching, we provide fellows the following tools, activities and touchpoints, which are integral to the design-driven curriculum we offer and integral to our community support and research:
Weekly check-ins and quarterly reviews

with ELab Venture Associates and Team to keep on track with milestones and self-reported benchmarks;

Meet-Ups

that enable fellows, mentors and partners to share information and skills/services, such as user experience design or graphic design;

Design Jams and Hackathons

aiming to attract passionate people with various expertise to collaborate on answering fellows' immediate needs;

Website Resources

in which fellows and administrators can share and exchange useful information, websites and tools

Membership in Incubators and Coworking Spaces

, such as NY Designs, Center for Social Innovation, Civic Hall,, and ALLEY.

Networking Events

that enable fellows to meet potential collaborators or service providers, learn more about what other entrepreneurs are working on, and exchange resources and skill-sets, and leverage public for startup validation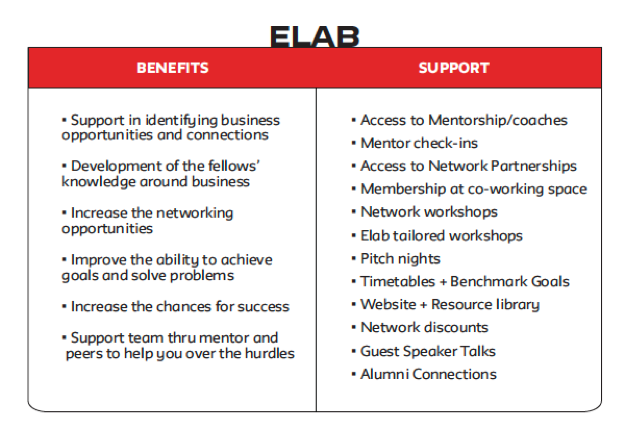 Timebank Mentorship
Elab provides a supporting network to Fellows as facilitator, making introductions and setting up an educational and design-led framework. ELab mentors serve as critical ongoing support within our distributed model. They have substantial influence on the success of the startups and represent ELab values and mission. Timebank mentorship provides fellows with specific expertise when most needed during their startup journey, and accommodates mentors by providing a flexible way of supporting innovation and entrepreneurship. The timebank structure functions as educational touchpoints for the fellows, and allows individualized mentorship determined by team progress – not by assignment.
Read more about Our Mentors.