The Zebras Are Coming to Design Innovation and Leadership!
Aniyia Williamsand Astrid Scholz– two visionary entrepreneurs and leaders/co-founders of The Zebra Movement– will join us online for a conversation the will finalize the course on Design Innovation and Leadership. This is an important movement and a great learning opportunity for the students and I want to make sure we spread the word about it as much as possible.
___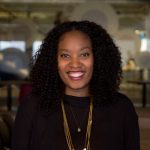 Aniyia Williams – creator, inventor and tech changemaker. She started a fashion hardware company, Tinsel, in 2014, in response to the lack of tech products developed with women in mind. After coming up with the idea of an audio accessory that doubles as a beautiful piece of jewelry, she left her role in marketing at the tech company Voxer to pursue it fully. Aniyia Williams has background in the arts and tech, as well as a decade of training as singer of classical music and opera. She has held roles in marketing, community management, business development and non-profit fundraising. Alongside building Tinsel, Aniyia is a co-founder of Zebras Unite and serves as Executive Director of Black & Brown Founders, which provides vital resources to Black and Latinx entrepreneurs building tech companies with limited capital.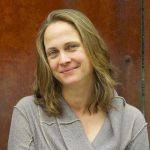 Dr. Astrid J. Scholz – CEO of Sphaera, a for-purpose, for-profit tech company dedicated to accelerating the pace of change. By making it easy and rewarding to share, innovate, aggregate, measure, and finance solutions across what is currently a highly fragmented social innovation landscape, Sphaera and its partners are building a global infrastructure for mobilizing innovations and capital at the scale required to achieve the Sustainable Development Goals by 2030. Astrid was previously President of Ecotrust, where Sphaera was incubated in partnership with the Rockefeller Foundation, Mercy Corps, Oxfam, the Island Institute and other likeminded organizations. She has served on several advisory bodies for public-private partnerships for conservation and social outcomes, including the State of California's Marine Life Protection Act Initiative. Astrid is a founding board member of the XXcelerate Fund, a revolving loan fund created for and by women entrepreneurs that is piloting in her home state of Oregon, USA. She serves on the boards of Habitat Media, Living Oceans Society and COBI (Communidad Y Biodiversidad), and is a speaker on social innovation, the business of philanthropy, and the role of technology for world-positive change. She is a co-author of the Zebra Manifesto, a call to action for companies that build ambitious technology for systemic change, and co-convener of the first gathering of zebra companies in the fall of 2017. Astrid holds degrees from the University of St. Andrews, the University of Bristol, and the University of California, Berkeley.