Iconic Brands in the Age of Anarchy with Soon Yu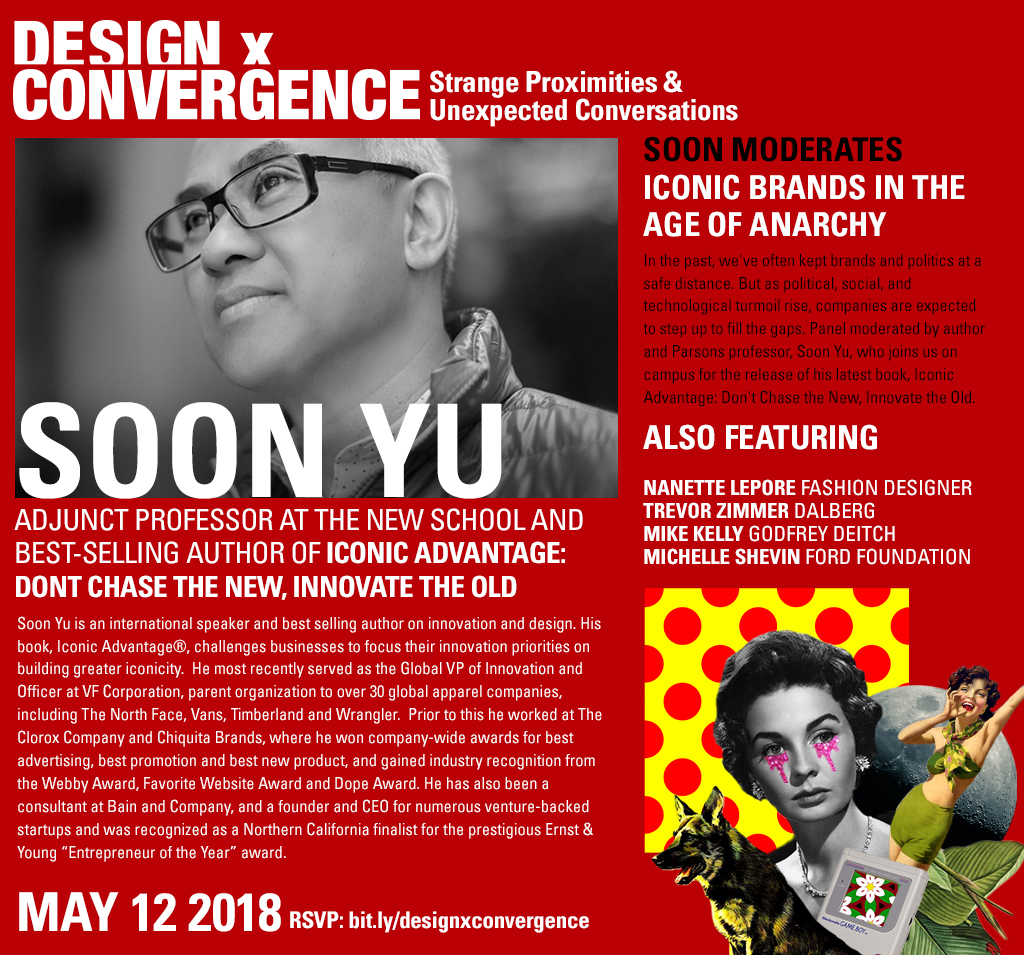 Design Session- Iconic Brands in the Age of Anarchy
In the past, we've often kept brands and politics at a safe distance. But as political, social, and technological turmoil rise, companies are expected to step up to fill the gaps. Panel moderated by author and Parsons professor, Soon Yu, who joins us on campus for the release of his latest book, Iconic Advantage: Don't Chase the New, Innovate the Old.
The conversation is getting strange. Be part of it. Get your ticket here for the 2018 Strategic Design Conference: DESIGN X CONVERGENCE, taking place on Saturday May 12, 2018 at The New School.
___
Soon Yu, speaker, adjunct professor at The New School and best-selling author of Iconic Advantage
Soon Yu is an international speaker and best selling author on innovation and design. His book, Iconic Advantage®, challenges businesses to focus their innovation priorities on building greater iconicity.  He most recently served as the Global VP of Innovation and Officer at VF Corporation, parent organization to over 30 global apparel companies, including The North Face, Vans, Timberland and Wrangler.  Prior to this he worked at The Clorox Company and Chiquita Brands, where he won company-wide awards for best advertising, best promotion and best new product, and gained industry recognition from the Webby Award, Favorite Website Award and Dope Award. He has also been a consultant at Bain and Company, and a founder and CEO for numerous venture-backed startups and was recognized as a Northern California finalist for the prestigious Ernst & Young "Entrepreneur of the Year" award.
Don't miss Soon Yu's Design Session at the 2018 Strategic Design Conference. Get your ticket here!