font
size
font
Georgia
choose font
Arial
Courier New
Georgia
Tahoma
Times New Roman
theme
default
choose theme
default
inverted
sepia
A Living Arts City Lab
diy global exchange
kimberly tate
Where does Global Exchange start?
In short, you. You as a person immersed in your culture, history, and locality. You as a creative individual with diverse interests. You as someone curious about your context and the world beyond your fish bowl.
Global Exchange begins hyperlocally. It provides an opening to people and places beyond your classroom, discipline, and culture. It is as much a social experiment as it is a design method and self-discovery method.
Global Exchange encourages you to be a more dynamic, collaborative, expansive, and empathetic designer. Exploring ways to engage in the world and to challenge antiquated definitions of discipline can open doors to unexpected, yet profound, opportunities.
The Global Exchange Laboratory at Parsons The New School for Design emerged at the intersection of art, architecture, social science, and media studies by Brian McGrath, Vyjayanthi Rao, and Jane Pirone. In 2013, I co-taught the class with Brian McGrath. The course challenges neat disciplinary boundaries and encourages students to apply their burgeoning design skills in communities around them. Further, the class prototypes "an open knowledge production framework" to "enrich the production of cross-disciplinary and cross-cultural knowledge in an era of rapid urbanization and globalization." Students can work collaboratively to engage people, practices, or sites of their interest. The following maps our Spring 2013 exploration and calls you to action.
Where did we start?
We began the semester by surveying our classroom. Situated in the heart of New York City, Parsons attracts a culturally diverse student body. Our Global Exchange Laboratory assembled graduate and undergraduate students from a diversity of programs throughout The New School.
People's lives aren't defined by a geographical place, especially in an immigrant rich place such as New York. We have complex and expansive "geo-bodies." Therefore, we asked students to collectively draw maps to illustrate the mini biographies of their lives. By connecting the dots of formative experiences leading up to the present— where they were born, where they grew up, where they went to school, worked, and traveled—they revealed hidden collages of life experiences along with their professional ambitions.
A diversity of interests emerged from cartooning to fire throwing and passions for landscape, design, curating, urban wandering, and human rights.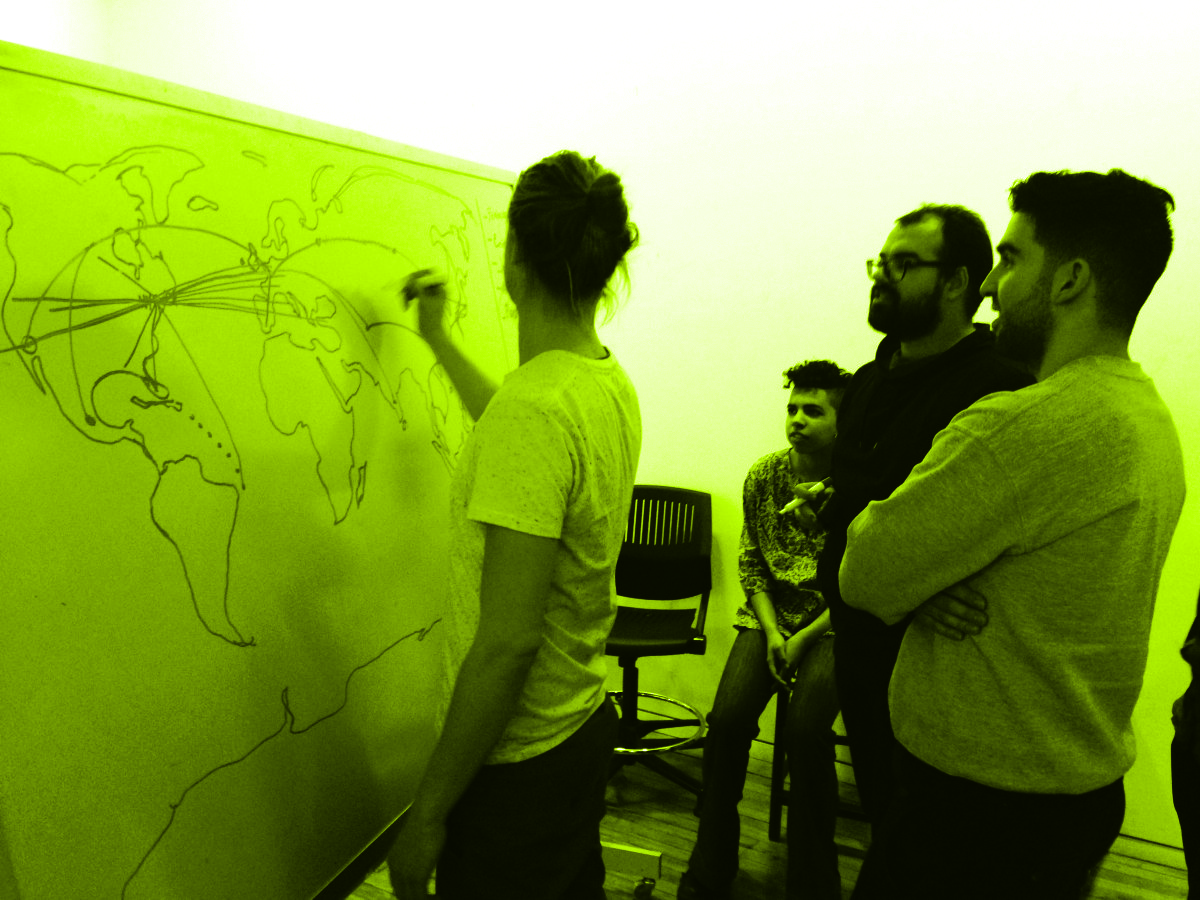 mapping geo-bodies
2013, Drawing & Sharing.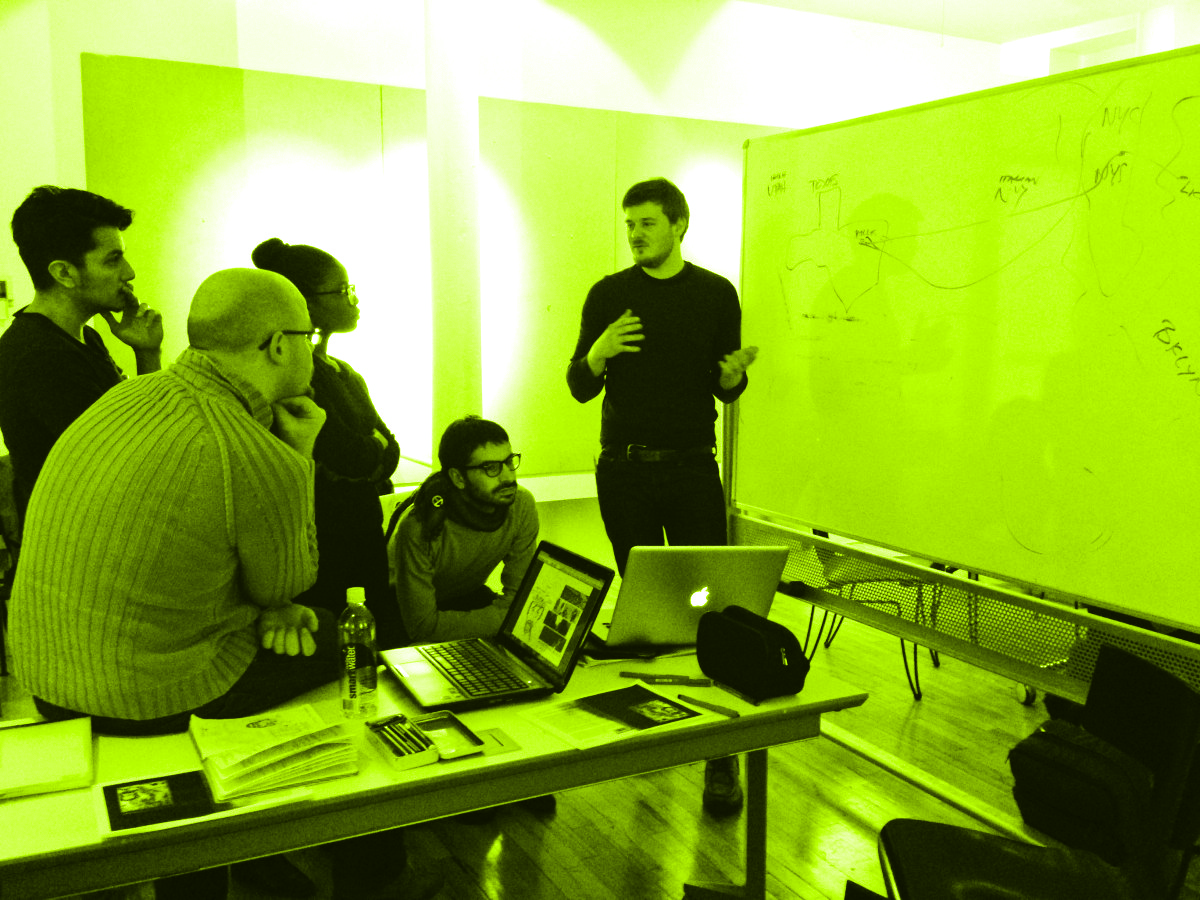 mapping geo-bodies
2013, Reflection & Discussion.
mapping geo-bodies
2013, Drawing & Sharing.
Each person was a palimpsest of interdisciplinarity and brought unique sensibilities to the table. These candid introductions laid the foundation for connections with others in the room—our first exchange between peers in class.
Can you illustrate your geo-body?
What's your geo-body? How has it unfolded? How have your experiences influenced your interests and design perspective? What are you working on? Do you have inclinations toward a discipline or area of research? Can you anticipate your unique contribution or mode of participation? What skills and sensibilities do you bring to the table?
It's ok if your answers aren't clear. Exchange is an exercise in self-discovery. Exchange begins with questions. Critical self-awareness and openness are key qualities of meaningful explorations.
As you continue, tune in to the enrichment of what you're exploring and the answers that emerge through each exchange.
What did we do next?
Students were introduced to our external class partners the Cambodian artists and art fellows-in-residence for the
Living Arts City Colloquia
1
and
Season of Cambodia Festival.
2
Brian McGrath, Victoria Marshall, Adam Brent, and Radhika Subramaniam, on behalf of Parsons, had already begun building relationships within several of Phnom Penh's artistic communities.
I had some familiarity with the artistic communities as a result of my master's thesis in collaboration with Cambodian Living Arts. This legwork helped facilitate introductions. Students also completed extensive research to frame their individual exchanges.
After learning a bit about the artists and art fellows from online summaries, they signed up to be ambassadors for individuals with whom they felt they might have an affinity. Much of the pairing was guided by intuition. A few students chose artists who were not originally on the list. Despite a smidge of timidity, the students dove headfirst into the unknown.
In today's mediated world, there are many avenues for making connections—Skype, Facebook, e-mail, etc. Each platform is also a tool for basic social research and remote exchange.
Our class blog served to break the ice. 3
Students posted informal biographies as a mode of introduction. The students and their Cambodian partners began sharing information on current projects: what ideas or areas they were pursuing, snapshots of street views from their respective locations, and what they were looking forward to when visiting New York.
How might you do this too?
Finding partners for an exchange is easy if your teachers set them up for you. Yet, without the framework of a class, how would you find a partner? Some physical and social geographies may seem otherwise unreachable. Cities can contain a mind-blowing stratum of cultures in a fairly concentrated space. This may seem otherworldly. New Yorkers navigate numbered streets and lettered avenues to get to a subway in one neighborhood only to pop up in another distinctly different neighborhood.
While it is relatively easy to become familiar with the superficial flavor of different neighborhoods on the solid street level, a profound variety of liquid conditions can be found by extruding the urban jungle in section and in time. Cultures and subcultures are constantly fluctuating above and beneath our own feet: from the Haitian graffiti artist to the Japanese forensic urban researcher, Danish break dancer, or South African experimental theater-as-therapy performer! These social geographies may not be on your radar as bases for fruitful exchange, but they should be. Your global exchange could be right around the next corner, block, or neighborhood...or halfway around the world.
Reach out! Don't be afraid to connect on a human level. Most people like to hear that others are interested in what they are doing, especially if it may be relevant to a project you are currently working on. The questions you can ask your global partners and information you share in exchange could be similar to the ones asked earlier, listening again with a critical openness: What are you working on currently? Where are you coming from? How would you trace your geo-located story? These questions may evoke further inquiry: What resources can I share with you? Do we have similar interests? Can our dissimilar interests compliment the dialogue? Are there cross-disciplinary and cross-cultural lessons? Can we build something together?
Next step?
The students built a metaphorical bridge that creatively, and perhaps more important, playfully, deepened the basis of their exchange. Given that most of our visitors had never been to New York, students were tasked to design personalized guides for each partner to share typical New York destinations off the beaten tourist track. This task encouraged students to dig deeper into their localities and think critically about their global partners' goals. Assuming the role of 'expert' on New York for our visitors required some fieldwork. In the case of the arts festival, Season of Cambodia, students got out of the classroom to learn more about the arts ecosystem of New York so they could find common ground in discussions with their partners.
Students were given free rein to format the guides based on the interests, challenges, and goals of their visiting partners. In designing their guides, they worked to define how it would function as a physical object as well as develop the content, both according to their individual objectives. Would the guide introduce areas of interest related to the purpose of their visit or provide complimentary yet divergent points of interest? Would it serve as a static reference or be interactive, such as a scrapbook? What's the appropriate content? What's its role as an instrument for facilitating meaningful experiences? Could it also be a method of documentation? As an object, it would not only be a gift but also become an artifact of their experience in New York.
While researching arts organizations, upcoming events, and walking itineraries of New York, students utilized their design skills to produce wildly creative guides full of unique urban wandering circuits; provocative tasks and reflections; unusual sites of interest; and resources of new inspiration. The guides that emerged in our class were thoughtful assemblages of beautifully articulated research. The students utilized tools and methods collected from their disparate disciplines and hybridized their resources, interests, and sensibilities to design guides that served as vehicles for exchange—devices to set up a framework for interaction with their partners.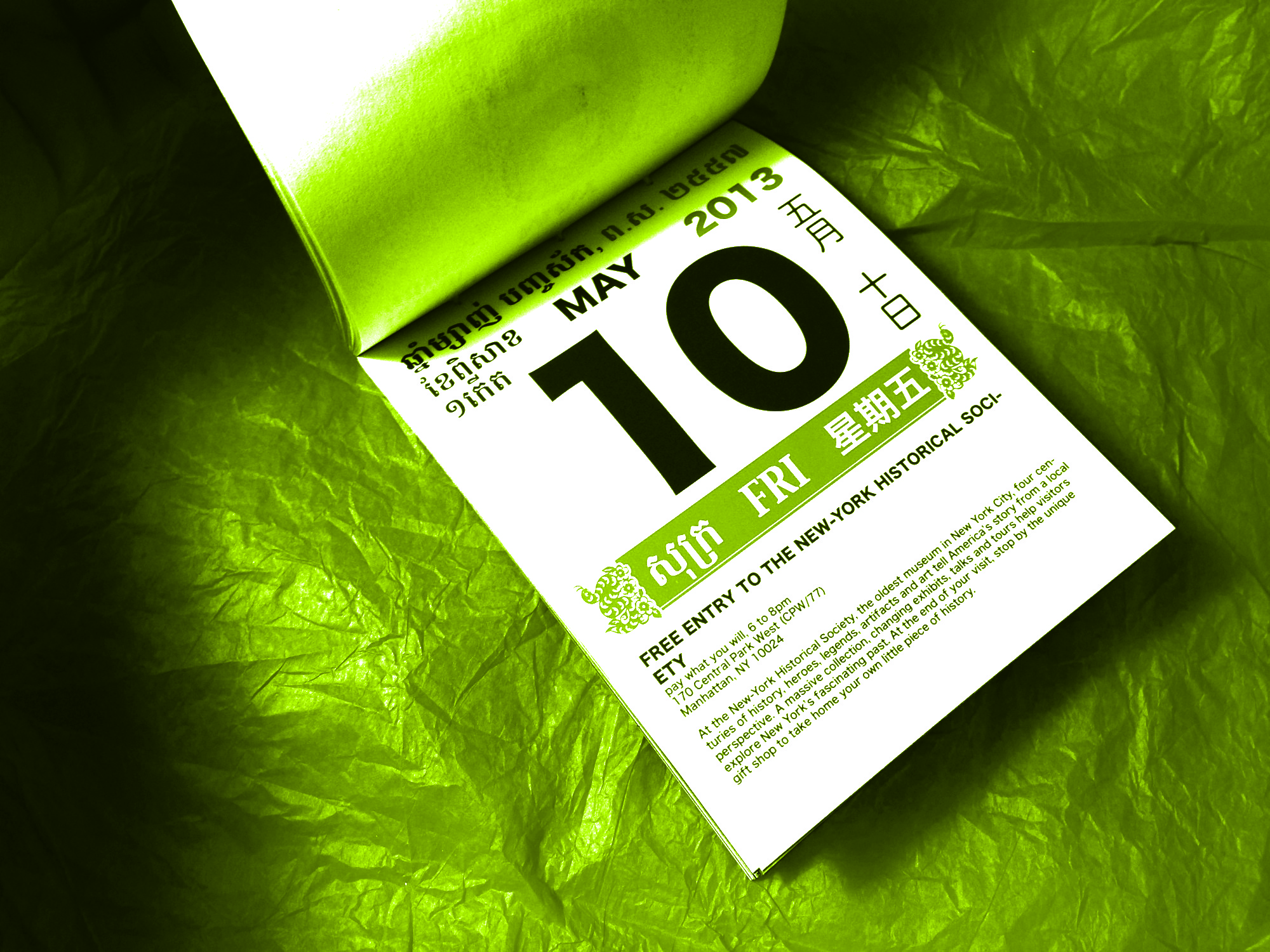 guides: new york city
2013, Moqi Liu, detail.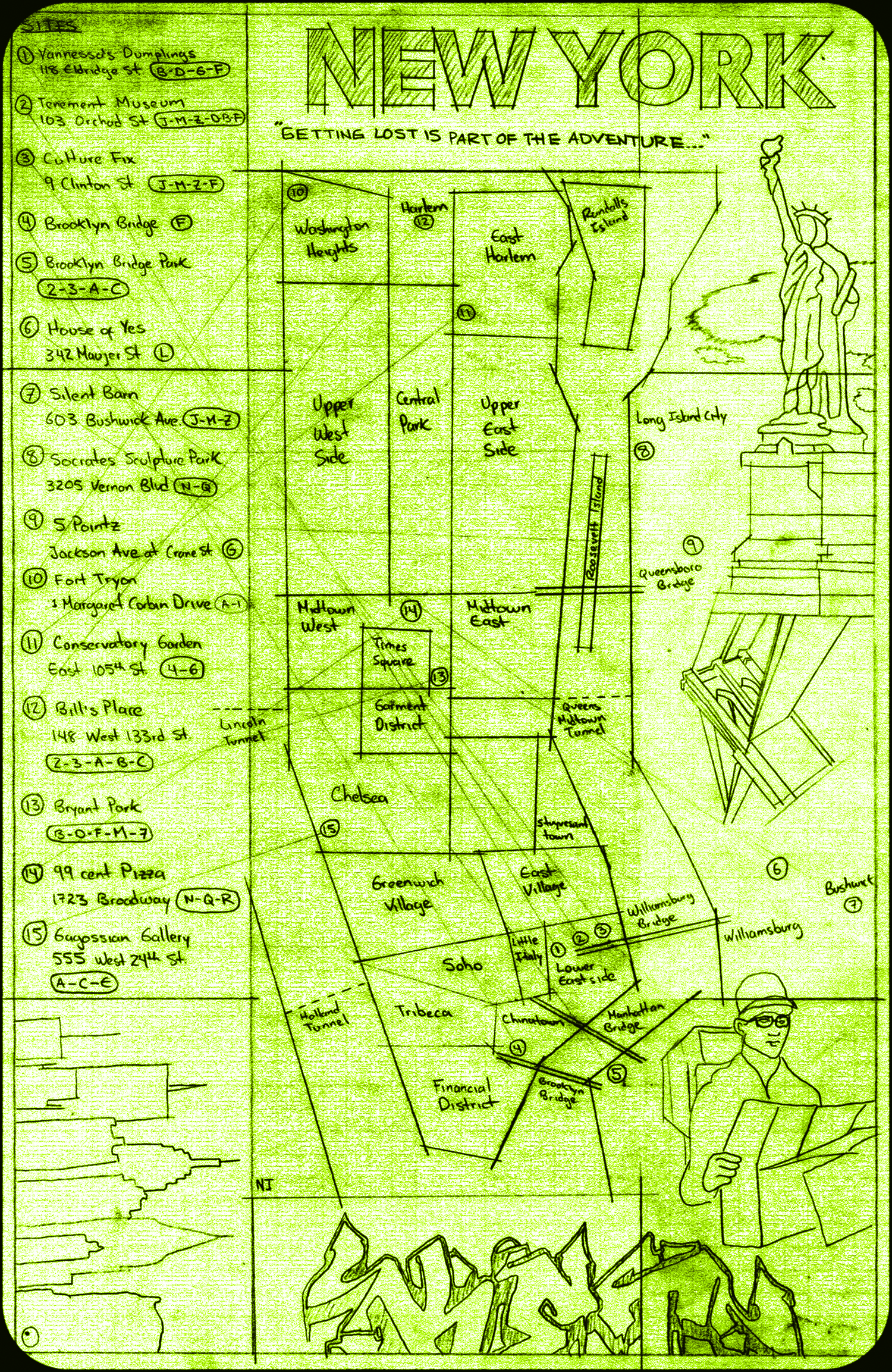 guides: new york city
Diego Rodriguez, detail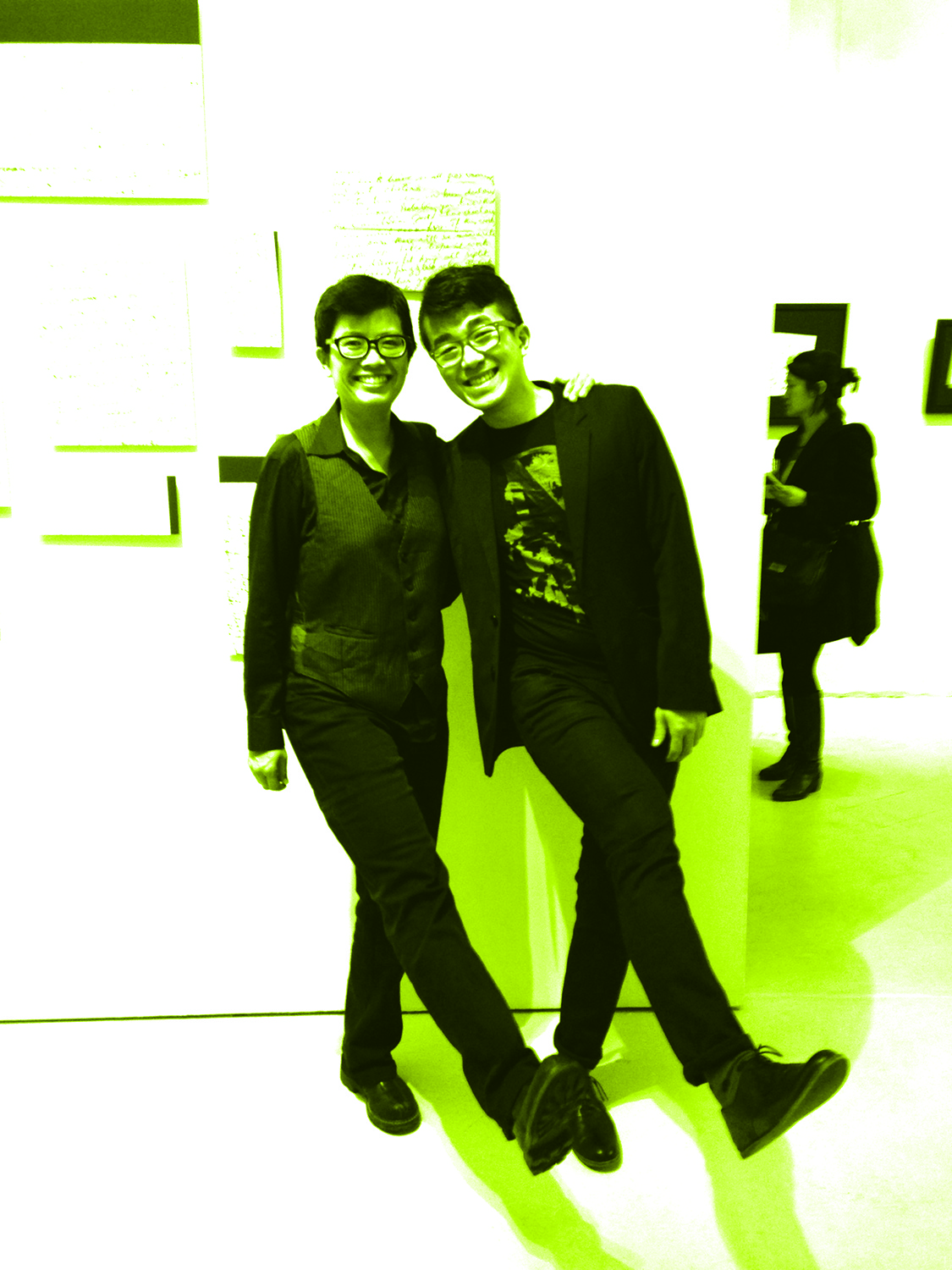 guides: new york city
2013, Amy Lee Sanford & Moqui Liu, Topaz Arts Festival.
guides: new york city
2013, Moqi Liu, detail.
What can you build?
The parameters are wide open: content, format, and delivery are up to you. Your bridge could take on a number of different forms. Think of it as setting up for a collaboration or inspired design. In fact, one student was unable to make substantial contact but, inspired by his chosen artist, he rediscovered a great passion for cartooning and illustration that he had not allowed himself to previously explore.
The guide format was very appropriate for our purposes. It framed further discussion, exploration, and interaction between the students and their Cambodian partners. However, you may choose not to create something physical. The purpose is to process what you have gathered by making something for someone else. This is where you can begin applying your design sensibilities and deepening the exploration of your own urban environs in relation to an exchange.
This is design activism. You can apply your critical creativity in response to your partner's needs, goals, and interests. Bring your perspective and disciplinary expertise into this self-directed project. Then consider how the new things you are exposed to might feed into your design practice. What are you learning from your partner's cultural perspective? Are there parallels to be found in your own urban context that can enrich the discussion? Allow these inquiries to funnel through whatever you create to make way for sincere connections.
Then the best part happens...
Our Cambodian partners arrived and graciously received their personalized guides. For the students, interacting with their partners became arguably the most rewarding part of the semester. Students were excited to hangout with their new friends.
Of course, participation was a class requirement. However, the partnership became a natural extension for the students even outside the classroom. They went out of their way to hangout—not for a good grade, but because the added human dimension gave them motivation to connect further. Open to possibilities, students collaborated, conspired, and connected with one another in surprising ways: Fiona hadn't anticipated building cow-taxis in the Bronx with her new friend, Samnang; Sherely didn't predict collaborating on a book with Lina; and Mikaela probably hadn't thought her international network would stretch beyond one partner.
"One of my favorite parts of this semester has been discovering opportunities with new friends that are equally as fresh and unexpected to us both," she commented. Another student, Thomas Willemse, commented: "Young Cambodian artists are opening all registers to re-think tradition. So did we. Through our exchange, we became more well-rounded—mixing backgrounds in order to reflect on the familiar in new ways." Erin Kalloo confessed, "I learned a lot about Cambodia while prepping for my partner's arrival. But, surprisingly, I learned even more about NYC! Sharing my home with someone who's never been, required that I think in entirely different ways."
Onward
The Global Exchange Laboratory is a framework for continued learning beyond formal education, through experiences outside of the classroom with real world communities. Like the students in our class, you can discover cross-disciplinary interests and begin new creative practices amidst dynamic urban environments. Global Exchange is not necessarily about the acquisition of skills, although you might pick up a few along the way. Global Exchange is about applying the skills you already have, exploring beyond yourself, and allowing the unknown to emerge in the process. As designers, we both respond to and are created by the city. We also connect with people across cultures in meaningful ways. Global Exchange is a humanist design method and a call to action. It is an iterative, lived practice.
Your partner could be an individual, a group, or an entire community. Design work has value. Becoming involved in your locality and culture while learning about another can enrich your design practice as well as open doors.
Season of Cambodia
and
Living Arts City
were the themes that framed our exchange, but the themes themselves were inconsequential to the success of the project. Substitute a theme of your choice based on what's important to you right now: What matters are most pressing in your community? Reach out and learn from another culture. What are you waiting for?
Go out and explore. Make something for someone.

Go out and explore. Make something for your city!
All Rights Reserved © 2019 Parsons The New School for Design