font
size
font
Georgia
choose font
Arial
Courier New
Georgia
Tahoma
Times New Roman
theme
default
choose theme
default
inverted
sepia
Phnom Pehn, New York.
memorial, ritual...archive
zoe yates
I was introduced to Cambodia in the fall of 2012 during
Urban Interventions
—a class led by Adam Brent at Parsons School of Design. Three words appeared at the top of our first assignment: memorial, ritual, archive. I remember thinking, what does this mean?And how might it relate to Cambodia, New York...or me?
Four months later, I was seated in the lobby of a Cambodian hotel when the importance of these words hit me. I was visiting the country as part of the six-week Cambodia Curatorial Workshop taught by Radhika Subramaniam and Jasrikhan Dhillon. As our bus made its way from Phnom Phen to Battambang and, finally, Siem Reap, I kept thinking about the three words from our
Urban Interventions
assignment. Memorial, ritual, and archive began to guide me through our travels. However, it was not until my last night in Siem Reap was I able to relate those three words to everything I had absorbed during the week.
To memorialize a past in a way that encourages reflection and remembrance is a challenge. But I'm inspired to explore ways of memorializing the past while moving forward.
Cambodian life seems to be rooted in ritual that connects individuals to land and water as well as the strong social bonds and community that Buddhism provides. Towards the end of the trip, we visited the ancient temples of Angkor Wat. As the sun rose, I heard the chants of Buddhist monks reciting their morning prayers. Later, rituals also began to manifest physically, both inside the artists studios that we visited and outside on the streets.
Archive was the most difficult word to contextualize, until I realized that everything we witnessed became part of a dynamic archive: We witnessed teachers working diligently to impart the knowledge and skills necessary for children to change the future. We witnessed artists working hard to tell stories, which aren't being told any- where else. Each artist used a variety of media—paint, music, movement, etc.—to illustrate histories that are either ignored or quickly forgotten. Everyone explained that they are contextualizing and/or interpreting change—both good and bad— through their art practice.
My intervention into the streets of New York was in dialogue with Lim Sokchanlina's photographs,
Wrapped Futures
, that document construction fences lining Phnom Phen. Like Sokchanlina's fences, construction scaffoldings and sidewalk sheds are common throughout New York. So, I built a box aesthetically similar to a sidewalk shed, but smaller, and placed it in front of an existing construction fence near The New School. A peek into the box offered people an opportunity to imagine something beyond the present reality.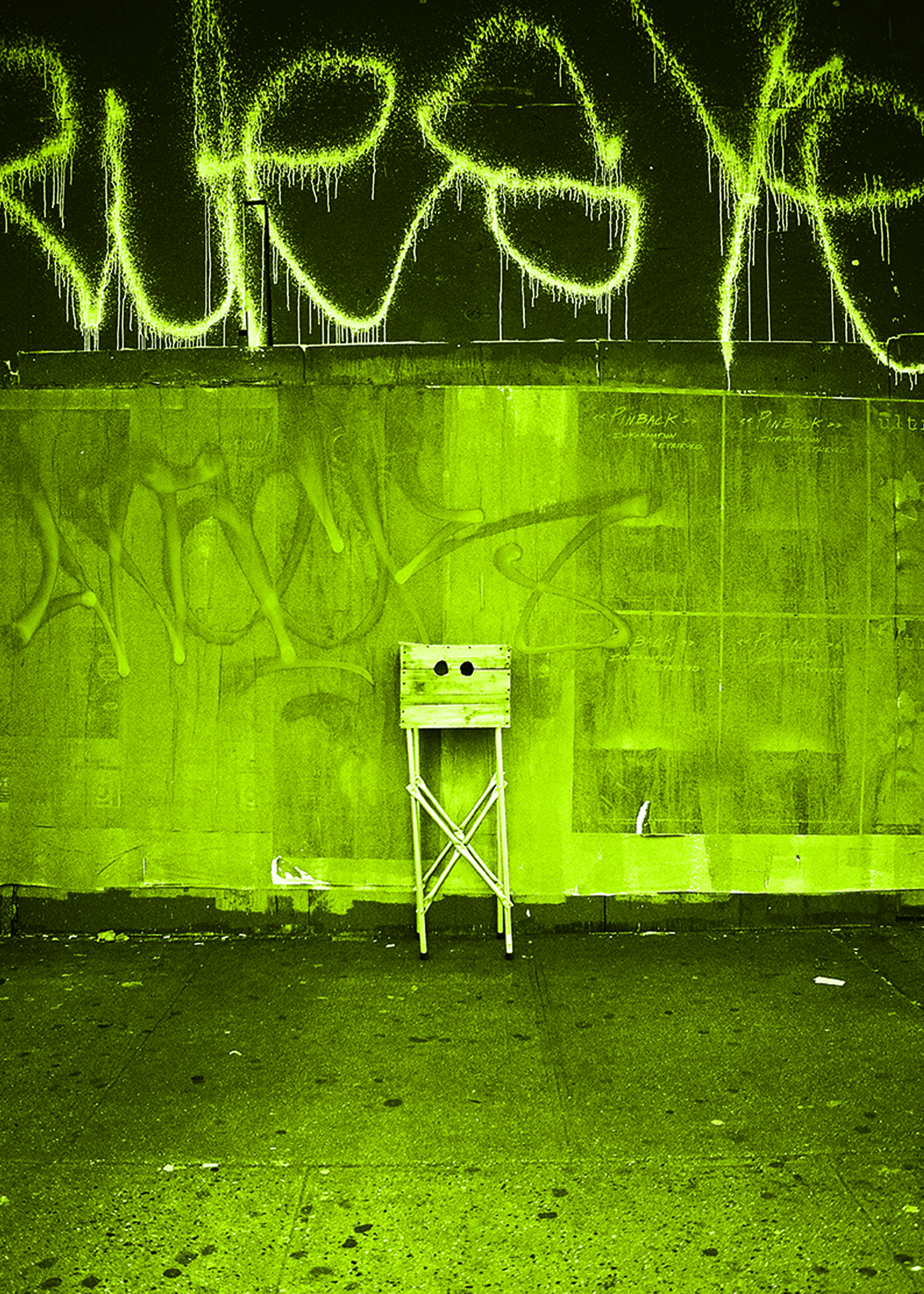 01
peephole playground, zoe yates, 2012. Close Up.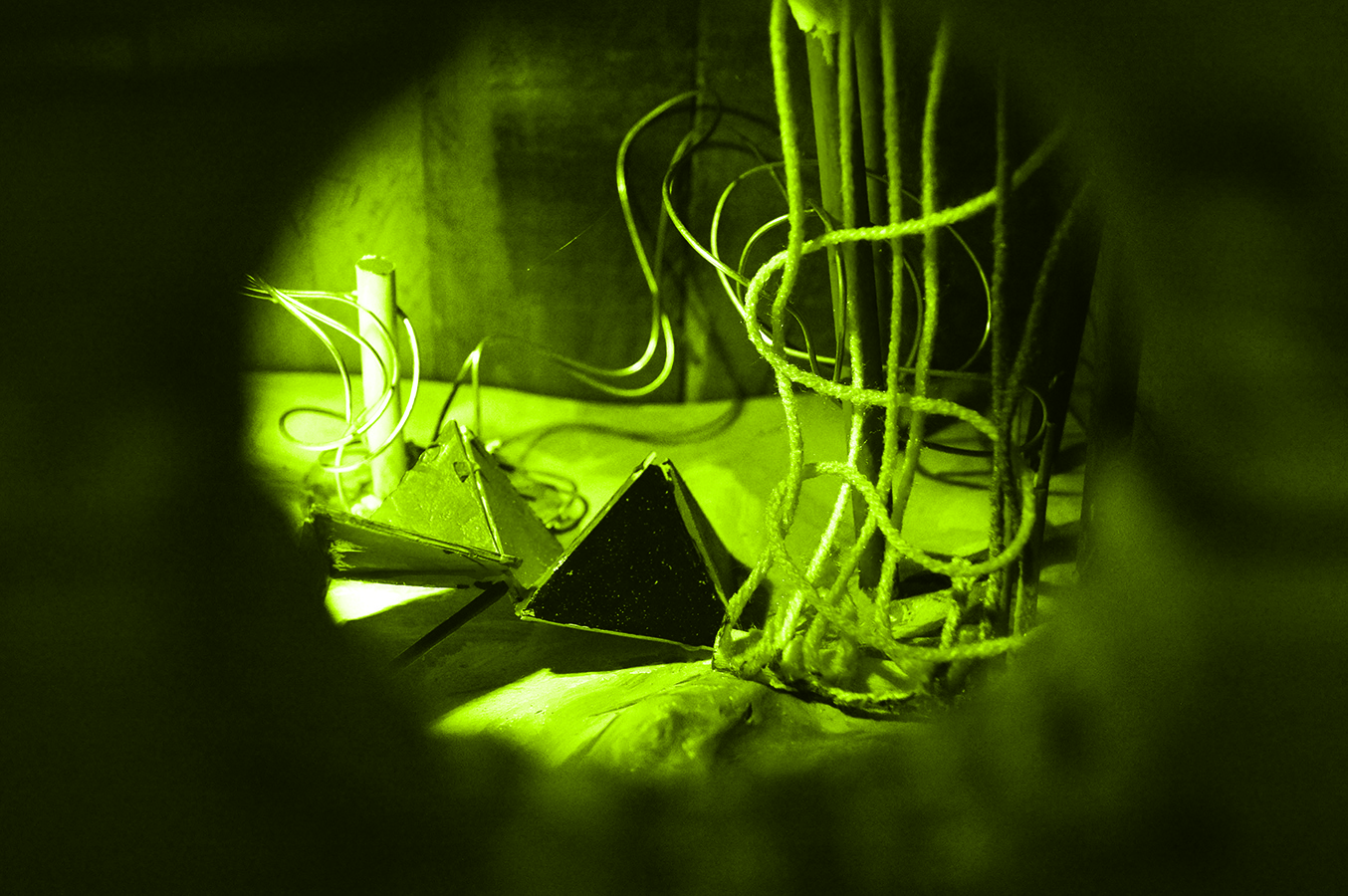 03
peephole playground, zoe yates, 2012. Inside.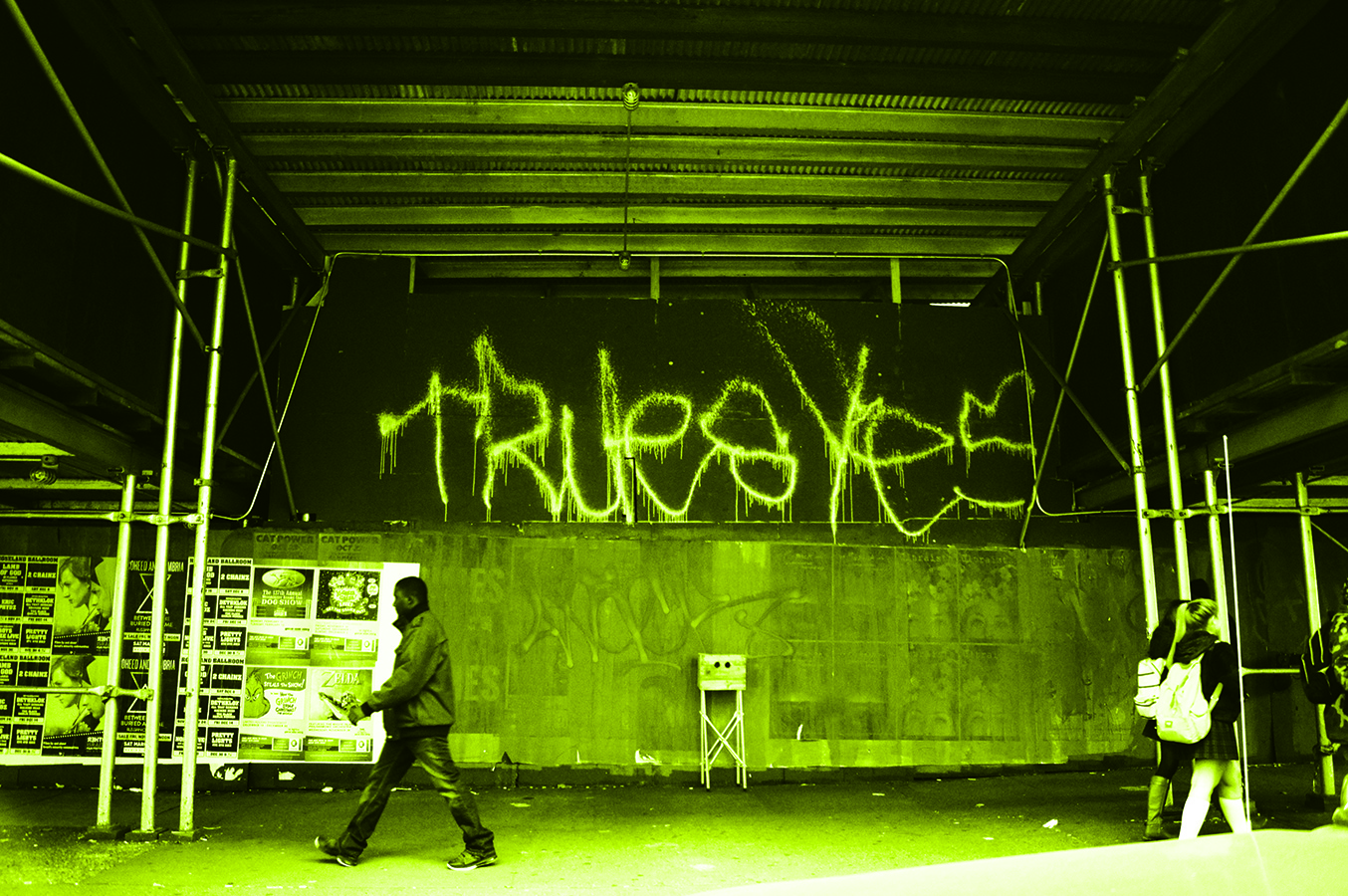 02
peephole playground, zoe yates, 2012. From a distance.
01
peephole playground, zoe yates, 2012. Close Up.
I'm aware that most New Yorkers engaging with my intervention may never make the Cambodian connection. My intention was not to protest a specific site of real estate development, but rather to provoke thought about what could be there. By highlighting barriers on the street, I hoped to foster reflection on our changing landscapes, wherever they may be. Even without knowledge of Phnom Phen, I was able to connect with Sokchanlina's work. The universal recognition of a construction fence unites us through the experience of one thing: the ability to recognize the familiar elsewhere.
In Cambodia, I saw fantastic work but none being made for people on the street. For the most part, art was relegated to galleries and studios, even if it was made in the street. Based on my experience in New York, I was looking for art outside. Each artist we visited told us that what they were doing was important. But I started to wonder, what if it were placed on the street for everyone to see? One of the most beautiful aspects of street artwork is the possibility that someone could walk by and sometime, somewhere, probably while looking at something else, they will make a connection. I was trying to initiate conversations with my intervention that were similar to the questions being explored by Cambodian artists. To some extent, we're speaking the same language, talking about the same things.
The
Cambodia Curatorial Workshop
concluded with an exhibition at Parsons' Sheila C. Johnson Design Center. The exhibition was co-curated by six students— Andres Gonzlez-Bode, Shelley Green, Jordan Lapolla, Fiona Mahurin, Jenny Werbell, and myself. We were asked to consider the historical and contemporary relationships between Cambodia and the world with a particular emphasis on its ties to the United States.
The sights, sound, and materials collected during our travels were integrated into the design of the exhibition. The gallery was also filled with student projects from the Living Arts City practicum. We wanted to share the fluidity of Phnom Penh that we experienced from the moment we stepped off the plane.
As I continue to move forward with my own work I find myself reflecting on this experience and what it means. We were able to identify similarities, even if they cross cultures that span the globe. If a simple construction barrier can spark a shared reaction about urban change, imagine what else we can do? The dots are there, we just have to connect them. Through our global exchange, I began to explore new ways of engaging art.
But it's not about me or my personal experience. It's about our collective experience. The exchange means something.
Throughout the process, I gained insight into our Cambodian partners, myself, and the world we're creating.
All Rights Reserved © 2019 Parsons The New School for Design