font
size
font
Georgia
choose font
Arial
Courier New
Georgia
Tahoma
Times New Roman
theme
default
choose theme
default
inverted
sepia
LETTERS & ACKNOWLEDGEMENTS
introduction
victoria marshall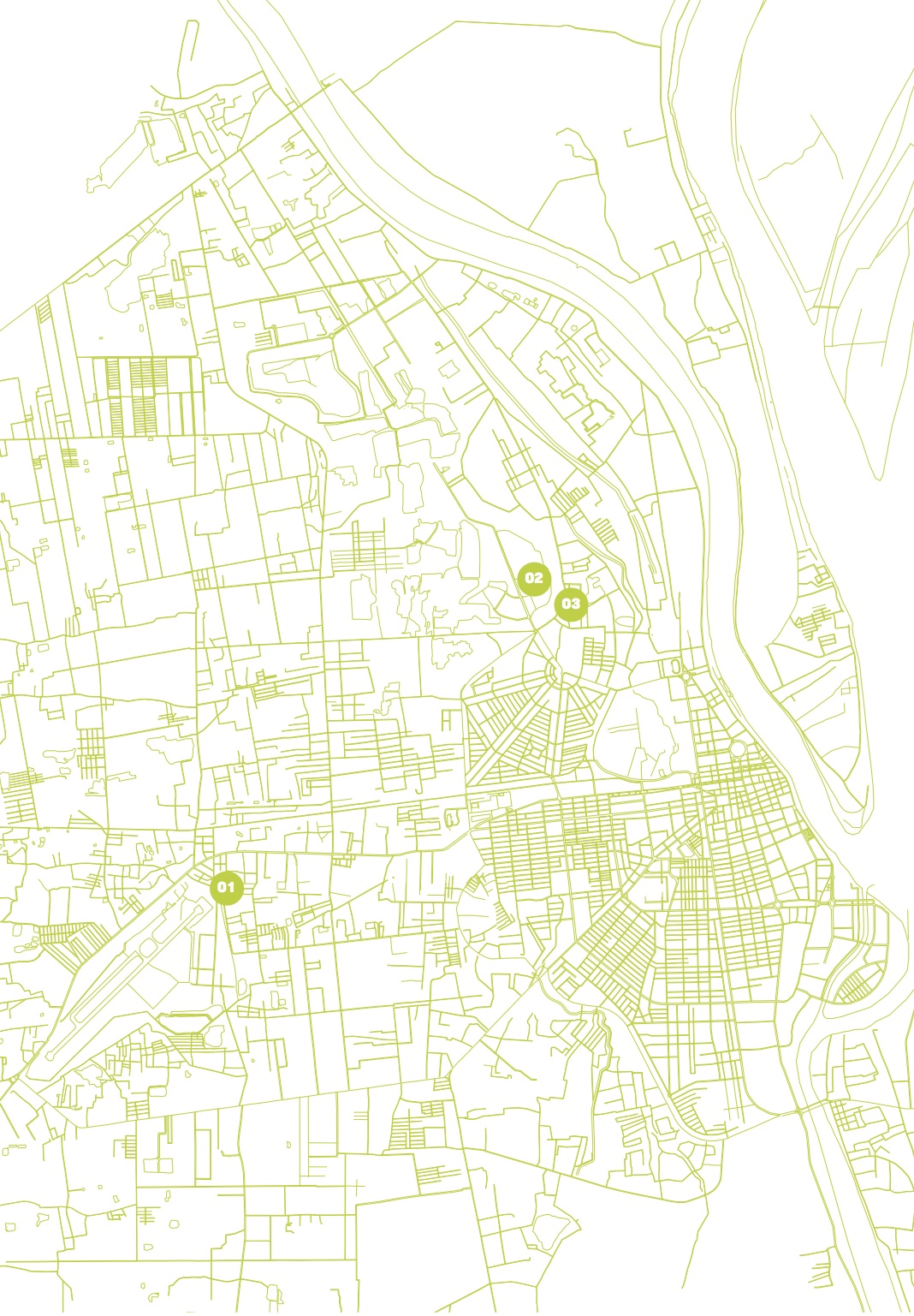 01
map of student projects (phnom penh) 2013. 01 Economy of Shape, Mikaela Kvan 02 Ksach Phnom, Marco Roel Rangel 03 Water Mobilities, Pen Sereypagna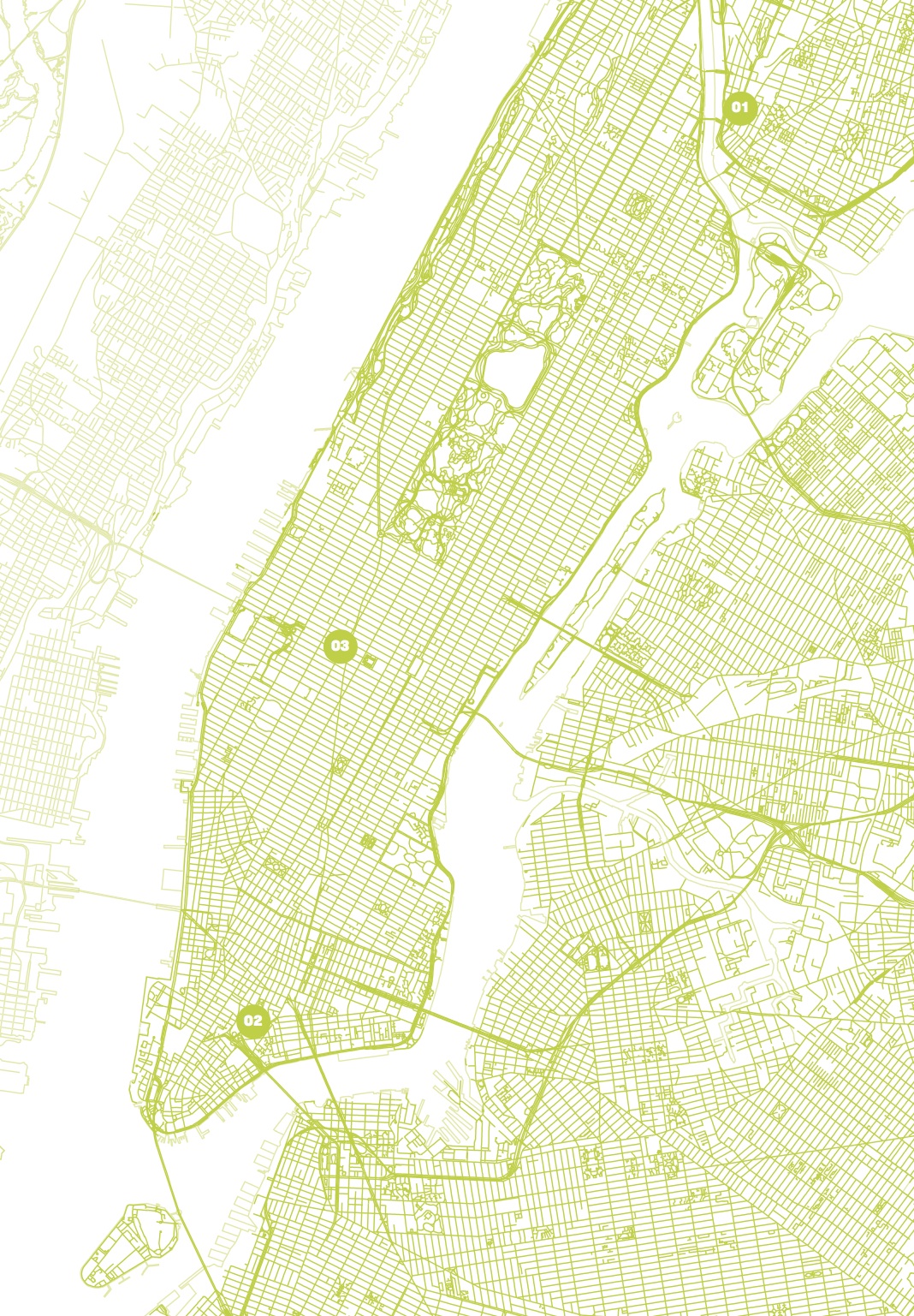 02
map of student projects (nyc) 2013. 01 Urban Scan, Pim Pitchapa Jular 02 2022, Rapa Surajaras 03 Art of Captial, Yanisa Chumpolphaisal: students at the INDA International Design and Architecture Program at Chulalongkorn University in Thailand. Projects were framed in large part by research conducted in Brian McGrath's Theory of Urban Form class.
01
map of student projects (phnom penh) 2013. 01 Economy of Shape, Mikaela Kvan 02 Ksach Phnom, Marco Roel Rangel 03 Water Mobilities, Pen Sereypagna
We entered into this two-year exploration with only a vague idea of what a
Living Arts City
is or could be. What emerged and what this book aims to communicate are three models: a pedagogical model for student-led learning; a participatory model for designing with artists and artwork; and an urban design model for living arts cities. In each, we have created or found new knowledge, ideas, and processes as students, professors, artists, designers, and global citizens.
Our
Living Arts City Laboratory
was formed as a portable multi-course practicum. Within The New School's two-semester format, different professors in the practicum facilitated classes and workshops that explored the topic of
Living Arts City
according to their expertise in art, design, or social science. Students took one or more of these classes and workshops to build knowledge in their own way, effectively creating a self-directed
Living Arts City
student body. Many of the students were seniors and have continued to engage with the topic beyond graduation. It is our hope that individuals will benefit from and use this pedagogical approach for student-led learning. Therefore, we refer to the
Living Arts City
lab as a portable practicum.
The classes and workshops were linked to a three-part colloquium and two exhibitions at The New School. This provided an intellectual context for
Season of Cambodia—an international arts festival that took place in New York City in the spring of 2013. 1
The same year, students had the opportunity to travel to Phnom Penh, meet artists, and experience them-being-here and us-being- there. Yanisa Chumpolphaisal and Pitchapa Jular's essay—
What is a Living Arts City??
—and Kimberly Tate's essay—
DIY Global Exchange
—touch on the friendships that formed during meals, online chitchat, and other activities, each affecting how students shaped their learning.
A participatory practice of designing with artwork and artists emerged from questions shaped by the research group: How might community-based arts and education practices that elude urban governance participate in the transitions of post-crisis cities? How can design students facilitate the production of informal cultural ecologies? Where else do we see this happening? How can Phnom Penh and New York be sustained as living arts cities?
In his essay
Mine the Net
, Adam Brent reflects on ways of looking and making that emerged through this exploration. As an artist whose practice migrates from galleries to abandoned bus shelters (and everywhere in between), Adam contributed immensely to the development of our
Living Arts City
laboratory. His knowledge of interventionist art practices in New York City and the artists responsible for creating these works proved valuable. Adam began his
Urban Interventions
class by introducing themes gleaned from the work of Cambodian artists. Archive, ritual, monument, opacity, and merit provided a framework for students to reflect upon art and design products and practices, including their own. Later, students reflected on the same themes in work by New York-based artists as a way to imagine how New York might learn from Phnom Penh. Zoe Yates' essay,
Memorial, Ritual...Archive
, offers such a reflection based on her experiences in New York and Cambodia.
Our experience in Phnom Pehn greatly impacted the course of our practice. Art was our entrée into Phnom Penh. Each day, a different artist led us on a guided tour of the city according to the context of their work. In most cases, this very personal fieldwork informed the students' final design projects as illustrated in the project sections of this book—
New York, Meet Phnom Penh. Phnom Penh, Meet New York.
Each section showcases work by the first graduating class of the Urban Design Bachelor of Science program at Parsons The New School for Design, including the artists and artworks that inspired their attitudes, strategies, and practices. 2
Artists, art clusters, and entire art districts move regularly from neighborhood to neighborhood.
Living Arts City
is an urban design ecology, in process. As described above and as illustrated in the calendar,
LAC Practicum: A Glimpse At A Glance
, this ecology consists of a network of individuals, institutions, and social research groups. To date, its outputs include: workshops, classes, exhibitions, symposia, colloquia, festivals, design proposals, and media—such as drawings, websites, blogs, and online social networks.
Living Arts City
aims to foster a diversity of perspectives and practices. This participatory, albeit unofficial, framework for civic engagement cultivates people who are invested in their city and the process of city-making. This is arts of a city, not in a city.
Living Arts City
is seen as a rupture in the recent history of hyper uncontrolled development in the city. By focusing on disruptions rather than continuity,
Living Arts City
invites a wider, more inclusive range of actors to contribute to shaping the city. Pen Sereypagna and Brian McGrath's essay,
Genealogy Of Urban Form
, explores the various ruptures in Phnom Penh—native, colonial, independent, and global—and the importance of embracing differences in order to move forward.
The
Living Arts City
practicum started with people rather than a problem. This afforded us the opportunity to research big questions through small action and multiple perspectives. Reflection is necessary for art to be relevant. This book serves as our reflection.
victoria marshall
editor
1
In 2013, Victoria Marshall led a Living Arts City Workshop in Phnom Penh with Adam Brent, Erin Gleeson, Brian McGrath, and teaching fellows—Joshua Barndt and Jonathan Lapalme. Jaskiran Dhillon. Radhika Subramaniam led Living Arts City Curatorial Workshops in Cambodia and New York. Braden Crooks, Alexandra Castillo-Kesper, and Aubrey Murdock led a Living Arts City Workshop in New York. In 2014, Pen Sereypagna facilitated a second Living Arts City Workshop in Phnom Penh.
2
Parsons The New School for Design was the first art and design school in the United States to offer an undergraduate urban design program. The work presented here is by the first graduating class of that program.
All Rights Reserved © 2019 Parsons The New School for Design