font
size
font
Georgia
choose font
Arial
Courier New
Georgia
Tahoma
Times New Roman
theme
default
choose theme
default
inverted
sepia
Section 2: Vignettes
The Counterfeit Crochet Project (Critique of a Political Economy)
Stephanie Syjuco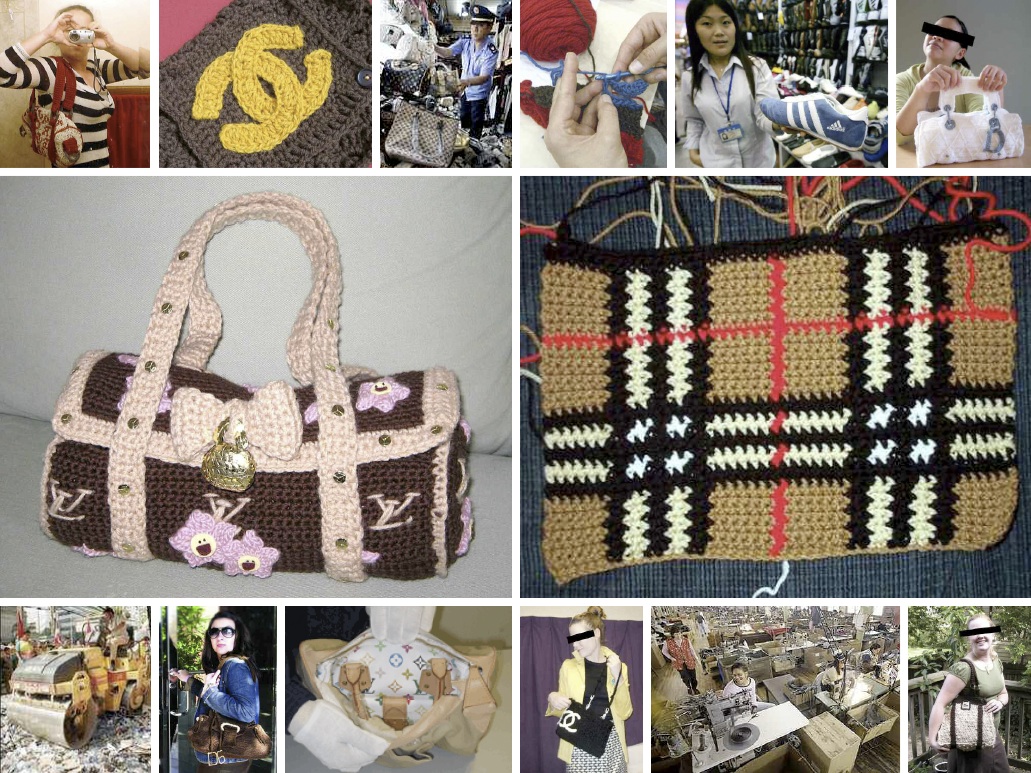 Figure 1
In 2006, as an outgrowth of my interest in the politics of production and consumption, I started
The Counterfeit Crochet Project (Critique of a Political Economy)
, a participatory artwork that invites crochet crafters all over the world to create a handmade replica of a designer handbag that they wished they owned but can't afford—and to use their own improvised skillsets and techniques in its production. There are no formal patterns provided, just a downloadable "tip sheet." Makers choose the item they wish to produce; because of variations in taste, skill level, and available time, the final "product," while always bearing some resemblance to the original, is at the same time an obviously "wrong" or counterfeit representation of the original.
Indeed these handbags are difficult objects to classify. That each one is a self-professed and blatant copy is anathema to a fashion system that depends on never-ending cycles of newness and the cult of originality. At the same time, the irreproducibility of the objects, stemming from the lack of a proper production pattern and from differences among participants, also departs from the serial standardization that typifies mass-produced goods. The fact that these are in an obvious way "designer" handbags pulls them in the direction of
haute couture
. Yet the traditionally "common" and hence somewhat lowly status of crochet as a craft betrays the bags' remoteness from the rarefied world of high fashion (
SEE FIGURE 1
).
The project has yielded a de facto product line consisting entirely of prototypes, with no centralized design direction and no defined, "correct" manner of production.
Initially located online, with a website serving both to distribute the call for collaborators and as a repository for images of finished works, the project has grown over the past seven years to encompass physical gallery installations, displays of completed crocheted works lent by their makers, and a series of international workshops in which I lead how-to classes in basic crochet technique in conjunction with informal discussions on ways to reclaim individual agency within the larger capitalist world.
Counterfeit Crochet
workshop participants commit to several hours of working with me to create their own small product: in most cases a simple crocheted wristband upon which they embroider a logo to "brand" it as a high-end item. The participants, almost always beginners to crochet, inevitably make mistakes in their stitching, thereby corrupting the purity of the logo or brand that they have chosen to represent.
The workshops are free, with all materials and tools provided; as such, they are a friendly and engaging way to learn skills and participate in a group activity, much like other popular DIY workshops or a convivial knitting circle. In exchange for this volunteered "free" time I create an ongoing, dispersed and international collection of fashion "goods," a de facto product line consisting entirely of prototypes, with no centralized design direction and no defined, "correct" manner of production (
SEE FIGURES 2-3
).
The participants further disseminate their "counterfeit" products by displaying, wearing, or sharing their finished items within their respective circles. 1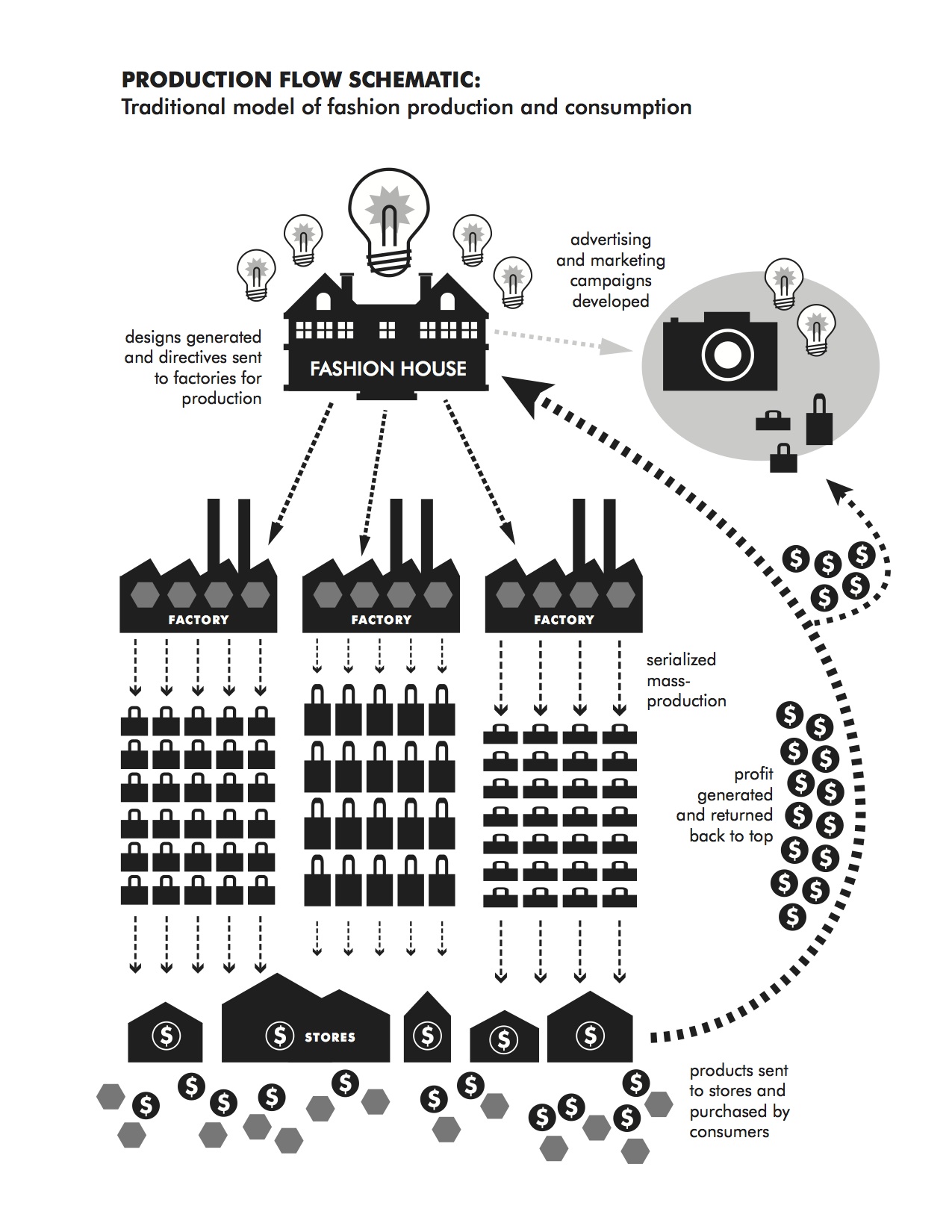 Figure 2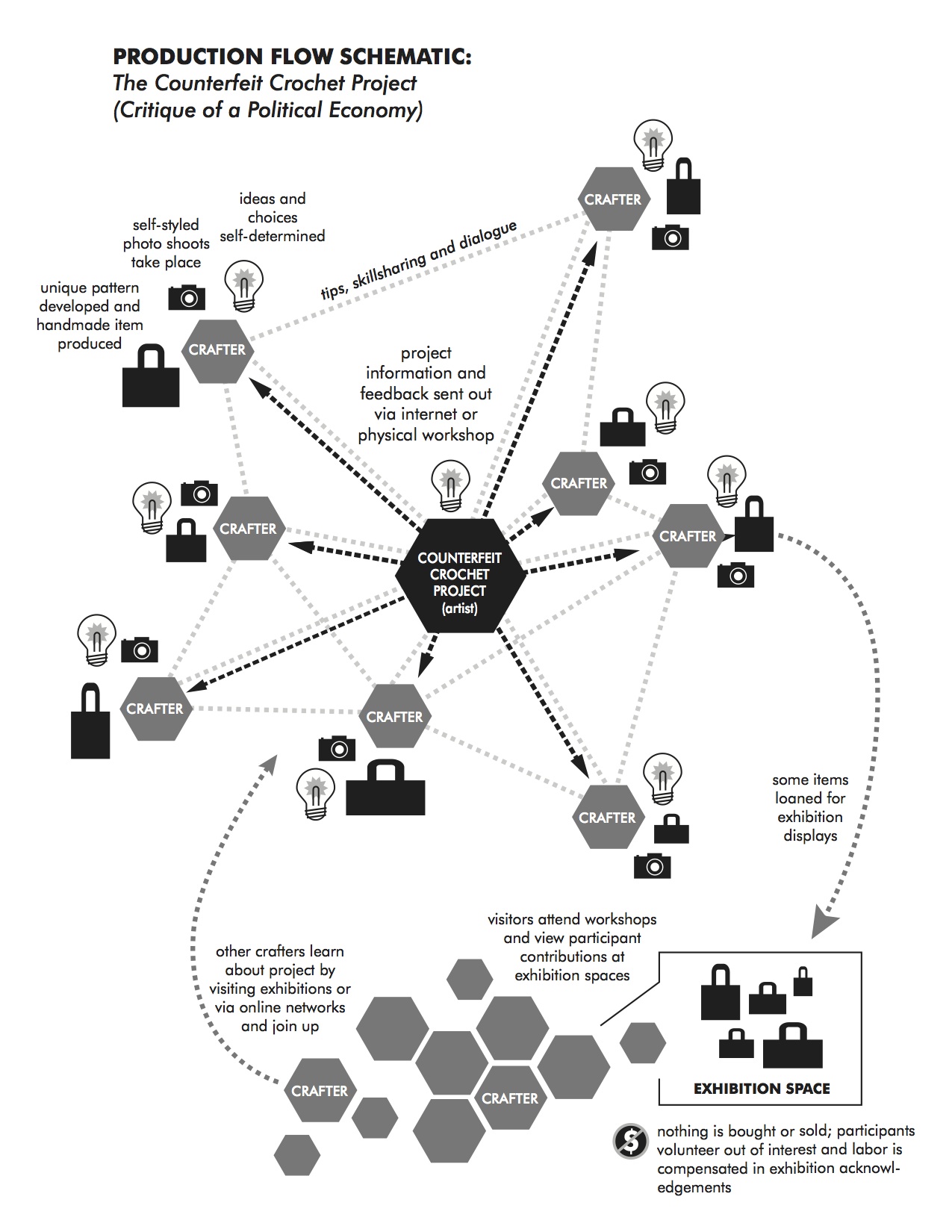 Figure 3
Figure 2
All Rights Reserved © 2019 Parsons The New School for Design