FOR IMMEDIATE RELEASE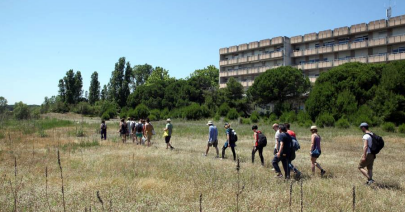 NEW YORK CITY, New York. January 26, 2015 — Lorenzo Romito, of the Rome based Stalker Walking School, and Christian Costa, of Florence based Spazi Docili [Docile Spaces] collaborate with Parsons The New School for Design student organization, Hub.UP [Hub of Urban Practices], to present the Walking Out Of Contemporary Workshop, held January 29 to February 1, 2015 at Parsons The New School for Design in New York City.
Practices developed through international urban experiences will inform how to collectively explore the 'untranslatable' city during this unique workshop experience. Languages spoken in the city have meanings that cannot always be translated — these words and expressions become 'linguistic objects' that inform how images and events are perceived and how the public sphere is inhabited and shared. Experiencing the city in this unique way allows workshop participants to uncover socio-political powers that deeply influence everyday human experience.
On Thursday January 29, 2015, a public lecture — Walking Untranslatable NYC: Encountering the lines of political space — will introduce the methodologies of the Stalker Walking School and Spazi Docili in conjunction with the Urban Colloquium course taught by William Morrish and Mindy Fullilove at the School of Design Strategies of Parsons The New School for Design.
Following the public lecture a three-day intensive workshop will be held on January 30th through February 1st. The workshop will include two walks (a feat for late January in NYC!) and indoor dialogue and reflection that focuses on how Immersion-through walking a landscape can be employed to explore the urban experience.
This workshop will be the starting point for a longer collaboration between Parsons The New School for Design, Stalker, and Spazi Docili. One stop along the way will be a presentation of this project as part of the Summer 2015 Biennale Urbana in Venice. The themes explored in this workshop include a timely discussion on how different social, cultural and political ethnic groups can talk between each other. Walking, as an experiential methodology for research, beautifully 'forces' people to communicate their territory to other people, while imagining a new and difficult reality of how different identities can truly cohabit in a common space.
Lorenzo Romito, Stalker Walking School, Rome | www.stalkerlab.org
Lorenzo Romito walks the line between urbanism and architecture and his organization The Stalker Walking School, is a collective subject that engages research and actions within the landscape with particular attention to the areas around the city's margins and forgotten urban space, abandoned areas, and regions under transformation. These investigations are conducted across several levels, around notions of practicality, representations, and interventions on these spaces that are referred to here as "Actual Territories."
Christian Costa, Spazi Docili [Docile Spaces], Florence | www.spazidocili.org
Spazi Docili [Docile Spaces] is a project conceived and curated by Fabrizio Ajello and Christian Costa and has been operating since 2008 in Florence, Italy — a city known all over the world as a brand and the stereotypical Renaissance city. Florence also represents the Italian struggle between the 'contemporary' and past. Spazi Docili [Docile Spaces] confronts this struggle in the form of a public art project. Drawing from Michel Foucault, the project deals with spaces that are 'docile' in the face of the 'Power'. Spazi Docili is interested in observing the connections between contemporary politics, the art system, public art, aesthetic languages, the collapse of the 'public', and the crisis of the Left in the western world.
Hub.UP, Parsons The New School for Design, New York City | www.hubup.org
Hub.UP [Hub of Urban Practices] is a collaborative of student practitioners who challenge—and disturb— normalized urban processes. The aim is to provide a platform for collaboration between those who design, those who build, and those who use the city every day. By creating a space for dialogue, research, education, and tactical intervention, Hub.UP experiments with various forms of urban practice.
For any questions please contact:
Sara Minard, Co-leader of Hub.UP
email: hubup@newschool.edu
phone: 917.376.2577