Undergrad Parsons students produced some knock-out work as their final project in Assistant Professor Emily Moss' Urban Design Studio 3, taught in Fall 2014.  Highlighted below are the projects from Ernest Haines, Parsons BS Urban Design '15, and visiting student from Brazil, Mateus Medeiros Leite.
COURSE OVERVIEW
In the course, students engaged design within varying scales of urban landscapes and within the framework of a neighborhood or other defined urban precinct. Students developed a critical understanding of the urban context and a designer's role in unearthing, framing, understanding, and influencing human interactions in urban natural and built systems. Starting with a multi-scale analysis, and continuing with developing concepts and visual responses to specific questions, students mapped their own urban trajectories, practices and experiences, as well as those of other human and non-human actors in the city. In parallel with analyzing theoretical and built works, students engaged in multi-scalar inquiries and deployed photography, video, diagramming, three dimensional modeling and online forms to document and represent their proposals in context.
STUDENT SPOTLIGHT: ERNEST HAINES | "Reclaiming Waterfront"
Ernest's studio project investigated urban solutions in West Harlem between 145th Street and 125th street from Broadway to the waterfront. Ripe with conflict from the area's cultural history, its current spatial layout, and Columbia's expansion, the project had many complex variables to consider. For example, 125th Street viaduct created under Robert Moses was viewed with civic pride, but the two overpasses built after Moses' time severed the continuity between community and waterfront. Described in detail below, his project looks at ways to rework industrial zoning, community habits, and existing structures to reimagine a new waterfront with a multitude of uses. The project aims to subvert the current nature of the place, opening up public access and empowers community stewardship.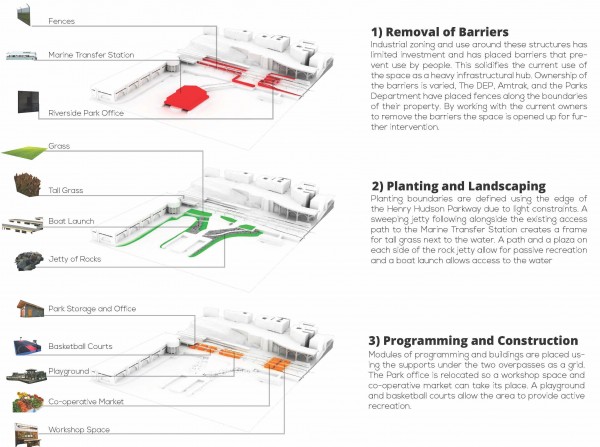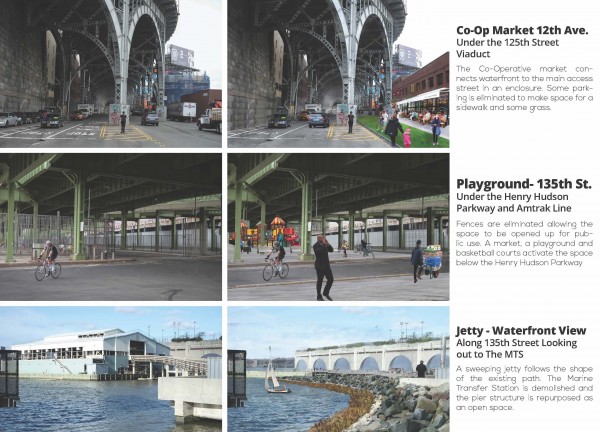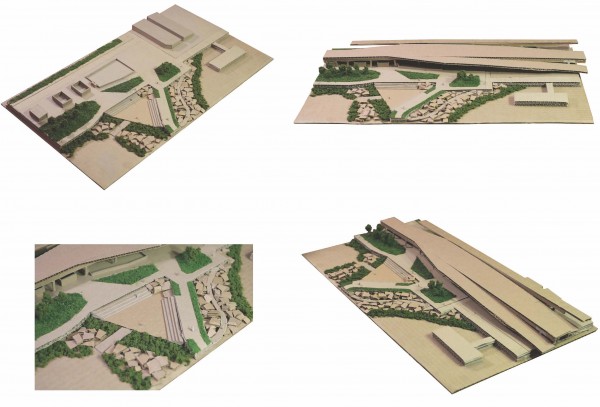 STUDENT SPOTLIGHT: MATEUS MEDEIROS LEITE | "Pier Design"

Mateus also took on the waterfront of West Harlem. In the framing of his project, he viewed the two main areas – River Bank State Park and West Harlem Piers Park – as ripe with great potential, but currently lacking in connection and community engagement. The main idea of the proposed design was to create a structure that would connect the two parks into one larger unity, without demolishing anything. He proposed the urban transformation with both an exterior and interior strategy. For the inside, reformulation of the Marine Transfer Station would support an educational center that would offer classrooms for small courses, lectures, library, as well as a level dedicated to commercial activity, such as restaurant, stores and activities that would generate income for the community. On the outside, the intervention would add a community garden that merges itself with landscape gardens and pedestrian path, and small piers for water activity on the Hudson River, such as kayaking, sport fishing, stand-up and ferries. All in all, these additions would bring community engagement and connectivity to the waterfront.