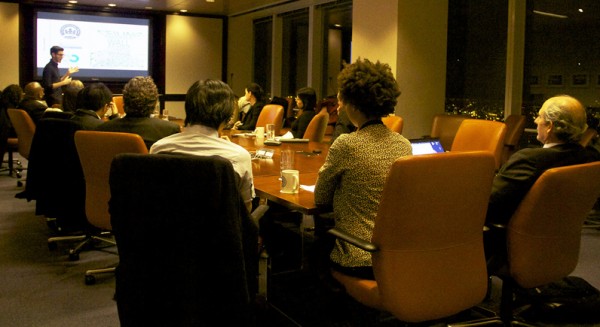 As the culmination of a Parsons fall 2014 semester course, New School students presented interior design plans for an early childhood education space to New York-based design firm and real-estate company Durst Corporation. Students made their case on how healthy materials, such as natural cork flooring, skylights and wood, can lead to a cost-efficient and inspiring space for childhood education.
The class, titled Building Project Ecosystems, teaches participants about healthful, sustainable design materials. As a "collaboration between The Durst Organization, The New School, and the City University of New York, the project brings students and faculty together with various stakeholders—designers, contractors, policymakers, health officials—"to optimize the health and transparency of construction product ecosystems," according to the Building Project Ecosystems website.
Building Product Ecosystems is one of the many sustainable design projects The New School has undertaken this semester—one piece of a broad set of initiatives that, in keeping with the university's commitment to sustainability, disrupt existing models of resource use in everything from urban housing to holiday decorations.
Check out the full article on the New School blog to learn about the design proposals and to see how this work is situated among other great academic collaborations in the fall semester. Other recent notable class projects of the last year include the energy-efficent duplex design in Washington D.C. for Stevens Institute and Habitat for Humanity in Washington D.C. and the commissioned installation at the White House with Michelle Obama for the first ever White House Fashion Education Workshop.