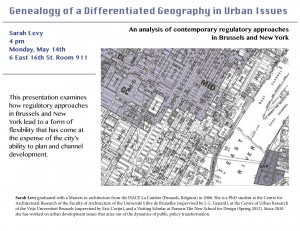 An analysis of contemporary regulatory approaches in Brussels and New York
This presentation examines how regulatory approaches in Brussels and New York lead to a form of flexibility that has come at the expense of the city's ability to plan and channel development.
Sarah Levy graduated with a Masters in architecture from the ISACF La Cambre (Brussels, Belgium) in 2006. She is a PhD student at the Centre for Architectural Research of the Faculty of Architecture of the Université Libre de Bruxelles (supervised by J.-L. Genard), at the Centre of Urban Research of the Vrije Universiteit Brussels (supervised by Eric Corijn), and a Visiting Scholar at Parsons The New School for Design (Spring 2012). Since 2010 she has worked on urban development issues that arise out of the dynamics of public policy transformation.
Time: 4pm on Monday, May 14th
Location: 6 East 16th Street, Room 911