Each summer, the India China Institute funds student research in India and China. Selected on the basis of the research proposal, the New School sent six students to work on a multitude of projects. From interviewing garment factory workers in China and Cambodia, to exploring the power of music education in India, to dissecting sports marketing in Shanghai, students were given free range to explore their passions.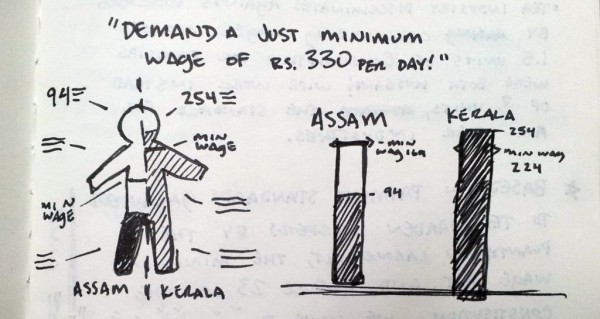 Published Work from Transdisciplinary Design MFA Student
Through his partnership with New Delhi-based women human rights advocacy group Nazdeek, Joseph Wheeler co-authored an op-ed that was published in the Hindustian Times. Below is an exerpt from the article "They're not as serene as they seem to be."
Colonial-era labour structures, faulty trade union practices and corporate greed are responsible for unjust wages…  The current state of the plantations is nothing short of modern-day feudalism—taking the migrant population, placing it in social isolation and ensuring the people live in abject poverty with little to no access to education, health, food or an alternative livelihood. Plantation owners eliminate any opportunity for social mobility.
Student Research Fellows – Summer 2014
 Joseph Wheeler, MFA in the Transdisciplinary Design program at Parsons The New School for Design // Joseph partnered with women working toward gender equality externally (via national reform) and internally (via community reform) in India. He explored how the Uniform Civil Code is understood by both sides, the advantages and disadvantages of both solutions to this complex problem, as well as the lived ramifications of discriminatory Personal Law and real world persecution of religious minorities.
Carolina Coviello, MA in Strategic Design and Management at Parsons, The New School for Design // Carolina explored the changing improvements in Chinese labor standards. She also investigated how this process has impacted both the manufacturing market and the relationship between China and the international companies, like Adidas, which have outsourced there.
Mikaela Kvan, BS in Urban Design at Parsons, The New School for Design // Mikaela looked at China's labor laws and used China as a baseline to evaluate the growth of Cambodia's garment industry through the voices of women who work at various levels throughout the garment manufacturing process. The research assessed the physical effects of the growth of this industry on emotional outcomes in identity and personal expression, and took place in Shenzhen, China and Phnom Penh, Cambodia.
Tomas Uribe, MA in Media Studies at The New School // Tomas conducted research on music as a tool for empowering youth in order to analyze and evaluate the applicability and relevance of music education in the lives of at-risk youth based on two case studies in Mumbai (Mewsic) and New Delhi (Music Basti).
Tim Rosenkranz, PhD candidate in Sociology at The New School for Social Research // Tim explored how the nation-state of India is reproduced as a commoditized tourist destination; and what the emerging conflicts are of such an effort of the nation-state as actor of both the public interest and private enterprise.
Marina Kaneti, PhD in Political Theory and Comparative Politics at the New School for Social Research // Marina traveled to Hong Kong, Guandong, and Shanghai to conduct research of archival collections. This research, part of her  broader PhD Dissertation work, examined the links between migration and business at the end of the nineteenth – early twentieth century.
Read more about their experiences on the India China Institute Blog