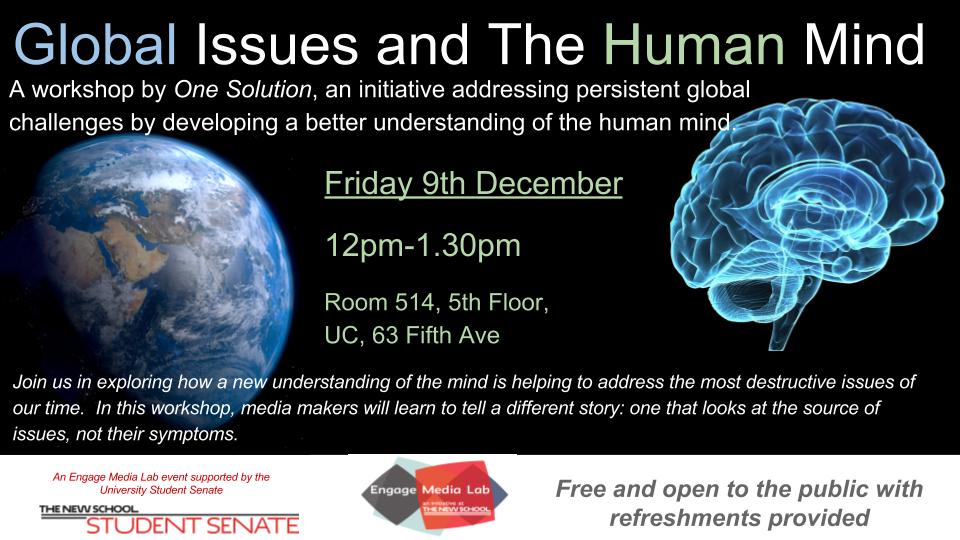 Global Issues and the Human Mind: A Workshop with One Solution
Friday, December 9, 2016 at 12 pm to 1:30 pm
Room 514, Social Justice Hub, 5th Floor
University Center, 63 Fifth Avenue, New York, NY 10003
Sign up for your free ticket here.
Join us in exploring how a new understanding of the mind is helping to address the most destructive issues of
our time. In this workshop, media makers will learn to tell a different story: one that looks at the source of
issues, not their symptoms.
This workshop is part of a program of events delivered by the Engage Media Lab. Engage Media Lab is a student group and research lab promoting civic engagement through participatory media projects. We co-develop workshops, screenings, research projects, seminars and community programs both within and outside The New School. Find out more at engagemedialab.org
This event is sponsored by the University Student Senate
Event Type
Workshop
Audience
Students, faculty, and the public
School
Schools of Public Engagement, School of Media Studies
Theme
Topic
Media making, activism, politics, psychology, mindfulness
Cost
Free; Reserve a ticket here.