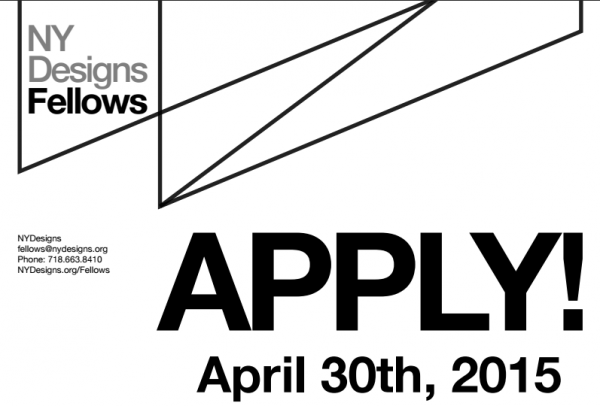 NYDesigns announces the launch of NYDesigns Fellows — a six-month program that seeks to support initial-stage creative entrepreneurs as they explore the intersection between design and technology. As the design and technology industries transform, creative entrepreneurs are responding with new models to technological, fabrication, distribution, environmental and social challenges. Often, this work includes innovation on hardware and production models that rely on prototyping and manufacturing. NYDesigns is inviting creative professionals with prototyping, manufacturing and fabrication needs to join our vibrant community of makers.
For over 10 years, NYDesigns has provided incubation residency and business support services to New York City creative entrepreneurs. In the last few years we have noticed a need for more flexible incubation models at the initial stages of creating a business that combine design and technology with new fabrication capabilities.
With the Fellows program NYDesigns seeks to expand its community and services with a flexible program to serve designers, technologists and makers at an initial stage. The Fellows will have access to the NYDesigns space, fabrication laboratory and business services. Besides services, Fellows will also benefit from NYDesigns' community of partners and residents which includes creative and tech businesses at a more mature stages.
WHO ARE POTENTIAL FELLOWS?
The NYDesigns Fellows program is open to innovative designers, tech entrepreneurs and fabricators who have graduated in the last 10 years. We are looking for people who are innovating in one or more of the following categories:
• Hardware and Technology / Individuals exploring technology and its interaction with objects and spaces.
• Social Innovation / Individuals exploring how design and technology affect policy and engage with the environment.
WHAT DO FELLOWS GET?
During the six-month program the Fellows will receive:
• Free Co-working space / Includes 24/7 access to working areas, meeting rooms and internet
• Programs for Fellows / Includes meetings with relevant professionals, field visits and networking opportunities
• Business support services / Access to complimentary counsel from a network of NYDesigns business advisors
• Discounted access to the NYDesigns FabLab / Prototype in our professional on-site fabrication laboratory
• One Collective Research Project / Work with NYDesigns staff and partners to understand fabrication networks in Queens
Applications for the NYDesigns Fellows program are due on April 30th. For more information please see: www.nydesigns.org/fellows, contact fellows@nydesigns.org or call 718.663.8410.
NYDesigns is an incubation program of the City University of New York (CUNY) that catalyzes growth for small businesses and entrepreneurs in the design, fabrication, technology and maker spaces. We pursue this mission by distributing our work across three fundamental concentrations: business incubation, workforce development, and advocacy. We are proudly located in Long Island City, Queens.