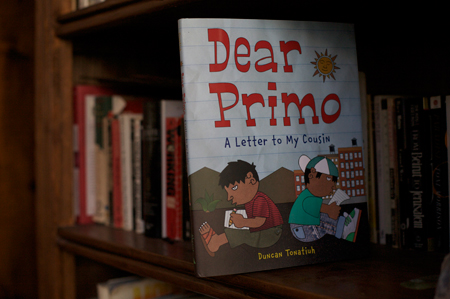 We just heard from Integrated Design alumnus, Duncan Tonatiuh (Class of 2008) that his children's book "Dear Primo, A Letter to my Cousin" published by Abrams is now available for pre-order.  To the left is a photo of the copy that Duncan just received.
He describes the book, "The story is about Carlitos and Charlie, two cousins that write letters back and forth to each other. Carlitos lives in the countryside in Mexico. He rides his bicicleta to school and loves quesadillas. Charlie lives in a city in the US. He rides the subway to school and always gets a slice of pizza on his way home."
For more details and spreads from the book see Duncan's blog entry.